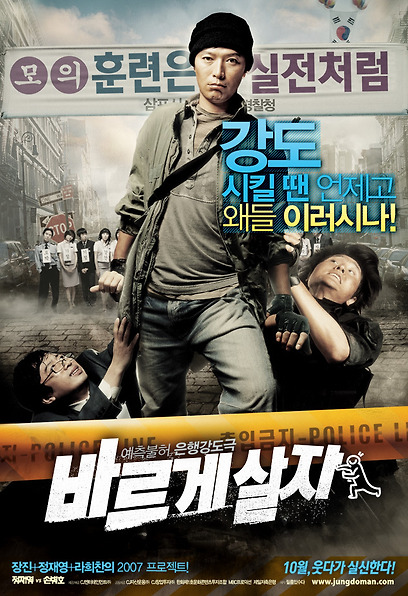 Going by the Book, 2007
release

2007.10.18
genre

comedy
country

Korea
ranking

Audience over 15
running time

102 minutes
grade

8.4
cumulative audience

2135606 people
Synopsis
Unprecedented bank robbery simulation training!
Flexibility 0% Cops make your training look like a real situation out of control!
Sampo-si is a city where the public sentiment is atrocious due to a series of bank robberies. The newly appointed police chief Lee Seung-woo (Son Byung-ho) conducts an unprecedented simulated bank robbery training. However, through this training, an unexpected ambush appears to him, who is trying to gain public interest and satisfy his ambitions. Training began to falter as traffic and police officer Jeong Do-man (Jung Jae-young), who had been chaotic, was selected as a robber.
'Jung Soon-kyung, you've done well so far!! Now, let's just finish it off!'
'I… I'm a robber now, so I'm going to make the decision?!'
Ignoring the wishes of the participants waiting only for the rough training to be over, he persuaded the unfaithful hostages and set an example as a well-prepared robber. Whether it's a police officer or a robber, because of his savvy personality who does his best in his duties, the only thought in his mind is to successfully complete the mission. With his ferocious performance, the simulated training shows no end, and the special task force is eventually deployed, and the training is getting more intense than in the real world, broadcast live on TV!
How will this training end?
(Production notes)
CODE 1>> Gold Award Addition
The unique character everyone has been waiting for, only Jeongdo is coming!
Master of box office and acting skills that 8 million viewers raised their hands _ Jung Jae-young!
Fantastic cast of the antagonist, two thumbs up for his acting!
Kang Chul-jung in <Public Enemy>, which left the most intense memory in the minds of the audience only with the power of a character in the history of Korean cinema. If he, a self-righteous detective, showed an unprecedented and unique charisma, <Let's Live Right> shows the typical new character that goes beyond this. Only a cop who is not flexible enough to be relegated from the Investigation Division to the Transportation Division. In order to fulfill his mission, he is a bizarre person who engages in extraordinary actions, such as perfectly digesting robberies. The actor who plays this unique character is also unusual, so not to mention his acting skills, and Jung Jae-young, who rose to the ranks of box-office actors with <Welcome to Dongmakgol> and <Holy Genealogy>. The moment you read the scenario, you can see the perfect character created by 100% enemy casting that makes you think of Jung Jae-young in the movie <Let's Live Right>.
CODE 2>> waiting for ten thousand feet
The best storyteller in Chungmuro, Jang Jin's scenario!
It's different when Jangjin writes! The culmination of wit and drama!
<Let's Live Right> will bring freshness to the audience who are tired of boring comedy!
Go away from boring and light comedy! Director Jang Jin's comedy with wit melted in the seriousness is back. Director Jang Jin, who has presented high-quality scenarios to the point where he has been praised as 'the best storyteller in Chungmuro' in every work. In 2005, <Welcome to Dongmakgol> won the Best Screenplay Award at the 4th Korean Film Awards, recognizing its ability in name and reality. The movie <Let's Live Right>, which was finally released after two years of screenplay adaptation, is a work with a lively scale as well as the wit and humor that has been melted in director Jang Jin's work. In addition, their own set play with the addition of actor Jung Jae-young, who has been proud of his fantastic breath for a long time, will bring freshness to the audience who are thirsty for new comedy.
CODE 3>> Ki Sang Cloth, etc.
Exquisite meeting of thrilling situation and unpredictable comedy!
Self-approved flexibility 0% Police officer, now performing official duties with armed robbery!
Where the hell is the end of a more intense training than this real battle?!
<Let's Live Right>, an ambitious 2007 project of 'There is Film', which has mainly presented distinctive works. This work, which is based on 'simulated training for bank robbery', wittily depicts the dire situation in which training started formally for the cause of the police becomes out of control like a real battle. The hostage play that takes place due to the setting of 'mock' is truly the essence of a comedy. The humor and irony of unfaithful hostages in the bank and quirky characters who faithfully play even the role of robbers. It's training, but the tension and thrill from the confrontation inside and outside the bank that runs more suffocating than the actual battle. These two axes, which are contradictory but in perfect harmony, are the driving force of the film and the unique charm of the film Let's Live Right. In the spring of 2007, audiences will enjoy a thrilling comedy with <Let's Live Right>, a thrilling film that never loses its laughter.
CODE 4>> Breathe out
A reckless high kick towards a world where what is right is flawed!
"When I tried to live like a cop
Everyone laughed and ridiculed them,
When I become a robber, I get applause."
Do you remember the movie "The King of Fouls"? The timid banker became a wrestler and the cool foul he threw towards the cramped world created a deep sympathy for his contemporaries with a great repercussion. Even the degree of <Let's Live Right> seems ordinary at first glance, but he is by no means ordinary. He is just a man of good life who tries to do his best in the given task, but in an unjust world, he is often treated as an inflexible and shunned object. In a society that enforces only shortcuts, those who try to follow the straight path are often ridiculed and criticized. Is that so? It is even more poignant and refreshing to see the pointers that those who have been ignored because of their uprightness give to an unjust society. Of course, the happenings that only Jeongdo is doing may seem frustrating at first. However, as time passes, the characters in the play who sympathize with him with sincerity and enthusiasm join in his mission, and the audience outside the screen also supports him. The last shot he blows towards the world will give us a sense of relief and catharsis at the same time.
Related Videos