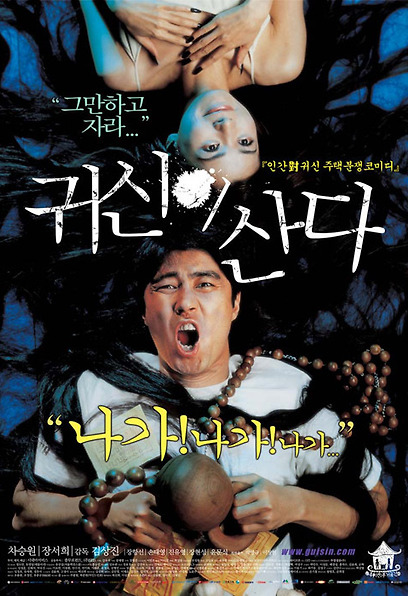 Ghost House, 2004
release

2004.09.17
genre

Comedy/Fantasy/Horror
country

Korea
ranking

Audience over 12 years old
running time

123 minutes
grade

6.6
cumulative audience

1875936 people
Synopsis
Park Pil-gi, the third generation of three generations, finally has his name engraved on the nameplate!
Park Pil-gi lives up to his father's will, "Own your house," as his life goal in the sorrow of living in a rented room for three generations.
During the day as a shipyard engineer, at night as a substitute driver, running two and three jobs.
In the end, after 10 years of social life, I succeeded in buying a two-story house by the sea in Geoje, adding loans and loans…
On the first day we moved, we pounded the nameplate and cried out to leave the whole town!
"father… I bought a house~~~ Ughh~~"
You want me to leave the house? This is our house… who are you?
But the joy of having my own home was short-lived.
However, the kitchen knife that was well placed in the kitchen levitates and comes flying, and the sofa, which was in good condition, attacks,
Park Young-gyu, who was passionately performing <Gas Station Attack> on TV, was staring at his notes.
'If you want to live, get out of this house!!', until he crawls out of the TV like Bae Doona in <Ring>…
What a ghost howl! "Save people~~ Save Pilgi Park~~"
First day of moving… He was taken care of by the inn.
At least… why? Do ghosts live in our house?
I try to appeal to the police station and neighbors to tell the story of a ghost, but…
There was a secret of that house that I only knew about writing, so "There is a ghost in that house!!"
It quickly transforms into a quick sale mode, but you can't buy it even if you put money on it, let alone bargaining…
The bank transfer day is approaching, and I can't leave my house and stay at an inn until how long…
Pil-gi Park, who will be delighted, finally declares an all-out war against ghosts…
Related Videos