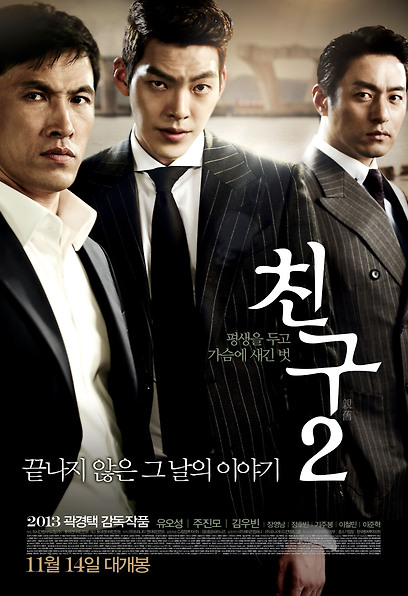 Friend : The Great Legacy, 2013
release

2013.11.14
genre

action
country

Korea
ranking

Youth not allowed
running time

124 minutes
grade

6.0
cumulative audience

2971475 people
Synopsis
"Would you like to go to Busan with me?"
Jun-seok (Yoo Oh-seong) is imprisoned for ordering the death of his friend Dong-su (Jang Dong-gun). After being released from prison after 17 years, he feels a sense of crisis at the remarkably changed world and the appearance of 'Eun-gi', who is suddenly growing into the power of the organization. In order to recover the organization that his father Cheol-ju (Joo Jin-mo) dedicated his life to, 'Jun-seok' gathers his scattered powers again, meets in prison and has a young blood 'Sung-hoon' (Kim Woo-bin), who follows him like his father, as his right arm. do.
"You said quitting smoking signaled me to kill my father?"
'Seong-hoon', who had an unhappy childhood without knowing his father's face, relies on 'Jun-seok' who takes care of him like his father, and works hard to take over Busan with him. Then, one day, Eun-gi comes to Seong-hoon and tells the story of Dong-soo's death and throws him into confusion…
The fateful meeting of two men!
The day I lost my friend, an unfinished story begins!
Related Videos