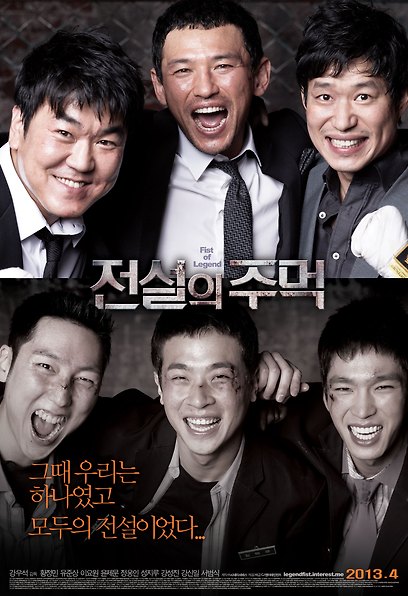 Fists of Legend, 2013
release

2013.04.10
genre

Action/Drama
country

Korea
ranking

Youth not allowed
running time

153 minutes
grade

7.1
cumulative audience

1744585
Synopsis
The biggest fight show on earth where legendary fighters fight each other
I got a reason to fight again
Who was the real strongest among the fighters who ruled the school with brilliant sagas in school days?
The TV fight show 'The Fist of Legend', where they were once called 'legends', fight to decide the winner.
Fighters from all over the country, scattered over the years, appear one by one, and the show is heated with surprises one after another.
it heats up And the attention of the whole nation is focused on the three legendary fighters who appeared in the topic.
The boxing champion's dream was thwarted in front of his eyes,
Im Deok-gyu (Hwang Jung-min), the owner of a noodle restaurant who now raises her daughter by herself.
who conquered the whole world with one charisma,
Lee Sang-hoon (Yoo Jun-sang), the manager of a large corporation, who gave up his pride to succeed now.
Namseoul high school dog called crazy dog,
Shin Jae-seok (Yoon Je-moon) still dreams of being first, but is still a third-class gangster.
The behind-the-scenes story of three friends who lived their own lives due to unexpected events in those days when fists were better than words
As the story is revealed, the whole country is engulfed in the 'fist of legend' craze. Finally, the best fighters of all time
Through the tournament, the curtain rises for the final fight show 'Legendary War' for the prize money of 200 million won…
Now, the heart-warming confrontation between the three friends who have put their lives on the line for someone other than themselves begins again.
The real legend starts now.
Related Videos