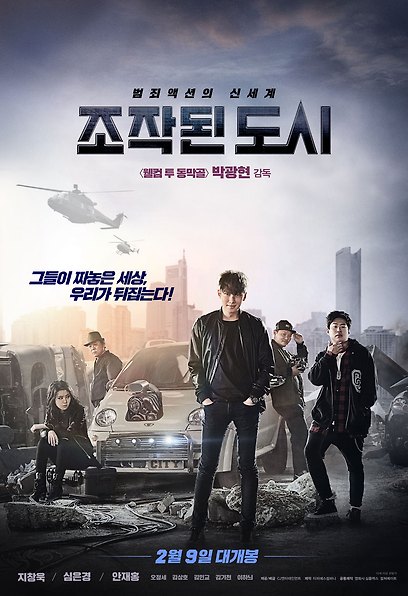 Fabricated City, 2017
release

2017.02.09
genre

crime/action
country

Korea
ranking

Audience over 15
running time

126 minutes
grade

8.0
cumulative audience

2515650 people
Synopsis
A new world of crime action opens!
Enjoy the new!
Kwon Yu (Ji Chang-wook) is a perfect leader in the game world, but an ordinary white man in reality. In a PC room, he accidentally receives a phone call from a strange woman asking him to find his cell phone.
All the evidence points to Kwon as the culprit, and while no one believes in his innocence, 'Yeo-wool' (Shim Eun-kyung), a game member and novice hacker, 'Yeo-wool' (Shim Eun-kyung), all of this was completely completed by someone in just 3 minutes and 16 seconds. found out that it was tampered with.
All the game members, including special effects specialist 'Demolition' (Ahn Jae-hong), gather together to trace the truth of the incident in their own new way, and launch an exhilarating counterattack to confront the fabricated world…!
Time manipulated as a murderer, only 3 minutes and 16 seconds
The world they made up, we turn it upside down!
[ About Movie ]
A new challenge that will delightfully overturn Korea
<Welcome to Dongmakgol> New concept crime action directed by Park Kwang-hyun
<Fabricated City> is a crime action movie in which a man manipulated as a murderer in just 3 minutes and 16 seconds digs up the truth of the case with the game members and unfolds a thrilling counterattack. Director Park Gwang-hyeon of <Welcome to Dongmakgol>, which mobilized 8 million viewers with fresh and popular sensibility, made <Fabricated City> a new style that contains fresh ideas, different senses, and light humor outside of the existing Korean-style crime films. A crime action movie.
Director Park Gwang-hyeon, who portrayed a warm village of people in the midst of a fierce war in <Welcome to Dongmakgol>, where even a war in which the Armed Forces, the People's Army, and the US military are on the same side, cannot be destroyed. Returning to <Fabricated City> after 12 years, he uses the organs of 'visual telling', which communicates with witty imagination and images, to provide pleasure and spectacle differentiated from existing criminal actions.
<Fabricated City> is a story about the process of unraveling the truth of the case with the game members, when 'Kwon Yu', a perfect leader in the game but an ordinary white beast in real life, is manipulated into a murderer by someone. Director Park Gwang-hyeon completed various actions and attractions centered on characters full of personality into a video with unique cartoon imagination. "I have been thinking about telling a story in a new style that is different from the setting of existing films, and I wanted to make an interesting film to communicate more happily with the audience. I tried to portray the process of overcoming a solicitation manipulated as a murderer as a light adventure. As the director said, "I thought it was a kind of criminal adventure and worked", the movie <Fabricated City> was completed as a young and fresh film with a stylish sense and light humor, breaking away from the heavy and dark atmosphere. In particular, director Park Gwang-hyeon not only put a lot of thought into realizing the new world in the movie, but also put all of his heart and soul into the direction and perfected it to realize fresh ideas from large-scale car chasing to fighting action, drone bombs and hacking. <Fabricated City>, with such delicate effort and extraordinary visual production, is a work that adds light humor to the fresh idea that anyone can be manipulated as a murderer.
Anyone can be manipulated into a murderer in just 3 minutes and 16 seconds!
Exciting counterattack against the fabricated world, exhilarating team play!
The story of <Fabricated City> starts under the assumption that the cruel murderer that the whole world condemns can actually be a victim who has been thoroughly framed by someone's conspiracy. The main character, 'Kwon Yu', is a perfect leader who wins and wins with excellent strategies and skills in online games, but in reality, he spends most of his time in a PC room without showing anything. The Manipulated City, which begins in a moment without knowing English, is driven by the attention of the entire nation as a murderer, depicts the process of an extremely ordinary young man being manipulated as a murderer by someone and losing everything in a tense manner. 'Kwon Yu' is the result of someone perfectly planning and manipulating the case from the beginning of the unfair situation he is in, and he comes to realize the shocking fact that there are not one or two people in the same situation as him. Together, they begin an exhilarating counterattack to overturn the fabricated world.
The setting of manipulating the world to its fullest by using the power and system of society leads to immersion through the creepy imagination that anyone who is weak and weak living today can be manipulated as a murderer. In addition, the process of stragglers from society who had nothing to put forward, using their hidden talents and organs to uncover the truth of the incident and confront the great power behind it, evokes the pleasure and sympathy of a counterattack. Director Park Gwang-hyeon said, "Unfortunately, I thought that the powerless could be victimized too easily in this era, and I was interested because it was a story that touched my skin. However, it is not a story about the process of revenge, but someone held my hand when I was abandoned at the end of the world, and I wanted to convey a message of hope that I can overcome it wonderfully by working with them a little." said.
The novel idea and story that everything in the world is systematically manipulated, and the catharsis of a refreshing counterattack by ordinary young people as they dig up a huge conspiracy, will be a powerful viewing point unique to <Fabricated City>.
"It's always the unexpected who turn the world upside down"
Character synergy of Ji Chang-wook, Shim Eun-kyung, Ahn Jae-hong, and young actors full of personality!
<Fabricated City> presents a delightful laughter as a team play in which ordinary young people who have nothing to offer join forces to face the world manipulated by a huge power. In addition, they show off their splendid talents in the online game, but in reality, the reverse charm of the characters in reality, which is 180 degrees opposite to him, is completely digested by young actors Ji Chang-wook, Shim Eun-kyung, and Ahn Jae-hong, who are armed with unique personalities.
In online games, 'Kwon-yu', known as the 'god of the game world', is a penniless, ordinary young man in his 20s who can be seen everywhere in real life. When he is manipulated as a murderer and loses everything in an instant, he shows off his excellent strategic tactics and leadership in the game against the huge forces that framed him. Ji Chang-wook, who has captivated Asia through various works such as dramas [Empress Ki], [Healer], and [THE K2], will take on the role of 'Kwon-yu', who plays an amazing reversal, and will take on the lead role for the first time on the screen. Ji Chang-wook, who recently received favorable reviews from viewers for his intense action performance in [THE K2], perfectly proved his status as a next-generation action actor by directly digesting high-level actions ranging from wire action, car chasing, and fighting through <Fabricated City>. did it It is said that he has been reborn as an irreplaceable actor of Chungmuro, who can perfectly express the complex inner emotions of the character, and can digest both action and emotional acting at the same time.
'Yeo-wool', who takes the lead to clear the accusation of 'Kwon-yu', is a nuisance character who can't show off his skills in the game due to his chatty personality, but in reality, he is a novice hacker with a phobia of people and a person with a big charm of reversal as a netizen investigation team. Shim Eun-kyung, a representative actress in her 20s, who has solidified her own character through <Sunny> and <Miss Granny>, takes on the role of 'Yeo-wool', who actively works for the innocence of 'Kwon-yu' and plays a brain role in the team. In this work, Shim Eun-kyung, who has portrayed a character outside the typicality, plans to show off a dark charm that she has never seen before by attempting external changes with strong styling such as smokey makeup and hot pants.
In addition, in the game, he is a sniper among white hair, but in reality, the special effects staff 'Demolition', who is full of mistakes, has a strong will to get rid of the leader's name as strong as others, but he creates a comical situation at every moment with his skills, which is somewhat lacking by 2%. Ahn Jae-hong, a blue chip from Chungmuro, who received a lot of love from the public through the movie <The King of Jokgu> and the drama [Reply 1988], took on the role of 'Demolition' and completed a pleasant synergy with Ji Chang-wook and Shim Eun-kyung. As such, <Fabricated City> will fill the screen with the perfect synergy created by combining the vivid charms of characters and actors with different personalities.
Chasing, fighting, explosions, gun action, wire action, 8-lane large-scale car chasing, etc.
A full range of attractions that give you the pleasure of creative action and adventure that show the end of your imagination!
<Fabricated City> will provide intense visual pleasure through creative action and spectacle. Director Park Kwang-hyun's unique cartoon imagination and game ideas, shown in his previous work <Welcome to Dongmakgol>, combined to create an action movie full of cool things to see.
This <Fabricated City> has a lot of splendid and cool action scenes, as it has a copy of 'a new world of criminal action'. What happens after an ordinary invitation is manipulated into a murderer in an instant is depicted as a kind of adventure. It is said that a well-made movie was born that will give you creative sights, pleasure, and entertainment that you have never seen before because it melts evenly.
The movie opens with a large-scale battle scene in the middle of the city, reminiscent of a blockbuster game. This is the imaginary action of 'Kwon Yu', who is a perfect leader in FPS games, and catches attention from the beginning with the scale and visuals that have not been seen in existing Korean movies, from fighter jets and missiles to bombs and wire actions that explode every moment. Afterwards, the game members join forces in the real world to counterattack the manipulated world, providing a unique and exhilarating experience as if the game becomes a reality and reality becomes a game again.
In addition, the chase action scene in the second half leading to the fighting scene in the dark and the car chasing is the highlight of <Fabricated City>. The large-scale car-chasing scene that took place on an 8-lane road took a month to film, so the crew put a lot of effort into it. It is said that various attempts have been made so that it can be said that the car action of three or four general commercial films is concentrated in one film.
In addition, <Fabricated City> has imaginative sights and whimsical visuals that go beyond the existing action movies, such as drones made by collecting broken computer parts, bombs using drones, arrows made of paper, and a modified compact car equipped with a power engine. It is expected to bring a new and fresh wave to the theater in February 2017.
[ About Action ]
An exhilarating experience that transcends the boundaries between game and reality "game battle action"
The large-scale battle scene in the middle of the city that opens the gates of <Fabricated City> brings out the video from the FPS game to reality rather than the monitor screen, delivering vivid and real pleasure. Director Park Gwang-hyeon said, "I thought it would be nice to have an experience as if the audience were participating in a real battle. I wanted to draw it not as a scene of a virtual game, but as a scene of a war in the middle of the city in real life." As cinematographer Dong-geun Nam said, "Rather than showing a sharp contrast between the game and reality, the film was made in an extension of the world view that games are more realistic and reality is more game-like." (GoPro) A more realistic feeling is doubled through shooting techniques such as using multiple units for close-up photography. Ji Chang-wook, who plays the role of 'Kwon-yu', also directly digested the descending rappel and 360-degree rotating shooting scene, jumping from the height of the third floor of the building, increasing immersion in the action. The opening action, which delivers a realistic experience as if you are in a game, will overwhelm your eyes with thrilling spectacle that is different from the action scenes of existing Korean movies.
"Eight-lane large-scale car chasing" where scale, sights and humor coexist
The large-scale car chasing on the 8-lane road that appears in the second half of the movie draws attention as an all-time car chasing scene where the wide range of emotions and active sights of the characters who have reached their climax coexist. In addition to drone shooting to take advantage of the dynamic car action, 'Russian Arm', a special shooting equipment that can shoot stably even in fast-moving situations, was mobilized to capture lively car chasing. In particular, the highlight of the car chasing action is the scene in which a light car equipped with a luxury car engine runs on the road, teasingly outrunning numerous vehicles, including truckers and large trucks. "The original concept for Car Chase was Tom and Jerry. A car action created with the intention of director Park Kwang-hyeon, "I wanted to complete a scene that contains episodes of the process of overcoming a crisis situation or bullying a villain in the midst of being chased and pursued, and adding pleasant elements even in the midst of danger and seriousness." The highlight will be a unique attraction and humorous fun of <Fabricated City>.
Paper, grains of rice, even a compact car just before the scrap car!
A seemingly insignificant everyday object is reborn as an original weapon!
<Fabricated City> delivers surprise with creative and new action that has never been seen in any other movie. In particular, the paper arrow action shown in the scene where 'Kwon Yu' confronts 'Maduk-su' and his party in the prison is the first counterattack of 'Kwon-yu' and a moment of awakening to demonstrate the abilities built up in the game in reality. Director Park Kwang-hyeon, who encountered a case of using rolled up paper or cloth as an arrow based on documentaries and materials related to actual overseas prisons, added a cinematic idea and completed it with a unique action that only 'Kwon Yu' can show. In addition, the fight scene with rice grains in the dark using the extraordinary hearing gained from the experience in the punishment room in the prison where a single ray of light does not come in is a creative scene that visualizes the texture of hearing through video. It heralds the birth of a famous scene comparable to the scene of popcorn falling like snow in the previous work <Welcome to Dongmakgol>. Director Park Gwang-hyeon's unique fresh idea, "It was an idea that came after thinking about how the pain inflicted on the main character can come back to his strengths", this scene will deliver a pleasant shock beyond mere spectacle. In addition, the supercar, which appears as the hidden protagonist of the movie's 'recommendation' and the exhilarating counterattack of the members, is a compact car that is about to be scrapped and remodeled by moving the engine of a foreign car. It is going to show a thrilling car-chasing action that resembles.
[ About Visual ]
Kwon's Prison, Shout's Hideout, Manipulator's Cube,
Birth of a special space based on a new visual and character that has never been seen before
<Fabricated City> created a new visual space that was not found in existing Korean films according to the character's situation and concept. The prison, where 'Kwon-yu' is framed as a murderer and imprisoned, is designed as a new fantasy space that does not exist in reality to maximize his anger and unfair feelings. The exterior of the prison, filmed by hunting down an abandoned mine in Taebaek, Gangwon-do, is isolated in the mountains and completely cut off from the outside. emphasized.
On the other hand, the hideout of 'Yeoul', built in her own style in a hidden place in the middle of the redevelopment area, is a space that perfectly reflects the character of 'Yeoul', a reclusive hacker who communicates only online and is cut off from the outside world. However, after that, the game members, including Kwon Yu, gather and her hideout gradually changes into a warm and family-friendly space. Here, it is usually a normal table, but when the tablecloth is removed, it is a space with various props and ideas, such as a 'table of information' made up of large and small monitors, adding to the fun of discovery.
The operator's cube is a high-tech space secretly created and a kind of huge panic room in which a vast amount of data is accumulated. The state-of-the-art cube space, in perfect contrast to the operator's old and messy office, delivers surprise the moment its reality is revealed. A space where simplicity and cutting edge coexist, and built with a square cube concept, this place focuses on the unique cartoon imagination of <Fabricated City>. As such, new and creative spaces and visuals that reflect the personality of the character full of personality while overturning stereotypes will open up a new world of things to see for the audience.
Related Videos