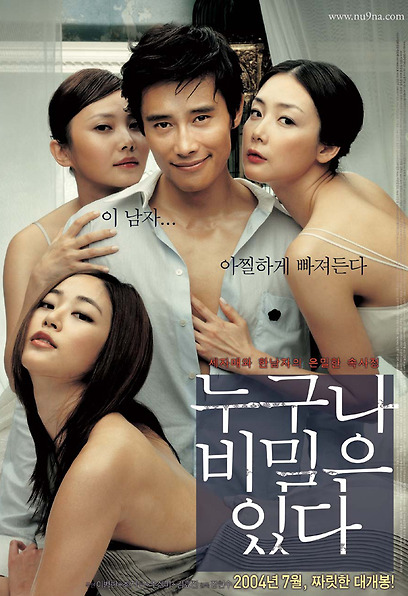 Everybody Has Secrets, 2004
release

2004.07.30
genre

Comedy/Romance/Melodrama
country

Korea
ranking

Youth not allowed
running time

105 minutes
grade

5.6
cumulative audience

542955 people
Synopsis
The secret affair of three sisters and a man!
Hanging men are unattractive!
The third Mi-young, a charming vocalist at Jazz Bar, is a freelancer.
He is a forget-me-not man who loves him unconditionally, but he is not attracted to an innocent man.
One day, he sees Soo-hyeon, a guest at a jazz bar, and falls in love with her good looks and neat manners.
This guy is just my type! got it right!
I need a man to be attracted to
love? sex? Seon-young, the second graduate student from the school district, learns anything from books.
Twenty-seven, still a virgin. Seon-yeong, who believes that love comes suddenly like lightning and like a thief.
One day, when he sees his brother's lover, Soo-hyeon, who came to say hello to his house, he felt a thrill as if struck by lightning.
This man is my brother's lover, but I want it!
I've been patient enough!
Rather than having sex before marriage, the number of sex has decreased, and the husband is not sleeping with his family.
For the first camp, love is just the past tense. To Jinyoung like that, his brother's lover, Soohyun, approaches him beyond 'cuteness'.
Jinyoung doesn't dislike this man's gaze on him too.
I wonder what's inside this man!
The man we had been waiting for appeared
Jinyoung, Seonyoung, and Miyoung three sisters fall in love at the same time, Soohyun.
What kind of charm did Suhyeon have that captivated the three sisters?
A dizzying love affair between three sisters and a man. The secret secret is carefully revealed!
Related Videos