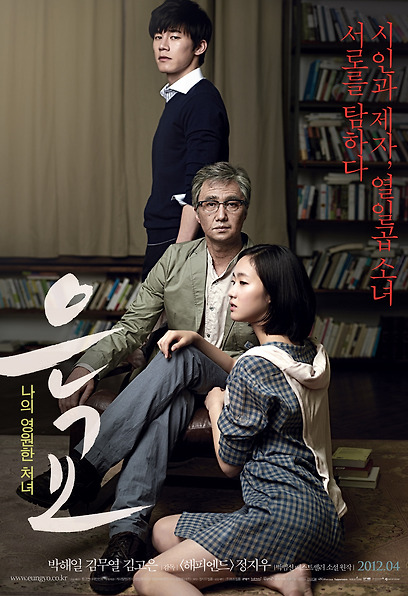 Eungyo, 2012
release

2012.04.25
genre

Romance/Melodrama
country

Korea
ranking

Youth not allowed
running time

129 minutes
grade

6.9
cumulative audience

1346511 people
Synopsis
The great poet Lee Jeok-yo, fascinated by the youthful youth and sensuality of a girl.
Ji-woo Seo, an ambitious disciple who was jealous of his master's genius
And Eun-gyo, a 17-year-old girl with fresh sensuality who longed for the world of a great poet.
covet each other what they don't have
The hidden provocation of three people who are entangled with jealousy and fascination!
It seems that sensuality does not have a life-and-death soldier.
It was then that my heart continued to pound.
If I met you when I was young,
So if there was no taboo between you and me
After meeting you, I probably didn't write poetry anymore.
'Cause I can write you a letter
From Park Beom-shin's novel "Eungyo"
[ ABOUT MOVIE ]
The 2012 sensation is predicted! 'Awesome movie' <Eunkyo>
This spring, the fascination of the hottest film in the film industry and the surprising next work of Park Hae-il, <Eungyo>, begins. Based on the novel of the same name by Park Beom-shin, the movie <Eungyo> is a great poet, Jeok-yo Lee, who is fascinated by the freshness of a girl; Ji-woo Seo, an energetic disciple who is jealous of her teacher's genius; It depicts an unconventional drama of jealousy and fascination between three people who covet things. Here, director Jung Ji-woo, who made a sensation in the film world with his debut work <Happy End>, combines the unique deep psychological description and beautiful visuals, foretelling the birth of another well-made film that Chungmuro will remember. Hae-il Park, who played the role of the great poet Lee Jeok-yo, endured over 8 hours of special makeup for each filming to transform into an elderly poet twice his age. It has been fully expressed up to Kim Mu-yeol, who played the role of his disciple Seo Ji-woo, was praised by director Jung Ji-woo and fellow actors for perfectly portraying the complex psychology of admiring the teacher and conflicting with the teacher's intractable talent and jealousy towards the girl Eun-gyo. Kim Go-eun, who was chosen by director Jung Ji-woo after overcoming a fierce competition of 300 to 1, is already attracting a lot of interest and anticipation to the point of getting the modifier of 'the second Jeon Do-yeon'. The film <Eunkyo>, created by the unconventional material and the perfect collaboration of the director and actors, will cause a stir in Korea beyond the film industry in 2012.
Haeil Park, the face of a thousand, shows the most dramatic transformation of 2012!
Actor Park Hae-il, who shows a changeable appearance in every work, tried the most intense transformation in his acting life. Lee Jeok-yo, the great old poet of <Eungyo>, is the main character. Jeok-yo Lee is a literary writer praised as a 'national poet', who is swayed by his sleeping desires while being fascinated by Eun-gyo, a girl who suddenly appeared while he was living a peaceful life. Hae-il Park was offered the role of an old man twice his age, and thought a lot, but decided to take on the role with confidence in director Jung Ji-woo, who he worked with in <Modern Boy>. In order to complete the character of a great old man, Hae-il Park had to undergo a major external change and endure a period of patience. I had to endure over 8 hours of special makeup every day, which was an unprecedented challenge even in Hollywood. Park Hae-il came to the filming set at dawn when everyone was asleep and endured over 8 hours of special makeup to transform into a poet of seventy. In addition, before filming, he visited Tapgol Park to observe the elderly or had a conversation with director Jung Ji-woo to create the feeling of 'The Old Man's Book'. After a lot of hard work, Park Hae-il was completely immersed in the role to the extent that his back was bent and his gait changed without realizing it, and he delicately digested the complicated inner side of Lee Jeok-yo. With his passion and amazing concentration, director Jung Ji-woo attributed all the credit to him, saying, "I was able to complete the film because of the incredible patience of a man named Park Hae-il." Actor Park Hae-il, who gives infinite trust and anticipation to the audience by showing a new appearance every time in various works. The public is looking forward to how fresh shock and surprise his transformation in <Eunkyo> will give the audience this time.
Original version of the best-selling novel "Eungyo" that contains Park Beom-shin's autobiographical desire!
The movie <Eunkyo>, which is expected to mark the culmination of the original novel craze that led to the success of <The Crucible> and <Wandeuk> last year, is drawing much attention. <Eungyo> is based on the bestseller of the same name, which is called the 'Craving Trilogy' by Park Beom-shin along with Chola Che and High Mountain. The novel "Eun-gyo" captivated many readers with its unconventional material that the great old poet, the energetic disciple, and 17-year-old Eun-gyo long for each other, the detailed psychological description of the author's handwriting, and the powerful story development. Director Jung Ji-woo, who directed the movie <Eungyo>, was also fascinated by the novel, and decided to leave the work she was preparing and make the film into a movie. Director Jung Ji-woo, who had a lot of affection for the work to the point of proposing to purchase the rights directly, cast Hae-il Park, an actor in his 30s, not an actual old actor, as the role of Jeok-yo Lee in order to convey the vivid feeling of aging to the audience. In addition, by setting Eun-gyo in the novel as a more active high school girl, it will give a variation to the drama and increase immersion in the character, providing another fun from the novel. Writer Park Beom-shin, the original author, visited the filming site twice and gave out autographed books to all the staff, showing his extraordinary love for the movie <Eunkyo>. He said, "Eungyo is more special than any other work because I wrote it based on the emotions I felt as I grew older. In the meantime, about 20 novels have been filmed, but I have never waited for the completion of a movie like this one."
<Eungyo>, which adds an unconventional story, perfect acting by the actors, and beautiful visuals with the author's strong support, is receiving extraordinary interest from the film industry as well as the literary world.
Kim Moo-yeol, who achieved remarkable growth as an actor,
And pay attention to the 'second Jeon Do-yeon' Kim Go-eun!
<Eungyo> is a film where the subtle emotional flow between Lee Jeok-yo, Seo Ji-woo, and Han Eun-kyo is very important, so there is a lot of interest in the performances of Kim Mu-yeol and Kim Go-eun, who played the roles of Seo Ji-woo and Han Eun-kyo.
Kim Moo-yeol, who started as a superstar in the musical world and has expanded his activities to dramas and movies, has been recognized for his potential as a movie actor with his fierce brain 'Jo Min-hyung' in 'Operation' and 'Seogun', a romantic innocent man in 'The Ultimate Weapon, Bow'. And finally, through <Eungyo>, I exploded my latent abilities. The role he plays is a novelist Seo Ji-woo, who treats Lee Jeok-yo like a father, who admires his teacher Jeok-yo Lee, but is jealous of his teacher's natural talent and covets Eun-gyo, the girl he longs for. As a complex character that has to play delicate emotions, Kim Moo-yeol thoroughly analyzed the original novel and scenario, talked a lot with director Jung Ji-woo, and crossed various emotional lines such as respect, compassion, and jealousy, perfectly digesting the role of Seo Ji-woo. Director Jung Ji-woo said, "People will be surprised if they see Seo Ji-woo, played by Kim Mu-yeol." And Kim Go-eun, the most notable rookie of 2012, who won the title role of Han Eun-kyo in the movie <Eungyo>. In her first debut film, Go-eun Kim was selected as the opposite of Hae-il Park, drawing attention from the world. In addition, he is drawing attention from the film industry as a newcomer selected by director Jung Ji-woo, who showed a new side of Jeon Do-yeon in <Happy End> and showed excellent aesthetics. Director Jung Ji-woo met more than 300 Eun-gyo candidates through the audition and recognized Kim Go-eun, who almost matched the image of Eun-kyo that he had imagined at a glance. After talking with Go-eun Kim about the novel "Eun-gyo" and the environment in which she lived, she decided to work with her, and his judgment was not wrong. Kim Go-eun, who was challenged to appear in <Eungyo>, portrayed Han Eun-kyo, a girl who creates conflict between Lee Jeok-yo and Seo Ji-woo with childlike innocence and strange sensuality.
Kim Mu-yeol, a blue chip from Chungmuro, who exploded the potential hidden in the meantime, and Go-eun Kim, who emerged as the hottest actress as the second Jeon Do-yeon. Their performances are in perfect harmony with Park Hae-il, and they will play a leading role in leading <Eunkyo> to the best well-made movie of 2012.
[ PRODUCTION NOTE ]
A special makeup that transcends time!
There has never been an attempt like this in Hollywood!!
<Eunkyo>, a 'emotional blockbuster', is attracting attention with its special makeup technique that surpasses Hollywood blockbuster. Director Jung Ji-woo thought, "When a young actor does hard work, he can convey a clearer feeling and distinction about 'old age'," and reached out to Song Jong-hee, the best makeup director recognized by Chungmuro. She thought that director Jung Ji-woo's proposal was impossible, but she was moved by the words, "If you can 'deceive' the audience with a young actor in a movie with an old man as the main character, it would be very attractive." The challenge was never easy. In order to create a look that naturally melted the original charm of Lee Jeok-yo and Park Hae-il, a professional staff was invited from Canada to make a face model, and it took more than three months to test it alone. It took 12 hours at first to complete the whole by attaching several pieces of silicone from the face to the neck to the hands. However, with repeated tests, the number of silicon pieces to be attached was reduced, and the working time was reduced to 8 hours as the speed increased. But this too was not easy. Working with a high level of concentration and working for a full 8 hours was difficult in itself, but the many variables that occur in the field made it even more difficult for her. We prepared for many situations before we started filming, but in the early stage before the atmosphere on the set stabilized, the silicone attached to the actor's face reacted sensitively and the film had to stop shooting because it could not be used. what it looked like Make-up director Song Jong-hee felt a lot of stress and pressure that he will never forget for the rest of his life, but he did his best until the end. In particular, the changing face of Lee Jeok-yo, shown in three stages as the drama progresses, will allow the audience to immerse themselves in the drama more deeply. Park Hae-il was not the only one suffering. While filming was in progress, he was constantly taking allergy medicines and had to go to the filming set early in the morning alone and lie motionless for more than 8 hours. It was more difficult than anything for both actors and staff, but <Eunkyo>'s special make-up technique, which added depth to the drama and created new technology, will be recorded as an unforgettable fresh challenge for the Korean film industry. .
The best passion of the best staff!
The breath of fantasy that created a miracle!
Cinematographer Kim Tae-kyung and lighting director Hong Seung-cheol, a famous duo from Chungmuro, teamed up for the movie <Eun-gyo>, which has an unconventional drama and beautiful images. The two of them, who have worked together in various genres such as <Countdown>, <Late Night FM>, and <My Love By My Side>, are expected to present a fresher and more suspenseful video than any other movie in <Eunkyo>. To make the video for <Eungyo>, the two were given two important homework assignments. The first is Park Hae-il's special makeup. It was necessary to make the appearance of Park Hae-il, who grew old by going back in time, in other words, Jeok-yo Lee to the audience as natural as possible. To this end, cinematographer Kim Tae-kyung used the 'arri alexa' camera, which removes redness and expresses pale skin tones naturally. Lighting director Hong Seung-cheol took on the task of expressing space and people as naturally as possible in this work, which was mostly done on location. In particular, when filming at Lee Jeok-yo's house in the mountains, the sun sets earlier than on flat land, so it was difficult to finish filming in a short period of time with natural light. Lighting director Hong Seung-cheol showed great concentration and professionalism even in difficult situations, and completed a beautiful video in harmony with natural light.
Another protagonist who completed <Eungyo> is makeup director Song Jong-hee. She has been active in outstanding works such as <Bat>, <Monster>, <Beauty is Suffering>, <Mr. Kind Venus>, and <Old Boy>, and she is recognized as the best makeup artist in Korea. While studying abroad at 'Vancouver Film School', she said that she felt the charm of dressing up for an elderly person, and she showed off her talents to the fullest by creating Lee Jeok-yo of <Eun-gyo>. Jeok-yo Lee's face, hand wrinkles, and age spots, etc., created by exerting more than 8 hours of concentration in each shoot, are not awkward as if they were those of a real old man. Director Jung Ji-woo praised her for her passion, saying, "The special makeup team showed incredible strength." Park Hae-il also said, "If you look at the new attempts of a young actor as an old man from a good side, you will come out with a work that you will not regret."
<Eungyo> is a film where the best staff in each field, including shooting, lighting, and special makeup, put forth their best efforts. It will captivate the audience with its realistic and beautiful visuals combined with the unconventional drama and material and the perfect performances of the actors.
Straight out of the novel and out of the screenplay!
"It is a miracle in itself" Jeok-yo Lee's house in the mountains
The most important place in <Eungyo> is Lee Jeok-yo's house. This is because it is the place where most of the events in the play take place and represents the character of Lee Jeok-yo. In the play, Jeok-yo Lee's house is located in the mountains of Buam-dong, and it has a special relationship with <Eungyo>. The production team, who was looking for a house that could represent Lee Jeok-yo's character, got lost while wandering around Buam-dong, and accidentally found a house that was in contact with Lee Jeok-yo's closed personality. And after a while, director Jung Ji-woo, who was also looking for Lee Jeok-yo's house, sent a photo of a house to the production team, which happened to be the same place the production team found. At the same time, the house was an empty house that was about to be demolished, and the owner was well versed in culture and was able to get permission to shoot.
Jeok-yo Lee's house, which is 'hidden' to the extent that it is difficult to find even with navigation, has a unique structure with one basement floor and two above-ground floors. In particular, the study on the first basement floor is impressive with thousands of books and light leaking through the upper window. Here, hand-stained props such as a leather-stained sofa, mongdang pencils, faded manuscript papers and books are placed here and there, creating an atmosphere where Lee Jeok-yo actually lives. The short verses found in the bedroom and living room on the first floor are also one of the props where the poet's touch can be felt. The deck where Jeok-yo Lee, Ji-woo Seo, and Eun-kyo meet for the first time is a beautiful place where the sunlight pours as it is, and at the same time, it is a place where you can see the scenery of the mountains surrounding the house at a glance. Writer Park Beom-shin, who visited Lee Jeok-yo's house, also expressed satisfaction by saying, "The atmosphere and the house in the novel fit so well, as if I wrote a novel after seeing this house."
Director Jung Ji-woo, who put so much devotion into the space in his previous work <Modern Boy>, that he thought of Kyungsung as the fourth person. Lee Jeok-yo's house in <Eungyo> will also leave a deep impression on the movie as it is reborn as a space with characters that goes beyond a simple background role and has a mysterious drama in itself.
Relay of passion for 4 months, making the best movie of 2012!
Filming of <Eunkyo> took about 4 months from October 16, 2011, to February 15, 2012. It is because of the passion of the actors and staff who have not spared themselves more than anyone else that they can meet the audience with a good movie despite many difficulties. Filming for <Eungyo> was a battle against the cold. This is because last winter, which was unusually colder than normal, almost all of the filming had to be done in the mountains, not on the plains. Director Jung Ji-woo expressed his gratitude, saying, "I think I shot a very impressive and unforgettable movie thanks to the hardworking staff while the temperature was dropping close to 10 degrees below the weather forecast." Not only that, since we had to film a summer scene in the middle of winter, when it snowed, all the staff came out and spent quite a bit of time just removing the snow, such as sweeping and melting the snow on the yard, roof, and trees. However, the person who suffered the most from the cold was Kim Go-eun. She is naturally weak in the cold, and she wore thin summer clothes or short shorts to take pictures. In particular, when filming a scene in which he was looking for Lee Jeok-yo in the rain, he was baptized with cold water before filming in order to remove the steam rising from the body due to the temperature difference between body temperature and air. Park Hae-il, who was filmed together, gave a towel and gave a massage to Kim Go-eun and encouraged him. However, just because he was Park Hae-il did not mean that he was filming smoothly. In the scene where he found the mirror directly for Eun-gyo, who accidentally dropped the mirror on the top of the mountain, he climbed up and down the rock directly without a band, but his foot slipped and a dizzying situation occurred. It was a dangerous and difficult filming, but during rehearsals, he played pranks or ad-libs and showed laughter to fellow actors and staff. In addition, Kim Moo-yeol, who showed explosive acting transformation in <Eunkyo>, had to digest his own action performances, such as being slapped in the cheek with slippers and grabbed by the neck at the same time as the scene where the conflict with Lee Jeok-yo exploded. The filming of <Eungyo> was accompanied by indescribable difficulties. The passionate passion of the staff, which has been going on for 4 months in the mountains of Buam-dong, will shine through the release on April 26th.
Related Videos