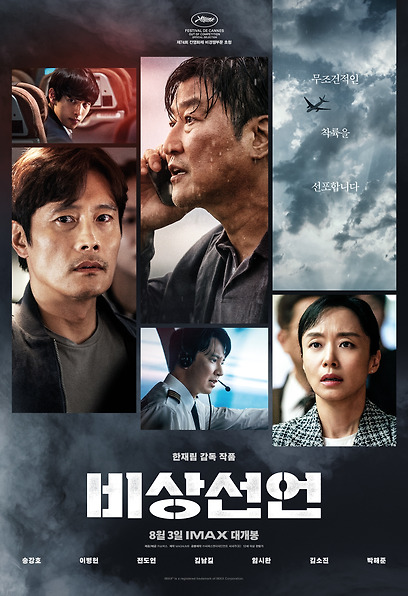 Emergency Declaration, 2020
release

2022.08.03
genre

drama
country

korea
Rating

Audience over 12 years old
running time

140 minutes
grade

6.5
cumulative audience

581199 people
box office

2nd place
Synopsis
'Emergency Declaration': Because aircraft in the face of a disaster are no longer able to operate normally,
Aviation term for an emergency requiring an unconditional landing
In-ho (Song Kang-ho), a veteran detective team leader, is investigating the case after receiving a video report of an airplane terrorist attack.
It is determined that the suspect is actually on flight KI501.
Jae-hyeok (Lee Byung-hun) decides to leave for Hawaii for the treatment of his daughter despite his phobia of flying.
I'm concerned about strangers hovering around me and saying threatening things.
An unknown cause of death occurred on the KI501 flight that took off from Incheon to Hawaii.
Not only in the plane, but also on the ground, it turns into a scene of chaos and fear.
Upon hearing the news, Minister of Land, Infrastructure and Transport Sook-hee (Jeon Do-yeon) formed a counter-terrorism center.
Calling an emergency meeting to find a way to land the plane…
[ DIRECTOR'S STATEMENT ]
About 10 years ago, I was offered to direct a film about an airplane terrorism.
At the time, I was fascinated by the attractive setting of the situation and thought about making it into a movie.
It wasn't clear what to draw through the story.
In the ten years since then, we have experienced numerous disasters, both large and small.
Each incident brought trauma to all of us,
It also showed the power of overcoming it.
One day when I saw it, I remembered a plan from 10 years ago.
I was sure of what to put in the movie.
And the moment before the filming of this film, which is about 'disaster', a pandemic struck.
We, as we have been through countless disasters,
Fighting chaos and despair for more than two years
We are proudly overcoming disasters by helping and sacrificing each other.
In the midst of an unfinished disaster
I hope that this movie will provide a little comfort and warm hope to all of us who are weary.
[ ABOUT MOVIE ]
People who faced unprecedented aviation terrorism and unavoidable disasters
Birth of the most perfect genre film that conveys overwhelming realism
The movie <Emergency Declaration> contains the emotions and dramas of people standing in front of a disaster that no one expected. Some become the seeds of disaster, and some become weak and helpless in the face of disaster, but someone makes a courageous decision.
The movie <Declaration of Emergency> begins with a mysterious death of unknown cause after a mysterious man boarded the plane. Starting with the passenger who suffered from unexplained symptoms and died within a short period of time, all passengers on the plane are engulfed in confusion and fear. The chaotic situation that occurred in a special environment from which there is no escape, an airplane that has already taken off, looks at the face of human beings facing an unavoidable disaster.
Jae-hyeok (Lee Byung-hun), who has a phobia of flying, has to protect his young daughter. The feeling of wanting to solve the disaster situation of despair and confusion also runs through him. The situation on the plane is unbelievable news even for those on land. In-ho (Song Kang-ho), a veteran detective team leader who can't be with his wife on a planned Hawaii trip due to a delayed investigation, struggles with the desire to protect his wife in the sky and the sense of duty to solve the case on the plane as a detective.
In this way, the film depicts the characters facing disasters trying to protect their loved ones in their own way, and conveys a message of hope to the audience for sympathy and comfort for the time that has passed, and for the noble choices that humans can make. . The declared disaster and the feelings of good and ordinary people who want to survive in it will give amazing sympathy to people around the world living in the present age.
Song Kang-ho, Lee Byung-hun, and Jeon Do-yeon, the first breaths of Korea's representative actors
Kim Nam-gil, Im Si-wan, Kim So-jin, Park Hae-jun
And the chemistry completed by Dream Casting, up to the 80 or so passenger actors!
The movie "Emergency Declaration" has completed casting that encompasses the Korean film industry. Song Kang-ho, Lee Byung-hun, Jeon Do-yeon, Kim Nam-gil, Im Si-wan, Kim So-jin, and Park Hae-joon, the representative actors of the Republic of Korea who are reliable just by hearing their names, will come out and fill the screen with their personality, charm, and acting skills. In addition to the actors who disassembled and performed passionately as passengers facing disasters on board, <Declaration of Emergency> brings out perfect immersion with a tight casting.
First, the irreplaceable famous actor Song Kang-ho, who was the first Korean film to win the Academy Award for Best Picture and the Palme d'Or at the Cannes Film Festival for <Parasite> and won the first Best Actor Award for a Korean actor for <Broker> at the 75th Cannes Film Festival held in May, went to prevent disaster. He played the role of In-ho, a struggling veteran detective team leader. In order to portray the emotions of a person trying to save everyone in an unprecedented disaster situation with the appearance of an ordinary head of household, Song Kang-ho breathed new breath by adding his own personality to the character's human side. Actor Lee Byung-hun, who has been praised by the audience for his best acting and leading role in the Netflix series [Squid Game] that took over the world, has transformed into Jae-hyeok, a passenger who boarded the plane for the treatment of his daughter. In order to complete a more realistic character, Lee Byung-hun, who announced that he had elicited the emotions he actually experienced on the plane, is expected to show off his apex acting through the role of Jae-hyeok, who has to face disaster in a limited space. Actor Jeon Do-yeon, who does not need any modifiers, plays the role of Sook-hee, the Minister of Land, Infrastructure and Transport, who steps forward to protect the people, and once again delivers an amazing performance. Jeon Do-yeon will portray a human leader who finds the best way to prevent the people from falling into chaos even in a desperate disaster situation that has no choice but to agonize. In particular, the intense acting that overwhelms the situation with just her eyes makes the audience look forward to the new look of actress Jeon Do-yeon.
Above all, <Declaration of Emergency> is more interesting in that it is a work in which the three representative actors of Korea, Song Kang-ho, Lee Byung-hun, and Jeon Do-yeon, all worked together for the first time. Song Kang-ho expressed affection and respect for Lee Byung-hun and Jeon Do-yeon, saying, "I was happy to work with fellow actors I admire and have been with for a long time." Lee Byung-hun also expressed confidence in Song Kang-ho and Jeon Do-yeon, saying, "It was very reassuring to work with these two actors."
In addition to these, Kim Nam-gil, who plays the role of co-pilot Hyeon-su, who must land safely, three-dimensionally depicts the complex emotions of a person facing a disaster situation. Kim Nam-gil, who has performed outstandingly without disagreement in many works that crosses genres, is expected to draw admiration from the audience with his extraordinary presence in this work as well. Im Si-wan is expected to quickly attract the attention of the audience by appearing as Jin-seok, a passenger who arrives at the airport without a destination. It foretells a new face that has never been shown before, and meets the audience with a character more impactful than ever. In addition, Kim So-jin, who transformed into Hee-jin, an in-flight secretary who actively tries to help the safety of the audience even in a crisis situation, and Park Hae-joon, who played the role of Tae-su, the head of the Blue House Crisis Management Center, who has to make realistic decisions, completed an overwhelming combination to conquer the ground and the sky. They will show off a hot performance that doesn't have time to breathe.
Finally, what completes the casting of <Declaration of Emergency> is an ensemble of actors who play passengers facing an unavoidable disaster. Director Han Jae-rim, who directed the film, three-dimensionally completed passenger characters with various characteristics such as age, gender, occupation, and personality, and selected actors to play them through the 5th audition for 3 to 4 months. The passenger characters, full of personality and realism, came to life by meeting actors who perfectly matched their roles. Director Han Jae-rim said, "Because they were such excellent actors, natural emotions and performances came out according to the moving set. If the set played the role of 40%, the acting of the passenger characters will fill the remaining 60% and make the audience immersed."
"Intense yet very modern disaster film"
The acclaimed baptism that embroidered the Cannes Film Festival!
The rise of Korean cinema to show the new evolution of K-content!
Director Han Jae-rim has always been well-received by critics and audiences by dealing with socially noteworthy subjects with his own topic and style in an interesting and high-quality way. It has been presenting a unique genre with a perspective on reality and society in a story created by imagination that is not bound by a frame. <Emergency Declaration> was also officially invited to the Cannes International Film Festival as a work that maximized these advantages, and established itself as the main character of rave reviews.
<Declaration of Emergency>, which was first shown at the world premiere of the Cannes International Film Festival, received cheers and a standing ovation for about 10 minutes as soon as the ending credits went up after the movie was over, and it was well-received like a movie that the world is paying attention to. Thierry Fremo, the executive director of the Cannes International Film Festival, who praised "the birth of a perfect genre film", said after the screening, "It's amazing! It's amazing," he praised generously. As a result, overseas such as "Intense yet very modern disaster film" (CINEMATEASER), "A frighteningly timely, wonderfully tense aviation disaster film" (NY OBSERVER), and "Running time passed in the blink of an eye" (AFP) It was also praised by the media. Subsequently, influential local media in France also reported "Pandemic and terrorism, a film that is more convincing for us today" (LE JOURNAL DU DIMANCHE), "Classic! It's well crafted!" (TÉLÉRAMA), etc.
As proof of such global expectations, <Declaration of Emergency> is receiving intensive spotlight even before its release as it is about to be released all over the world, including North America. In a desperate situation, it is a breathtakingly realistic depiction of those who face disasters on the ground and in the air, and the directing that contains both drama and reality predicts that it will interlock with our real reality and generate sympathy from people around the world. In response, the actors also said, "These days, when interest in K-movies and K-contents is increasing, <Emergency Declaration> is also expected to be able to draw sympathy and be loved by many people with the combination of excellent build quality and materials that remind you of reality." It is expected that another work will be created that will lead the new evolution of K-content following <Parasite> and [Squid Game].
High-drop, zero-gravity, up to 360-degree rotation sequences
A real aviation disaster completed with a one-year pre-production process!
Behind the scenes of a well-made project flying around the world
As the production team of <Declaration of Emergency> all mentioned that "the story was filmed as it was," director Han Jae-rim worked with art, photography, lighting, and VFX to use six months of the pre-production period to prepare the filming continuity. For the actors who received a continuity book that was close to animation, the detailed filming guide was a great help in acting. In addition to this, pre-visual animation work was added, and since the filming was carried out with a large production cost, we put great effort into minimizing errors that occur during filming.
Director Han Jae-rim paid attention to the way in which a number of spaces and people on the ground and in the air are intertwined in one case. The results of thinking about what kind of space will give the audience a sense of reality without creating a sense of heterogeneity, and the continuity that makes it feel like one space while going back and forth between the plane and the ground, are all reflected in the lighting, art settings, and shooting method. In the case of an airplane that becomes the site of a disaster, collaboration between the art team and the special effects team was important. The art team worked on a set based on an airplane airlifted from abroad. Art director Lee Mok-won has the know-how of working on a KTX set with <Train to Busan>, but the nature of the airplane is different. In particular, <Declaration of Emergency> uses the body and parts of an actual airplane because the entire set rotates 360 degrees, so safety was required so that actors were not injured when rotating. In response to these details, the actors praised the perfect production, saying, "It felt like filming in a real airplane, so I was able to feel the overwhelming sense of reality." The special effects team has added technical skills to the set that the art team has built solidly so that high-flying sequences and zero-gravity sequences can be performed like real situations. In the case of lighting, we tried to make the most of the lights inside the actual airplane. Artificial and distorted lighting is excluded, and real sky lights are realized through high-sensitivity shooting to add realism. The film <Emergency Declaration>, completed realistically through organic collaboration with all teams, will give the audience a vivid experience as if they were boarding a real airplane.
Related Videos