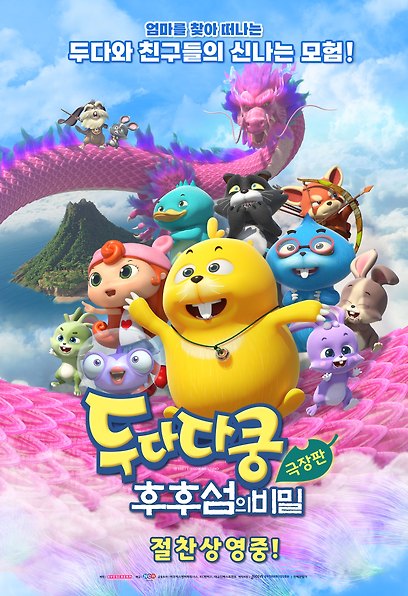 Duda&Dada The Secret of HooHoo Island, 2022
release

2023.02.15
genre

animated movie
nation

korea
Rating

All audience
running time

83 minutes
grade

9.4
cumulative audience

55572 people
box office

13th
Synopsis
"Duda, if you go to Hohu Island,
you will find your mother!"
Friends united for Duda!
In order to go to Houfu Island, you must find the mysterious flower, the shining crystal!
Shall we go on an adventure in our pink car?
"wow ! We have arrived at the Legendary Snow Rabbit Village!"
what? Every time the full moon rises, a dragon descends and takes the baby rabbits?
Save the baby rabbits from the dragon
We need to get the treasures to go to Houhou Island!
Are you ready to join us?
Put it all together and start =3=3
Duda and her friends head to Fufu Island to find the memories of their mother. In the forest of snow rabbits encountered during the expedition, they unexpectedly fight against a dragon invading the village, and the expedition runs into difficulties…
To go to Houhou Island, you must find the shining crystal before the mysterious flower withers. A broken Finca, a dragon's fortune, Duda, friends trapped in a dungeon, and an unknown crisis…
Can Duda and her friends overcome all adversity and meet their mother?
(2021 25th Seoul International Cartoon & Animation Festival)
Related Videos