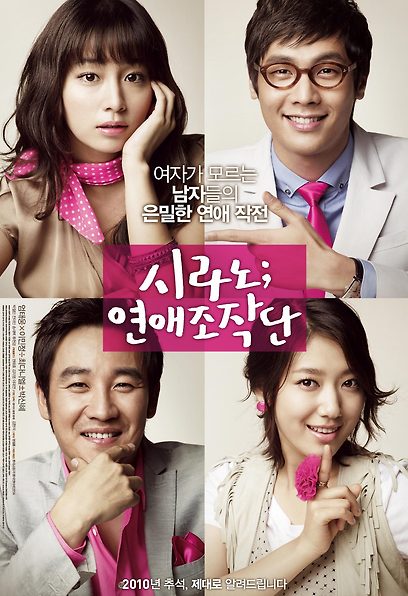 Cyrano agency, 2010
release

2010.09.16
genre

Romance/Melo/Comedy
country

Korea
ranking

Audience over 12 years old
running time

121 minutes
grade

8.4
cumulative audience

2684807 people
Synopsis
'Cyrano: Love Operations Team', challenging 100% success rate
I met an unpredictable client and target girl!
'Cyrano Agency' is a love operation group that makes love for those who are not good at dating. A love agency that fulfills the love of its clients with a perfectly crafted script, sometimes with an organized movement reminiscent of a movie set, and sometimes like a secret operation. Their motto is 'Work in the shade and don't aim for the sun'.
Then, one day, Sang Sang (Choi Daniel), a client with the best specs but poor romance, comes to visit the agency representative Byeong-Hoon (Uhm Tae-Woong) and his operative Min-Young (Park Shin-Hye). The woman he falls in love with is Hee-joong (Lee Min-jung), a lovely-looking woman. However, the moment he saw her profile, Byung-hoon fell into trouble…
Will 'Cyrano: Love Operations Team' be able to succeed in its mission?
[ History ]
Cyrano de Bergerac
A play by the French playwright Edmond Rostang. It premiered at the Porte Saint-Martin Theater in Paris in 1897 and was a success.
Based on the turbulent life of Cyrano, a real person, it is a 5-act historical drama featuring cheerful heroism, sweet love feelings, and clever verses.
Cyrano, who has a complex because of her big nose, loves her eight-year-old sister, Roxanne, but is unable to confess because of her qualifications. His direct subordinate, 'Christian', a handsome young man, also falls in love with 'Roxanne', and Cyrano writes a love letter for him, who lacks literary talent.
In 1950, it was made into a movie by American director Michael Gordon, and in 1987 it was remade into a work called Roxanne starring Steve Martin and Daryl Hannah.
The most well-known work is the 1990 French film Cyrano, starring Gerard Depardieu.
The handsome star of the time, 'Vincent Peret' played 'Christian', and 'Gerard Depardieu' had the pleasure of winning the Best Actor Award at the Cannes International Film Festival for this film. It won the 1991 Golden Globe Award for Best Foreign Language Film and the Cesar Film Award in 10 categories.
Cyrano; Love Operations Team
The original title of the movie <Cyrano; Love Operations Team> was based on <Cyrano> starring Gerard Depardieu, which director Kim Hyun-seok saw at the theater when he was a college student.
After finishing his sophomore year in college, his first screenplay <Agency>, which he wrote while enlisted in the military, won the Grand Bell Award for Best New Screenplay in 1995 and made his name known to the film industry for the first time. 15 years later, this story, which was reborn and completed as a movie under the title of <Cyrano; Love Manipulation Team>, is his fourth work after <YMCA Baseball Team> <Kwangsik's younger brother Gwangtae> and <Scout>, and is one of his romantic comedies. It is also the final version.
In his words, "a man who doesn't know love but does the job of expressing love", "a man who knows love but does not know how to express it" and "the girlfriends of our past" are in harmony.
[ ABOUT MOVIE ]
Squeeze Romance <Cyrano; Love Operations Team>
Even today, many solos are roaming the city. What if there is an agency that 'makes love in return' for you who have never been in a relationship properly because of lack of ability, lack of looks, lack of interest, or lack of time?
The film begins with this delightful idea. Cyrano Agency is a place that establishes a relationship of love by manipulating (!) the best environment in which the hormone of love can be secreted, setting the situation in which everything fits naturally, as well as custom designing characters, tastes, and facial angles in detail.
It is a kind of theater stage, and a go-stop that is played and played.
Taking a motif from <Cyrano>, which is a representative French play and better known for the movie starring Gérard Depardieu, <Cyrano; Love Operations Team> fills in the missing elements of love, and sometimes manipulates relationships to make you fall in love. is a group that Now, in the fall of 2010, they excite young men and women of this land with feelings of love.
Uhm Tae-woong x Lee Min-jung ÷ Choi Daniel ± Park Shin-hye
The blue chip quartet of 2010 Korean movie is out!
Yoo Shin-rang 'Um Tae-woong' in the drama <Queen Seon-deok>, 'Lee Min-jung' in the drama <Boys Over Flowers> and <You Smile>, 'Daniel Choi' as Lee Ji-hoon in <High Kick Through the Roof>, and Ko Mi-nam in <You're Handsome> Station 'Park Shin-hye'. The four rising stars who spent the past year really hot are united as <Cyrano; Love Operations Team>.
'Uhm Tae-woong' as Byeong-hoon, a strategy leader who exudes a chic charm by relaxing his shoulders, 'Daniel Choi' as Sang Sang-si, a client who shows a cute innocence different from a roof kick, and 'Lee Min-jung' as Hee-joong, an attractive target woman riding a scooter. ', the fresh harmony and acting breath of 'Park Shin-hye', who plays the role of Min-yeong, a hippie-style operation agent with full of personality, breathed extra vitality into <Cyrano; Love Operations Team>.
Cheol-min Park & Sae-byeok Song from <Cyrano; Love Operations Team>!
Actor Park Chul-min, who has listened to the audience while speaking lines such as "This swampy land" and "Swishly, this is not a sound from the mouth" in a fast Jeolla dialect, and Song Sae-byeok who appeared like a comet while listening to the nickname 'Second Song Kang-ho' We met at <Cyrano; Love Operations Team>.
In the blockbuster blockbuster 'Glamorous Vacation' with 7.3 million people, 'In-bong' was responsible for laughter and tears with excellent timing acting, and 'Seo-gon' naturally played the emotion of unrequited love by reciting the poem 'Bi-gwang' in Kim Hyun-seok's 'Scout'. Park Chul-min, who has shown his abilities as an actor and a master of comic acting in <Cyrano; Love Operations Team>, is the eldest brother of the agency and the script for the operation in <Cyrano; Love Operations Team>. He takes on the role of 'Cheol-bin' in charge and shows his comic acting and skills in the right place.
Song Sae-byeok, who left a short but strong impression as a detective as Sepak Takraw in <Mother>, and then quickly emerged as Chungmuro's best prospect in the blink of an eye as the funny, cute, scary (!) perverted 'Byeon Hak-do' in <Bangjajeon>, He takes on the role of 'Hyun-gon', a typical unfavorable type with a poor Jeolla dialect as a soccer member, and has never been in a relationship before, and becomes the first client of the Cyrano Agency. The two people's amazing taste of speech and witty acting shines and is responsible for the laughter of <Cyrano: Love Operations Team>.
Director Kim Hyun-seok is back!
A revival of a Korean-style well-made romantic comedy!
The movie genre called 'Romantic Comedy', which deals with 'love' and 'love', which are common concerns of all mankind regardless of age and generation, has been loved around the world for as long as any other genre. Even in the history of Korean movie box office, there have been so many romantic comedy films that it is impossible to talk about 'romantic comedy' without mentioning them. Director Kim Hyeon-seok, who is like a rain in the midst of such a 'romantic comedy' drought, has shown the potential and potential of a Korean-style well-made romantic comedy in every film he directs, and has always shown works that exceed expectations to the audience. <YMCA Baseball Team> (2002) depicting Joseon's first baseball team, <Kwang-shik's younger brother Gwang-tae> (2005), a love story of two very different brothers, a man who went to Gwangju in May 1980 to scout Seon Dong-yeol and encounters his first love The story of <Scout> (2007), who has made only a rare 'romantic comedy' in the Korean film industry, through the love story of timid, fragile, and sometimes insufficient 'men', by showing their growth, bitter tears and warm laughter. has been offering
His fourth film <Cyrano; Love Operations Team> is about how a man who does not believe in his love and two people who lack 2% each who cannot achieve their love on their own meet each other and realize the true form of love. It is the final version of Kim Hyun-seok's romantic comedy, which conveys his emotions with a poignant emotion and warm humor in the whimsical frame of 'Dating Agency'.
[ PRODUCTION NOTE ]
The boss and the client's duet singer debut?!
Uhm Tae-woong and Choi Daniel are the first to challenge as singers.
Uhm Tae-woong and Choi Daniel kissed together in the movie <Cyrano; Love Operations Team>! That is why we sang the OST of the movie with one voice. The title of the song is 'I've gone to Mt. Cheonggye'.
[Refrain] "I hesitated again today, but I couldn't turn left and went straight. I went straight Then I went to Mt. Cheonggye."
The song's lyricist is the director of the movie, Kim Hyun-seok, who conveys the psychology of the main character who hesitates because he cannot confess to his loved one with a unique message, 'I've gone to Mt. Cheonggye'. Music director Kim Tae-seong, who won the Music Award for <Crossing> at the 2008 Chunsa Film Festival, added his own cheerful melody to the lyrics of the unique comic code. In addition, the skill of Uhm Tae-woong, who has accumulated skills while filming several times, and the fresh harmony of Daniel Choi, who has just taken his first steps in the film industry, melted into the OST, creating an OST with a level of perfection that is rare these days. The rap of these two men is also included in the OST, so you can look forward to it. There's a bonus track! Director Kim Hyeon-seok, Park Chul-min, and Jeon Amin also participated in the chorus, so you can hear the heavy voices of these men who are courageous without saying a word to a woman.
Daeyeon Lee + Jiyoung Kim + Haehyo Kwon
Short but thick! 3 special guests who are responsible for a big laugh
Lee Dae-yeon, who left a strong impression despite the short length of his portrayal of Monk Myung-an in the drama <Chuno>, which enjoyed the most popularity in the first half of this year, Kwon Hae-hyo, who is active in the theater as well as screens and CRTs, and the currently popular drama <Marriage> Kim Ji-young, who is performing in <Cyrano; Love Operations Team>, showed a luxurious presence like the actors in <Cyrano;
Actor Lee Dae-yeon, who actually majored in theology, breaks down into a profound and dignified pastor in the movie, playing a decisive role in the fateful meeting of Lee Min-jung and Choi Daniel in the movie. Kwon Hae-hyo takes on a role in a comic character with his unique wit and playful acting, giving the audience a big laugh. Kim Ji-young appeared as a close older sister of 'Hee-jung (Lee Min-jung)' in the movie, and she played the role of licorice by acting as a strong supporter who supports her love with an outspoken tone, sometimes like a friend and sometimes like a mother.
The theater is the agency's office, and the ordinary cafe is the site of a secret operation!
A unique mise-en-scène created through reinterpretation of space!
In the movie <Cyrano: Love Operations Team>, the offices of the members of the 'Cyrano Agency' were remodeled and used to show special aesthetics. The production team of <Cyrano: Love Operations Team> presents a unique space called an office that has been converted to a theater, reflecting the circumstances of 'Byung-hoon', who originally ran a theater company and then ran a dating agency for a while. The members of 'Cyrano Agency' show the wit of maximizing the space of the theater by rehearsing operations on the stage of the theater and eating in the dressing room. This was developed from the idea of art director Kim Jun, who presented high-quality production designs for <Murder in Paradise>, <A Wonderful Day>, and <Paju>. In addition, the cinematographer Woo-hyeong Kim, who was recognized for his ability by winning the cinematography award at the world's leading film festivals, not only reinterpreted the space, but realized the perfect visual beauty that could not be seen in any romantic comedy film.
In addition, the cafe, which appears frequently as a date spot for men and women, is transformed into a space where a detailed and secret operation takes place in the movie <Cyrano: Love Operations Team>. The interior of the cafe, as well as the music flowing in the cafe, and even small props are all set to win the heart of the target girl, and the audience must remember that these are practical dating tips that can be used in real love. .
The truth of a man and a woman you must know when dating!
Famous lines of rustic murder that stimulates the psychology of men and women
Director Kim Hyeon-seok, who taught 'everything women want to know about men when dating' through his previous work <Kwangsik's younger brother Gwangtae>, is this time with the movie <Cyrano; Love Operations Team>, 'Without mice or birds, it happens endlessly'. Passing on love skills. Like his film, <Cyrano: Love Operations Team> mainly contains famous lines of rustic murder that any Korean man or woman who has experienced love can sympathize with.
"As a woman, it is the nature of a woman to want to steal a man from a jealous person."
"When a woman contacts (to a man) first, she is very bored or shaken."
"Men have a complex about women's past men"
"When men say they're sorry, they don't know what they're sorry for."
In addition to Kim Hyun-seok-pyo's famous lines as above, famous sayings about love also appear frequently. 'A man wants to be a woman's first love, and a woman wants to be a man's last love' This proverb of the 19th century playwright Oscar Wilde also applies to the 21st century movie <Cyrano; Love Operations Team>. As such, the love psychology of men and women is undoubtedly the most troublesome and happiest concern of mankind, regardless of nationality, age, or age. The movie <Cyrano: Love Operations Team> is a friend-like film that gives advice and support to those who are still struggling to win her or his heart.
[ Director's File ]
change of direction
There is such a thing as 'artificial rain'.
It is a technology that obtains rain by causing an artificial chemical reaction in the sky where there is no rain.
Natural phenomena under the control of the Creator have reached a level that can be manipulated by humans.
Can science explain the feeling of love? Can the secret of falling in love be controlled or manipulated by human power?
<Cyrano;Dating Manipulators> is a group of people who believe that it is possible.
Think of a moment when you fall in love with someone.
The sunshine of that day, the passing wind, the sweet music that flows just in time, the sweet words of that person, the smell of caramel macchiato, which was especially fragrant that day…
Numerous elements of this kind organically combine to produce the hormone of love (Gardenia). If either one is twisted, the feeling of love will not come.
Looking back on our past, how many times have we been unable to love because we lacked one of them?
And it wasn't a relationship, it was dismissed.
It is the task of <Cyrano; Love Operations Team> to fill in the missing elements that hinder the relationship.
Just like scientists add 'silver iodide' and salt particles to the clouds to get artificial rain.
So, are these scientists challenging the realm of Creatorism?
Well… What they do is more like a scammer.
Just for fun, watch those who use their crude skills to think they're doing something great.
For reference, the artificial rainfall experiment was successful, but the cost-effectiveness was insignificant. For now.