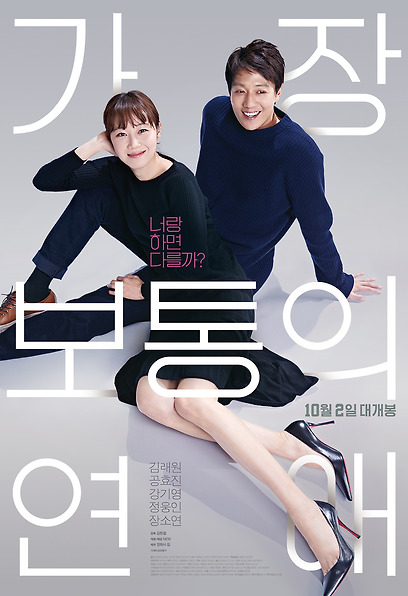 Crazy Romance, 2019
release

2019.10.02
genre

Romance/Melo
country

Korea
ranking

Audience over 15
running time

109 minutes
grade

7.4
cumulative audience

2924564 people
Synopsis
Jae-hoon (Kim Rae-won) is hurt by his ex.
As usual, the morning started with a hangover,
You find a record of talking to someone from an unknown number for 2 hours all night, and that person is you! He finds out that it is Seon-yeong, a co-worker, less than 24 hours after he gave his name.
Seon-yeong (Gong Hyo-jin) is breaking up with her boyfriend.
On the first day I went to work for a new company, at the scene where I broke up with my boyfriend, pouring out words I couldn't say! He runs into 'Jae-hoon' at the same workplace.
Two people who got to know each other's love story better than work within a day after meeting.
But the subtle tension and awkwardness
Why is it that I am used to my heart even though I am conflicted with 'It's pathetic' and 'It's ridiculous'?
[ About Movie ]
The love story of all men and women in Korea
special to me? Unusual to others!
The most honest and outspoken reality romance of 2019
This fall, just looking at it makes your heart flutter and your heart beats, and it seems like you are the only person in the world once in a lifetime, but when we break up, we all come back to a love story that is just 'normal'. <The Most Ordinary Romance> is a movie depicting a frank and unrelenting reality romance between 'Jae-Hoon', who was hurt by her ex-girlfriend, and 'Seon-Young', who was hit in the head by her ex-boyfriend, and two men and women who have just broken up. The romantic film <The Most Ordinary Romance>, which was released in 2012 and produced <All About My Wife>, which was released in 2012 and produced <All About My Wife>, which mobilized 4.59 million viewers with a fresh perspective on marriage and love, is released in 7 years. It conveys differentiated fun with an honest and special story about difficult love and parting. While most of the existing romance films sweetly depict the process and beginning of two men and women meeting and falling in love, giving the audience the thrill of 'I want to try that kind of love once', <The Most Ordinary Romance> is just about the worst parting each other. Through the stories of those who have experienced it, it realistically captures the bitter aftertaste of love that goes back and forth between regret, regret, anger, and infidelity, forming a consensus that 'I was like that when I was in love and when I broke up'. Also, since I've already tried enough to date and experienced all the joys and sorrows, I don't want to be hurt again, and even the complex and subtle emotions of those who hesitate and have no courage in new relationships and love. At times, he tells the deepest story of a relationship that is 'special' and 'special' to him than others.
'Jae-hoon', who is comforting the pain every day due to the aftereffects of the breakup, and 'Sun-yeong', who puts an end to their love affair and does not look back. <The Most Ordinary Romance>, which tells an interesting love story about whether two men and women who have tried enough will be able to love anew after suffering the wounds of parting again with witty lines and episodes of a village murder, and an honest and unstoppable touch It will captivate the audience with the consensus and fresh fun that everyone will nod their heads in, whether they are in a relationship or not.
A harsh regret man who struggles with regret
A realist who has no illusions in love
The most sympathetic and polar charm character in 2019
Although their styles are different when it comes to love and parting, the candid and realistic appearance of the two male and female characters who are attracted to each other focuses on the differentiated fun of <The Most Ordinary Romance>. As he believed that there is meaning in life in meeting the person he loves and growing old together for the rest of his life, 'Jae-hoon' is not easy to accept a breakup that leaves only scars. The image of 'Jae-hoon', who struggles with regrets, soothes the pain of parting with alcohol, and repeats endlessly repeating the black history of regretting numerous phone calls the next day, is if they have the memories of a relationship they made at least once because they could not easily accept the breakup. It forms a sympathy that anyone can touch. On the other hand, 'Seonyoung', who has no illusions about love, that love is there and that people are that guy through eventful experiences, is an extremely realistic and rational figure in love, which is opposite to 'Jaehoon' and has another sympathy. brings about At the same time, 'Seonyoung', who broke up with her boyfriend pouring out words she couldn't say, but maintains her own pace without agitation even after parting, gives a cool and confident appearance that does not lose to the back of the head that her boyfriend hit, and provides a coolness that breaks through the clogged stomach. do.
These two seemingly indistinguishable people start their relationship with one accidental phone call, and openly and relentlessly open up about dating methods that each other does not understand. It provides cinematic fun and laughter that cannot be missed. 'Seonyeong' who has no faith in love is frustrated 'Jaehoon', and 'Jaehoon' who is shaken by the pain of parting, is sad 'Seonyeong'. <The Most Ordinary Romance> draws people's hearts because it's different, but on the other hand, it vividly captures the complicated side of love through realistic characters, which makes you distance yourself from the scars of past love. will tell
'Character Master' Kim Rae-won
Hyo-jin Gong of 'Gongbli', a romantic box-office hit
The toughest acting ensemble of 2019
Kim Rae-won, who has recently shown unrivaled charm with his bold acting in the noir, action, and thriller genres, is returning to the romance genre after a long time taking on the role of 'Jae-hoon', who creates black history every day after being hurt by his ex in <The Most Ordinary Romance>. Kim Rae-won realistically digests the climax of the aftermath of the breakup, which is painful and painful, stimulating a consensus as if I was going through a breakup. In addition, he completed another life character by adding an unexpected reversal charm that takes care of the other person even if he seems clumsy and indifferent. In particular, Kim Rae-won, who struggles with regret over the infinite call record left over night, perfectly digests the life action (?) of rolling and falling over drunkenness, causing unexpected laughter in reality.
Gong Hyo-jin, who has been unsuccessful in the romance box office by showing an irreplaceable presence in various works such as the movie <Love Fiction>, the drama [It's Okay, That's Love], and [Incarnation of Jealousy], is a romance queen through the role of 'Seon-yeong', a realist who has no fantasy in love. Show off your charm without any regrets. In particular, Gong Hyo-jin, who portrays 'Sun-yeong', who throws a ball at her ex-boyfriend who cheated on her and responds equally to her boss who speaks to her on the first meeting, is a character with a sharp acting. He delicately expressed even the acting that had extraordinary concerns.
As such, Kim Rae-won and Gong Hyo-jin, who reunited as supremely attractive and realistic characters through the movie <The Most Ordinary Romance>, quarrel with each other's love affair, but care for each other, with perfect breathing that doesn't need explanations, so they can immerse themselves in their emotions. will double it.
A must have among friends and co-workers
Responsible for everything from best friend chemistry to empathy for work life
Kang Ki-young, Jung Woong-in, and So Ji-yeon's most individualistic performances
The movie <The Most Ordinary Romance> brings rich and colorful fun with talented actors with acting skills and personality. After playing her roles in romance films such as the dramas [Oh My Ghostess], [What's Wrong with Secretary Kim], and the movie <Your Wedding>, the character that cannot be hated in the movie <Exit>, which recently surpassed 8.9 million viewers, 'the old manager' Kang Ki-young, who rose to fame as a popular actor by successfully digesting ', played the role of 'Jae-hoon''s friend and co-worker 'Byung-cheol' in 'The Most Ordinary Romance'. Not only does he see through other people's every minute love story, but he also coaches 'Jae-hoon' in his love affairs, but he does not know what to do in front of his own love problems, but 'Byung-cheol' gives a pleasant laugh and energizes the play. In particular, as it is a character who can see through the love history, injection, and work history of 'Jae-hoon', Kim Rae-won's best friend chemistry will be another fun point.
In addition, Jung Woong-in, who has proven his presence through acting full of personality in dramas and movies, takes on the role of 'Kwan-su', the company representative of 'Jae-Hoon' and 'Seon-Young', aiming for a family-like company, but he is not aware of weekend climbing workshops and sudden project instructions. The lack of characters raises the sympathy for the real work life in the movie. In addition, Jang So-yeon, who is active in various works regardless of genre, appeared as a co-worker of 'Jae-hoon' and 'Seon-yeong', adding richness to the appearance of a real office worker, from passing on company life tips to daily gossip. In this way, <The Most Ordinary Romance>, which adds the unmissable performances of actors full of personality who are divided into characters that anyone who has experienced a work life beyond a love history, will provoke a storm of sympathy with pleasant laughter.
real laugh lines
Episodes everyone has experienced at least once
The most detailed space to raise consensus
In order to more vividly depict a story that would make anyone who has ever been in a relationship nod, the production team made an effort to compose lines and episodes based on the extremely ordinary and diverse experiences of countless people, including themselves and their acquaintances. . From the words and actions that were said when struggling with the pain of parting or when subtle romantic feelings began, to the detailed episodes and relationships of the workplace that could add realism to the love story, the experience of someone who actually had > provides a broad consensus that both men and women can feel as if it is my story. Here, the production team thought about a device that can reveal the representativeness and realism of the current era, which can be engraved with 'You did love like that in 2019'. Inspired by the dating trend, it doubled the fresh fun with impressive episodes through mobile messenger.
In addition, as it was aimed at the most ordinary love story, the space setting and design that can intuitively show the movie atmosphere and characters while being realistic were also completed with detailed settings. In particular, the interior of the 'Visualizing' company, which is the main space for 'Jaehoon' and 'Seonyeong', gives a lively atmosphere by adding the unique design and colorful colors of an advertising PR company that emphasizes creativity while making use of the reality of an office space. did. Here, in the case of 'Jae-Hoon''s apartment and 'Seon-Young''s officetel, at the beginning of the movie, the mise-en-scène itself plays the role of character-telling, but gradually changes as if representing the situation of two people hurt by their ex. As much as the relationship between the two is thin, the space also adds subtle changes according to the development of the play so that you can focus on the emotions of the characters through the directing that gradually gets organized as the story unfolds. <The Most Ordinary Romance>, which made detailed efforts not to miss both realism and cinematic fun, will naturally immerse the audience in something more special than usual.
Related Videos