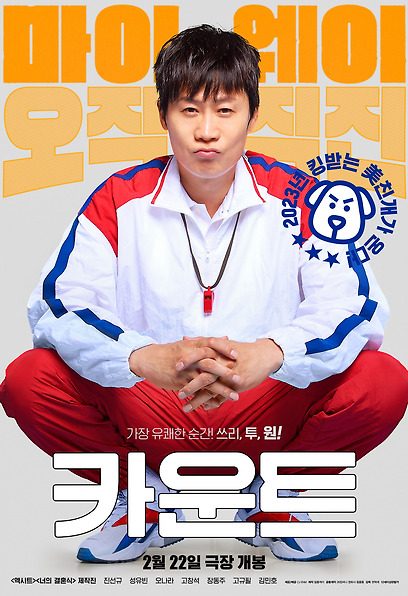 2020
release

2023.02.22
genre

drama
nation

korea
Rating

Ages 12+
running time

109 minutes
grade

8.6
cumulative audience

52054 people
box office

8th place
Synopsis
My way, only go straight!
A beautiful dog that will never let go once bitten is coming!
1988 Olympic gold medalist
In 1998, 'Siheon' (Jin Seon-gyu) is now an ordinary high school teacher.
After retiring as a player, the only thing left is stubbornness,
He rots the people around him with his My Way move that makes everyone feel bad.
Then one day, despite his outstanding skills at a competition he happened to attend,
'Siheon' gets to know 'Yunwoo' (Sung Yubin), who was sacked due to match fixing.
He decides to make a boxing club.
Ignoring the passionate opposition of his wife 'Il-seon' (Oh Nara) and the persistent dissuades of the 'Principal' (Ko Chang-seok),
'Siheon' is a promising young man who is left alone with 'Yoonwoo'.
Take 'Hwanju' (Jang Dong-joo) and 'Bok-an' (Kim Min-ho) who were caught on the radar without knowing why.
I'm starting to start training in earnest…!
Three, two, one! New Year 2023, full charge of positive power!
Their own most delightful count begins
[ About Movie ]
<Exit>, <Your Wedding> producers
A delightful shot towards the world!
Three, two, one! 2023 count start of laughter and excitement
<Exit> (9.42 million viewers), a thrilling disaster escape action movie for young people who are salty, and <Your Wedding> (2.82 million viewers), which depicts the eventful first love chronicle of a man and a woman, captivated audiences by arousing sympathy from all generations. The production team is coming back in 2023 with the movie <Count>, which will provide pleasant laughter and warm impressions.
<Count> is a movie depicting the story of 'Siheon', a former gold medalist and never letting go of My Way once asked, meets his ragtag students and strikes a pleasant blow to the world. 'Siheon' was a gold medalist at the 1988 Seoul Olympics, but now, after retiring as an athlete, became a high school teacher in Jinhae, his hometown. Rumors spread in the neighborhood as 'Crazy Dog' due to his unstoppable My Way moves. After watching the match of 'Yunwoo', who had promising skills but was defeated due to a rigged match, he created a boxing team at school. The movie <Count>, which depicts 'Siheon' and the ragtag students, creates pleasant laughter and fun with their chemistry. 'Yunwu' is a boxing prospect who has the best natural skills but gave up hope early on in an unfair world, 'Hwanju' starts boxing because he doesn't want to become a bully, 'Bokan' has a timid personality, and the problematic trio 'Gao' and 'Jody', Even 'Bokko', who became the boxing club by chance, quarreled with teacher 'Siheon' while trusting and relying on each other and growing together. Here, the process of 'Siheon', who is unpredictable and selfish on the outside, but shows leadership with a tenacity that does not give up until the end, and the process of blowing a shot toward the world with his disciples conveys a pleasant pleasure. <Count>, which completed a fighting synergy with the meeting of Jin Seon-kyu, who has established himself as a new trending actor by digesting characters full of personality with solid acting skills, Oh Nara and Ko Chang-seok, who have a strong presence, and young actors Sung Yu-bin and Jang Dong-joo full of energy, is a new year 2023. It will captivate theatergoers with its positive energy of cheering everyone on.
Olympic Gold Medalist in 1988, now a beautiful dog who is crowned?!
My Way teacher 'Siheon' who doesn't give up
A new life character of Jin Seon-kyu, a box office hit 'Captain Gyu', is born!
'Siheon', a direct teacher for My Way, is the central axis that leads the movie <Count> and presents fresh fun as a character with unpredictable personality and charm. 'Siheon' was a boxing champion at the 1988 Seoul Olympics, but is currently living as an ordinary teacher in his hometown after retiring as an athlete. He is famous as a so-called 'crazy dog' who spares no teaching (?) to students who have committed mistakes, acts before words, and does not break his will even in the face of parents' protests and principal's admonitions. However, he created a new opportunity for 'Yunwoo', who was hurt by an unfair world at a young age and his dreams were shattered, taught the spirit of fair play to 'Hwanju', who was ahead of the fist, and gave courage to the fearful 'Complex Eye'. His sincerity is a charm that is opposite to the character of My Way, and gives a warm impression to the audience. 'Siheon', who inspires his disciples with strength and energy to move forward strongly towards the world in his own way, prepares a foothold for growth, and also faces new changes. captivate the heart
<Criminal City> Korean-Chinese gangster, <Extreme Job> drug squad detective, <Seungri-ho> space garbage cleaner driver, <Cooperation 2: International> global criminal organization leader, crossing various characters in each work and making a box office hit with excellent acting. Jin Seon-kyu, who led the show, tried a new transformation with the mysterious My Way teacher character, 'Siheon'. Jin Seon-kyu is a well-known 'Crazy Dog' teacher in the neighborhood, but if you get to know him, he has vividly completed a character with a deep heart by adding his unique friendly charm. In particular, 'Siheon', who faces a new turning point in his life with his disciples including 'Yunwoo', is going to stimulate a warm consensus with delicate acting combined with Jin Seon-gyu's energy. On top of that, Jin Seon-gyu, who perfectly digested the retro styling that reflected the era, from the 90's prevalent black hair and colorful training clothes, made a body suitable for a former gold medalist through intensive boxing training. In addition, Jin Seon-gyu, whose real hometown is Jinhae, the background of the film, completes an amazing synchro rate with the character in a natural and savory Gyeongsang-do dialect, predicting the birth of a new character in life.
Full charge of positive power with unpredictable Chungmuro's strongest teamwork!
Seong Yu-bin, Oh Na-ra, Ko Chang-seok, Jang Dong-ju
Complete the most fighting chemistry in 2023!
The shining performance and chemistry of the characters who appear in a special relationship with 'Siheon', including the disciples caught on 'Siheon"s radar, are a must-see viewing point for the movie <Count>. The role of 'Yunwoo', who has natural skills enough to catch the attention of 'Siheon' at once, but loses unfairly due to match fixing and gives up his dream of boxing and remains only poisonous, recently appeared in <Witch Part2. Seong Yu-bin, who is drawing attention by appearing in The Other One and Genre Romance, takes on the role. Seong Yu-bin, who took on the role of 'Yunwoo', a promising boxing player, and also participated in high-intensity boxing training, digested the character who had hope again after meeting 'Siheon' through his unique and delicate acting. Oh Na-ra, who recently won the Blue Dragon Film Award for Best Supporting Actress for <Genreman Romance>, plays the role of 'Il-seon', the wife of 'Si-heon', who makes her husband 'Si-heon', who is rumored to be a mad dog at school, a mild sheep at home, and Jin Seon-gyu and real-life couple chemistry shows Oh Na-ra, who continues to be active with healthy energy that pops out in movies, dramas, and entertainment, will show a pleasant and strong presence as a wife who silently supports his sincerity while swearing the right voice against her husband's insistence.
'Siheon's high school teacher and current boss at work, 'Principal', is played by actor Koh Chang-seok, who is pouring out his unique personality and charm on a wide range of stages, from movies to plays and musicals. Koh Chang-seok, who played the role of 'Principal', who is the mental support of both teachers and students and the older brother who cherishes Siheon more than anyone else, digests the character with a kind smile and friendly acting full of humanity, adding to the warm fun. In addition, Jang Dong-joo, who appeared as the son of National Assembly member Sang-suk Joo in the movie <Honest Candidate> and showed off his acting ability that is not like a rookie, appears as an over-immersive 'Hwan-ju' who sees the end once he is plugged in and fills him with young energy. Jang Dong-joo, who plays a character who doesn't want to do anything in particular but starts boxing because he doesn't want to be a bully, with a quirky yet lovely energy, brings liveliness to the play. Joining actors with solid acting skills and presence, as well as newcomers who have been recognized for their potential, <Count> will provide special fun with the most fighting chemistry this year.
From colorful colors to nostalgic 90s props
A vivid spectacle that captures the emotions of the times and the personality of the characters
Reply 1998! Reproduce the New-Tro sensibility perfectly!
In order to realize the historical background of Jinhae, Gyeongsangnam-do in 1998, the production team of <Count> went through historical research using various media such as newspapers, broadcasting, and movies. A lot of effort was put into expressing it. In addition, rather than focusing on the sport of boxing, we tried to convey more vivid and dramatic emotions by delicately capturing the expressions and actions of the characters that change according to the flow of the story.
<Count>'s warm emotion, retro-style sensibility of the 90's, and the efforts of the production team to provide abundant attractions can be found throughout the film. Cinematographer Lee Seong-jae used an aspect ratio of 1.85:1 instead of the 2.35:1 ratio used in previous films to capture the character's facial expressions and inner details in detail. In addition, in the scene of 'Siheon"s 1988 Seoul Olympic boxing match in the play, a 4:3 aspect ratio was boldly selected, directing the audience to fall in love with the emotions of that time. In addition to this, the production team completed a richer spectacle by adding the color of <Count> while vividly recreating the game structure and spectators through research on materials such as news and documentaries and consulting with the boxing association for a high-quality production of the match scene. Art director Seo Ju-yeon enhanced the realism of the play with a retro-style warm space design that reproduced the 1990s through painstaking efforts after thorough research on various materials such as broadcasting, movies, newspapers, and advertisements. Spaces that create warm emotions of the 1990s, such as wooden houses and old corner stores that are hard to find now, and the details of small props such as game consoles and snacks that were popular at the time, will summon pleasant memories of the past. Costume director Kim Da-jeong set the era of the 1990s as a big frame and placed colorful colors throughout it to bring a refreshing and lively feeling to the film. 'Siheon' is white, 'Yunwoo' is red, 'Hwanju' is blue, and 'Composite Eye' is yellow, giving each character its own color, and even small props such as casts and bandages are colored to add character to each character. . Completed with the production team's meticulous efforts from filming, art, and costumes, the sights unique to <Count> will provide memories to some and new fun to others, and will be a viewing point that cannot be missed.
Related Videos