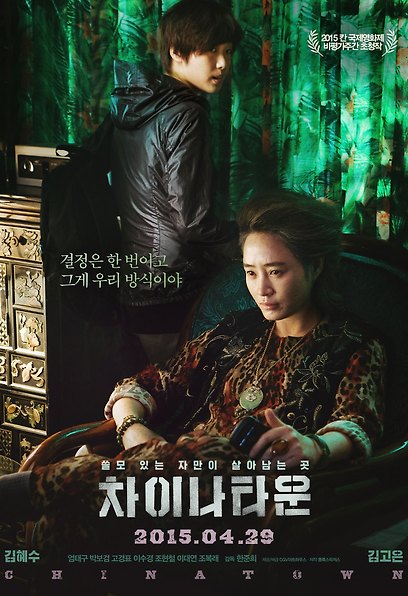 Coin Locker Girl, 2014
release

2015.04.29
genre

crime/drama
country

Korea
ranking

Youth not allowed
running time

110 minutes
grade

6.6
cumulative audience

1472147 people
Synopsis
A child named 'Il-yeong' (Kim Go-eun) who was thrown into the subway locker #10. A child meets a woman called 'Mom' (Kim Hye-soo) in Chinatown, where only useful people survive.
The mother raises the children according to her own needs, including Il-Young, and creates a family to rule Chinatown. A mother who would do anything for money was the only home for Il-yeong to return to. And Il-young grows up to be an indispensable child for her mother.
Then one day, Il-yeong meets Seok-hyeon, the son of a bad debtor who borrowed money from her mother. He shows Il-yeong a warm and friendly world that is completely different from her mother. For the first time, Il-young becomes curious about another world other than Chinatown.
Her mother, sensing such a change in Il-yeong, gives her a dangerous last job.
"Prove it. Proof that you are still useful."
[ Intro (English) ]
Ever since I was born, I have been looking for a place where I can be.
Even if it's rough and cold and ruthless
People who survived abandoned and abandoned
last place
Chinatown
Even if it's fake, make me an ID
who names and calls,
Mom and family… where they are
Then I met someone who lived in a completely different way.
For the first time, I wondered about a world other than this place.
But, my mother called.
"Il-young, why do you think I'm holding you back?"
mom
Forgetting what my name is and who I am
I've survived here, in Chinatown.
Here, I had to make a family and do anything.
If it was useless, anyone had to throw it out without hesitation.
I met a little different kid.
Il-young, a child who resembles my childhood eyes.
This child, my past and future, is shaking.
looking at a different world.
More than anyone else, he wanted the child to survive.
So I decided to try it my way.
But, the child asks.
"Mom, am I no use at all now?"
[ keyword ]
Chinatown
Where only the useful survive
It contains the rules of survival in that world!
The movie <Chinatown> begins with the story of a child who is abandoned in locker 10 on the subway. The place where the child left alone in the world flows into is none other than Chinatown. In this heartless world that classifies humans as useful and useless, a child meets a woman called 'mother' and family members without a drop of blood. Chinatown, the main space of the film, is a place where strangers from all over the world gather. From immigrants who have left their country to children abandoned by their parents, groups of people who have lost their way and are living in the world are living in a world of their own. 'Mom', who is an immigrant and reigns as the godmother of Chinatown, and 'Il-yeong', who was abandoned in a subway locker, are representative figures. The past does not exist, and they do not even know their real name. They find a new life with their family in 'Chinatown' and find the reason for their existence.
In order not to be abandoned in the world again, they relentlessly survive and dominate Chinatown. 'Il-Young' does anything that makes money according to 'Mom''s orders, and does not hesitate to use violence against debtors who do not repay the money. 'Mom' has nothing to hide in order to recover the money. In order to prove their usefulness in Chinatown, those who live together under the name of 'family' reveal their inherent survival instincts as the drama continues, revealing the dangerous image inside them. <Chinatown>, a movie about people living in a specific space called Chinatown and their own rules of survival, announces the birth of the most intense and fresh crime drama of 2015.
pass on
Abandoned child, strange place,
'Mother' and 'Il-Young', born with the same fate,
The chains of their heartless fate that they chose to survive
The biggest distinguishing feature of <Chinatown> from existing crime dramas is that it is the story of a woman-dominated organization. Regarding the setting in which female characters reigned as absolute rulers of Chinatown, director Han Jun-hee said, "It seems that women are stronger than men. "Women make stronger decisions at decisive and important moments without making excuses." As he said, 'Mom' in the movie does not show a single hesitation at the moment of decision.
No one can disobey, and if there is only one thing that stands out in the eyes of 'Mom', whom everyone uses, it is 'Il-Young'. As she leaves her side and dreams of a new world, the story continues with an urgent development in an unpredictable direction. As always, the mother, who has to punish Il-yeong for her family, feels hesitant for the first time at the moment of decision. When Seok-hyeon, a man who gave orders among the rough gang members without blinking an eye, and created a small crack inside Il-young, could not repay the money, 'mother', who handles it in her own way, is also the children of her own. Only 'Il-Young' in middle school cannot be easily beaten. The moment when 'Il-Young' started to be curious about a new world other than Chinatown, he noticed at once, but he just watched. 'Mom', who overcame another mother who existed above her and took her place, takes a peek at the image of herself inherited from 'Il-Young'. 'Mother' stands at the crossroads of the decision to abandon the child she loved the most in order to protect the organization. However, 'Il-Young', who cannot understand her hidden feelings, confronts 'Mother' in betrayal and embarrassment when 'Mother', who she thought was a family member, tries to harm her, and the film runs towards its climax.
The movie <Chinatown>, which is impressive in the heartbreaking drama of 'Il-Young' trying to survive in a cruel world, 'Mother' chasing after her, and two women living a fate that is passed on like a bridle that cannot be escaped, will warm your heart in April 2015. will be wet
Kim Hye-soo X Kim Go-eun
The hottest meeting of 2015!
The Empress of Chungmuro meets the divinity of Chungmuro!
Two actresses who make Korea hot with just three names meet and fight for survival. Kim Hye-soo, who is called the Empress of Chungmuro for her unrivaled charisma, and Kim Go-eun, a newcomer who took over Chungmuro with extraordinary acting skills from her debut film, are the main characters. The meeting of the two actresses, who are called hot icons representing each generation, is stronger and fresher than any other combination. In addition, their explosive acting confrontation produced a hot synergy that cannot be seen anywhere else.
Kim Hye-soo, who seduced the audience with her unconventional appearance in each of her films such as <Tazza>, <The Thieves>, and <Contemplation>, became the boss 'mother' who dominates Chinatown. The white hair, face full of freckles, and the appearance of having grown in size with implants make us doubt whether the Kim Hye-soo we know so far is true. As director Han Jun-hee said, "There was no alternative other than Kim Hye-soo" for a mother character who "everyone does not disobey his words and everyone uses her name", Kim Hye-soo's 'mother' is a 'mother' that adds the character's intensity to the actor's original charisma. will be imprinted as the most impressive female character of 2015.
After making a comet-like debut with <Eunkyo>, Kim Go-eun showed off her acting skills in <Monster>. She, who has completely absorbed any character, is once again heralding a fresh blue with the child 'Il-Young' who was thrown away in a subway locker and raised in Chinatown. Unlike a deadly teenage girl who captivates an elderly poet and a crazy character who confronts a murderer, Kim Go-eun's 'Il-yeong' seldom reveals her emotions in this movie. The moment when 'Il-Young', who became a 'useful' child for 'Mother' with one survival instinct to survive, even though no one wanted it, began to feel a subtle change in her heart for the first time, the drama rushes in an unexpected direction with 'Il-Young'. start to do Go-eun Kim cut her trademark short hair and immersed herself in 'Il-Young', who lives in a more heartless world than men.
Kim Hye-soo and Kim Go-eun, two actresses who dared to challenge the theater by appealing to their own charms even in the midst of actress starvation. The dramatic meeting between the Empress of Chungmuro and Shinseong of Chungmuro alone, this fact alone makes <Chinatown> stand at the center of the most topic in the first half of the year.
Rising star
The next-generation Chungmuro icons have come together!
Uhm Tae-gu, Park Bo-gum, Go Kyung-pyo, Lee Soo-kyung, Jo Hyeon-cheol, Jo Bok-rae
The acting showdown of the rising stars heating up the screen
In <Chinatown>, in addition to Kim Hye-soo and Kim Go-eun, many young talented actors who have been recognized for their acting skills in various works appear to inject even more hot energy.
First of all, Uhm Tae-goo, who has been active in various genres of films, has emerged in the independent film industry with <Forest> and <Ingtugi>, and played 'Woo-gon', who is the first of Maga Heungeop and her mother's right-hand man. Woo-gon is a character who expresses emotions through his eyes and actions rather than words, and sometimes sends a pitiful gaze to Il-young, who does whatever her mother tells her. The low-pitched voice and shadowy face, which director Han Jun-hee selected as Uhm Tae-goo's charms, enriches Woo-gon's character.
Park Bo-gum, who has established himself in the drama [Gaksital], [Tomorrow Cantabile], and the movie [Myeongryang], takes on the role of 'Seok-hyeon', who shows kindness to Il-young for the first time in his life. Seok-hyun is a positive person who lives with his father's debt, but never loses his smile. As director Han Jun-hee said, "It was Seok-hyun's appearance that felt sadness in his smiling face," Park Bo-gum perfectly portrayed Seok-hyun, who is hiding his sadness behind a bright smile. In the end, she can't pay off her debts and, at the moment when she confronts her mother's clan, she shows a wide spectrum of acting by digesting even a rough figure.
Go Kyung-pyo, who is active in all genres from dramas, sitcoms, and comedy show programs, shows the face of evil hidden in <Chinatown>. 'Chido', played by Go Kyung-pyo, grew up as a 'baby mother', but now is the only person who threatens her mother in Chinatown. Director Han Jun-hee's prediction, "It would have been very scary if I showed him the pleasant characters and the appearance of being in the troupe that Go Kyung-pyo showed during that time," was perfectly true. Go Kyung-pyo injects tension into the film by showing a transformation of acting that goes beyond imagination with rough swearing and action, as well as mean eyes.
Lee Soo-kyung, who is loved for her striking image through the drama [Hogu's Love], played the role of 'Song', a trouble maker in Maga Industry and grew up together in Chinatown with Ilyoung. With red hair and colorful manicures, Song looks just like any other girl of her age, and in order to somehow survive in Chinatown, she deals with drugs and works, always making things difficult for Japan and England. Lee Soo-kyung, who passed the audition through a 100 to 1 competition ratio, will take over the screen with her excellent acting skills and sensibility, which is unbelievable for such a young age that director Han Joon-hee said, "I cast him with one possibility."
Hyeon-cheol Jo, a talented person who freely crossed the screenplay, directing, and acting fields in numerous short films, took on the role of 'Hong-ju', who obeys his mother's words unconditionally. Although she has low intelligence, no one can match her with the ability to execute, and she is the most faithful person to follow her mother's instructions. Jo Hyun-cheol, who showed a strong performance by going back and forth freely from the innocence of liking banana milk to the madness that explodes in an instant, the audience will meet another surprising actor.
Jo Bok-rae, who left a deep impression on the audience with the role of Song Chang-sik in <Ce Si-bong>, took on the role of 'Tak', a man who sold Il-yeong, who was dumped in a subway locker, to Chinatown. He is the one who burdens Il-Young with her life in Chinatown, and he is also the person whose life begins to get twisted up by Il-Young. Bok-rae Jo plays the role of Tak, who is wrapped in a veil with a scar that crosses his face and an expression that can't be read inside.
color
A world of their own, heartless and cruel,
Coloring 'Chinatown' on the screen!
Chinatown is full of people who have lost their way to the world and have been left alone. As diverse groups of people gathered, this place, which had various characteristics, was in line with the intention of director Han Jun-hee, who wanted to fill the film with various colors. Inspired by the actual Chinatown, director Han Jun-hee and art director Lee Mok-won tried to clearly and visually embody the relationship between Il-young and her mother by giving them a unique 'color'.
First of all, the color that represents Il-Young, who must survive in Chinatown, is red. On the other hand, the color that symbolizes the mother chose the complementary color green. While growing up in Chinatown, abandoned by the world and controlled by her mother, Il-Young is perfectly in control of this green. Everything that surrounds Il-young is green, from the subway locker where Il-young was born and abandoned alone to the photo studio, another small Chinatown. This color, which seems to show the tenacious vitality of the mother in the center of Chinatown, is covered throughout the film as if symbolizing the powerful influence of her mother who reigned in Chinatown. However, the moment Il-young overcomes her mother, the tone of the film is reversed in an instant. Red, which is the color that fades the most due to green, and reveals its own characteristics more than any other color when it becomes more vivid, finally radiates the most intense presence. Everything from Ilyoung's clothes to the photo studio that became Ilyoung's space is transformed into a vivid red color, exuding intense energy.
The delicate and unique color production unique to <Chinatown> instills tension in the unpredictable relationship between mother and Il-young, and changes and progresses as the drama progresses. The delicate change of color that dominates the drama will be a fresh viewing point unique to <Chinatown>, which cannot be found in other films.
reality
People in Chinatown whose only goal is to survive!
Add reality with makeup optimized for survival!
In order to show the members of the family who are living a life that is optimized for survival in Chinatown, director Han Joon-hee chose reality rather than fashion. So Song Jong-hee, the makeup director, melted the story of each character and breathed life into the character by making use of the details from head to toe.
Even Kim Hye-soo herself said, "How to visually reveal her presence was an important homework for me". From the hippies of Europe to the Russian mafia, Hwang Hak-dong and the style of the homeless in Cheonggyecheon, the production team reviewed each and every day, and Kim Hye-soo, who sent dozens of concept photos a day to add opinions, the present appearance was completed. In particular, the makeup of a mother reflects the years that have passed from head to toe. Her straight hair symbolizes the time she endured without falling over in the heartless Chinatown. The fat belly made by filling the body with implants contains the weight and loneliness of the years until she survives as the boss of Chinatown and becomes the center of the family.
Il-young, who is more loyal to her mother than anyone else, naturally learned her mother's style, as she had seen since childhood. As director Han Jun-hee said, "Mom and Il-young are each other's past and future," the short hairstyle like a boy reminds me of my mother's youthful days. If the mother shows that she has lived through rough years with freckles and freckles, the face of Il-young, who has not yet gone through that much ups and downs, is a plain face without makeup. Il-young's simple face without makeup is youthful and frail in contrast to her mother, and it is also the distance from living in a different world from other girls of her age who dress up for a long time. Make-up director Song Jong-hee said, "I thought that Il-young's feelings should not be disturbed by anything. In order to do that, her face did not have to look rough, and I had to exclude parts that could look like clutter as much as possible." Unlike her rough life, Il-Young's face, which had no blemishes, showed a dramatic contrast when she was cut by glass when she went to see a debtor or was injured in a violent situation that threatened her life in the second half, showing her change in a dramatic way.
Related Videos