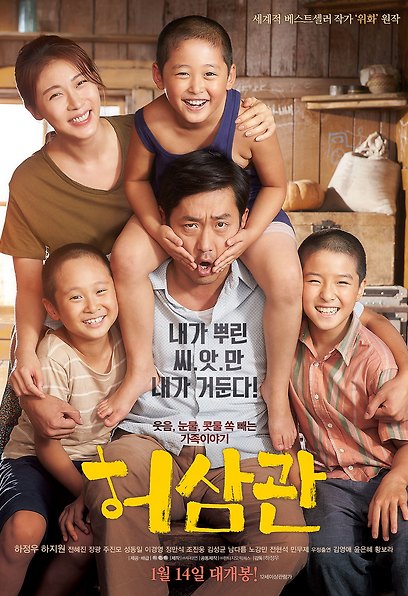 Chronicle of a Blood Merchant, 2014
release

2015.01.14
genre

drama
country

Korea
ranking

Audience over 12 years old
running time

124 minutes
grade

7.2
cumulative audience

956103 people
Synopsis
Heo Sam-gwan, a man who has nothing but is happy when he sees his family, is a comic human drama of laughter and emotion that unfolds when he finds out the amazing fact that he has been raising someone else's children for 11 years.
[ Prologue ]
"At that time, when I think of the father image of the past, the first thing that comes to mind is
patriarchal, uncommunicative,
It means living through all the pain and suffering alone.
However, the character Heo Sam-gwan was not like that, so it was even more attractive.
Talking like a child and a friend,
Sometimes he gets angry, sometimes he gets angry, and he shows his temper.
came new
Perhaps he is not the ideal father even in this day and age."
– Ha Jung-woo as Heo Sam-gwan
[ About Movie ]
Appearance of the unique character 'Heo Sam-gwan'
A comical human drama that makes you cry
Following <Gift in Room 7> in January 2013 and <Miss Granny> in January 2014
<Heo Samgwan>, which will be responsible for laughter and emotion in the new year of 2015, is coming!
<Heo Samgwan> is a work depicting the story of a 'Heo Samgwan' who has no money, no measures, and nothing, but is overflowing with only the back end, facing a once-in-a-lifetime crisis around her slim woman's wife and three sons. It is said that just seeing rice in a child's mouth makes them feel full, but parents are also satisfied with one stone or two, and if the children provide their father's lunch box, it is a blessing in disguise. No matter what anyone says, there are three precious sons that make me laugh out loud. However, the story of Heo Sam-gwan, who has a once-in-a-lifetime event as rumors spread that the child is not my blood, adds a unique presence to the character Heo Sam-kwan, who is more unique than anyone as a neighbor, husband, and father, delivering a different kind of laughter and fun.
In a moment of crisis that destroys the happiness of himself and his family, Samgwan steals tears without his wife and children, but he is suffering from rumors that arise when he closes his eyes. Heo Sam-gwan, who turns his wife and son's stomach inside out with his bandit nature, where his guts go before marriage, and gets narrower the more he suffers from heartache, creates laughter and leaves behind a trail of compassion. However, in the midst of a growing crisis, the moment when Heo Sam-gwan finally shows his sincerity as a husband, father, and a man, the movie <Heo Sam-gwan> evokes heartbreaking emotions and tears. Here, Ok-ran Heo and Oji-ryap, who show a strong image as a modest beauty in the village, the best mother to three sons, and an unquestionable wife to Heo Sam-gwan, the townspeople who are spacious but full of affection, and the three proud and cute brothers Illak, Irak, and Samrak. The ensemble of characters full of personality that smells like people adds a lot of fun to the movie. <Heo Sam-gwan> is a new film adaptation of the world-renowned bestselling author 'Wihwa''s original 'Heo Sam-gwan Bloody Blood' to fit the Korean sentiment. In the new year of 2015, we will be responsible for the smiles and emotions of everyone in Korea.
2012 <War on Crime>, 2013 <Berlin> <The Terror Live>
2014 <Kundo: Age of Rebellion> box office relay
Ha Jung-woo's first choice in 2015
Actor Ha Jung-woo, who has led the box office by showing strong acting and new transformations in each work, will take on a special challenge in 2015 through <Heo Samgwan>. Starting with the movie <War Against Crime: The Golden Age of Bad Guys>, which was released in 2012 and mobilized 4.72 million viewers, <Berlin> which attracted 7.16 million viewers in 2013, <The Terror Live> which recorded 5.58 million viewers, and <The Terror Live> in 2014. Ha Jung-woo, who has established himself as a box-office actor by continuing his success at the box office until <Kundo: Age of Rebellion>, which mobilized 4.77 million people. Ha Jung-woo, who has been working with top directors such as Director Yoon Jong-bin, Director Na Hong-jin, Director Kim Yong-hwa, and Director Ryu Seung-wan, crossed various genres such as thriller, drama, melodrama and comedy, and captivated the audience with his perfect transformation and acting according to the work. . In particular, Ha Jung-woo, who left a deep impression with strong characters ranging from a creepy serial killer to a national ski jumping player, from a boss of an organization to a secret agent to an anchor, overwhelms the screen with his acting skills that overwhelm the screen, and his masculine and humorous colorful charms. led
Through <Heo Samgwan>, which Ha Jung-woo, who has built trust in his work as an actor who can be trusted like this, selected as his first work in 2015, he is expected to deliver a pleasant smile and a heartbreaking impression as a special character 'Heo Sam-gwan' that has never been seen before. As soon as he made up his mind to marry, he went to work without hesitation and obtained marriage consent, but in the face of the crisis of a lifetime that he faced after marriage, Heo Sam-gwan, who is trying to escape the situation by turning into a timid, arrogant, and fierce figure, is characteristic of Ha Jung-woo. It delivers vivid fun through clever acting and excellent character expression. Ha Jung-woo, who has shown various performances in his previous work, shows a new acting transformation that has never been seen before through the role of 'Heo Sam-gwan', a character that seems to be indifferent, while captivating the audience with his extraordinary love, passion, and sincerity for the work. will be. In particular, Ha Jung-woo, who was immersed in the work by taking on the lead role as well as directing, will face a special turning point in his acting life through <Heo Samgwan>.
The first meeting of the best male and female actors Ha Jung-woo + Ha Ji-won!
Jeon Hye-jin, Jang Kwang, Joo Jin-mo, Sung Dong-il, Lee Kyung-young, Kim Young-ae, Jeong Man-sik, Jo Jin-woong, Kim Ki-cheon, Kim Seong-gyun
This is the grand casting! The best cast of the best actors ever!
Ha Ji-won was recognized for her acting skills and box office performance by winning the Blue Dragon Film Award and the Baeksang Arts Awards Best Actress Award for her delicate emotional performance in <My Love By My Side> as well as becoming a 10 million actress through <Haeundae>. In addition, Ha Ji-won, who has established herself as the best actress in name and reality by occupying the CRT with a wide acting spectrum through the dramas [Damo], [Jin-i Hwang] and [Secret Garden] and [Empress Ki], became the best-looking woman in the village, 'Ok-Ran Heo' through 'Heo Sam-gwan'. return to Ha Ji-won, who has a pretty appearance and strong vitality, is a mother of three sons, and plays the role of Heo Ok-ran, Huh Sam-gwan's wife, shows a new look with a strong yet lovely charm and warm maternal love. Here, Ha Ji-won, who expects a fresh synergy from her first meeting with Ha Jung-woo, will add a different kind of fun to the play by showing perfect acting breathing from the dating days of the mildang to the appearance of a couple struggling in a crisis that came after marriage.
The movie <Heo Samgwan> draws attention with the grand casting of actors representing Korea, including Ha Jung-woo and Ha Ji-won, Jeon Hye-jin, Jang Kwang, Joo Jin-mo, Sung Dong-il, Lee Kyung-young, Kim Young-ae, Jeong Man-sik, Cho Jin-woong, Kim Ki-cheon, and Kim Seong-gyun. Jeon Hye-jin, who showed a charismatic performance by playing the role of the counter-terrorism team leader in <The Terror Live>, takes on the role of 'Mr. Song', the wife of Ha So-yong, the enemy of Heo Sam-kwan, adding tension to the play with an all-out war with the Heo Sam-gwan and Heo Sam-kwan to raise money. Choi Ga, a doctor who went to the hospital to visit, is played by Jang Kwang, an actor who has appeared in <Gwanghae, the man who became king> and <Secretly and Greatly>, showing a strong presence. In addition, Joo Jin-mo, an actor who has shown heavy acting in many works, plays the reliable 'Uncle' who listens to Samgwan's troubles, and 'Bang', who helps Heo Samgwan, takes on the role of Seong Dong-il, who has shown various charms by going back and forth between the screen and the CRT. From <Pirates: Bandits to the Sea>, <Tazza – Hand of God> and <Informant>, Lee Kyung-young, who is active in all directions, takes on the role of Heo Ok-ran's father and Heo Sam-gwan's father-in-law, adding richness to the play. Kim Young-ae, who performed her best in <Cart> following <The Attorney>, will play the role of 'Gye-hwa's mother', the village neighbor of Heo Sam-gwan. Jo Jin-woong, who plays the role of 'Ahn', who has a conflict with Heo Sam-gwan, delivers laughter with a strong character and clever acting. In addition, Kim Ki-cheon, a leading actor in licorice acting, plays the role of an old man who helps Heo Sam-gwan, and Geun-ryong, who is a close friend of Bang's best friend Heo Sam-gwan, plays <Hwayi: The Child Who Swallowed a Monster> and <Kundo: Age of Rebellion> and the drama [Reply 1994]. Kim Seong-gyun, who will take on the role, will focus on the grand casting. <Heo Samgwan>, which will show the essence of grand casting that goes beyond multicasting, will captivate the audience with unforgettable fun and emotion provided by the best actors.
'Heo Sam-gwan Bloodletter', the representative work of the world-famous novelist 'Wihwa'
The film adaptation of the best-selling novel that has captured the world!
Meet <Heo Samgwan> on the screen!
A world-class novelist who was the first Chinese author to receive the James Joyce Fund (2002), Italy's Greenzane Cavour Literary Award (1998), the US Barnes & Noble New Artist Award (2004), and the French Order of Literature and Arts (2004). Wihwa's representative work, 'Heo Sam-gwan Blood Vending Machine'. It immediately became a bestseller when it was published in China in 1996, and it was published all over Europe including Germany, Italy, France and other countries around the world, including Korea, Japan, and the United States. 'Heo Sam-gwan Mae-hyeolgi', which depicts a man's dramatic story in humor and light style, created a sensation not only in Korea but also around the world with his sophisticated narrative unique to Wihwa and differentiated fun by adding satire and wit to unique material.
<Heo Sam-gwan>, the world's first film to move the 'Heo Sam-gwan Bloodletter' to the screen, has been reborn by adding a Korean background and emotion to the story of the universal sympathy of the original. Writer Wihwa, who decided to make the film for the first time in Korea despite the long-standing love calls for film adaptation in Asia and Europe, said, "I have never missed out on all of Ha Jung-woo's works, so I am very satisfied and I think the casting is for the right role. I am very much looking forward to the story of Heo Sam-gwan, which will be drawn on the screen through many great actors including Ha Jung-woo." Set in a poor but emotional village in the 1950s and 1960s in Korea, the witty story unfolds following Heo Sam-gwan, a special character like never before, and a warm atmosphere that smells like people. >. Here, the heartbreaking story of a very special family, told by Heo Sam-gwan, his wife, and three sons, will leave an unforgettable impression and lingering impression on the audience.
<Myeongryang> <Pirate: The Bandit Who Went to the Sea> <The Attorney>
The creator of <Gwanghae, the man who became king> and <The Thieves>
Completed with the passion of the country's top box office makers!
The movie <Heo Sam-gwan> perfectly embodies the times of the 1950s and 60s, and at the same time, the most talented staffs of Korea joined in and paid attention to perfection in order to capture the journey of laughter and emotion conveyed by the diverse character Heo Sam-kwan on the screen.
What the production team put in the most effort was to perfectly realize the historical and spatial situation of the 60s based on thorough historical research, while at the same time naturally melting the personality of the film to bring out the unique feeling of <Heo Samgwan>. Accordingly, art director Park Il-hyeon, who has been directing perfect production designs, from period plays such as <Kundo: Age of Rebellion>, <Glamorous Vacation> and <Bangjajeon> to works set in the modern city center such as <The Cold> and <Tower>, was inspired by Western culture right after the war. It tried to differentiate <Heo Samgwan> by adding a romantic element to the era at the time when it was introduced. In particular, through open studios located in Suncheon and Hapcheon, the production team builds an old-fashioned village of Heo Sam-gwan, which is full of personality and emotion, showing a different attraction. In addition, costume director Lim Seung-hee, who has participated in <Myeongryang> <Gwanghae, the man who became king>, <The Attorney> and <War against Crime: The Golden Age of Bad Guys>, made costumes that reflect the times and add creativity through <Heo Samgwan>. catches the eye Also, makeup director Choi Hye-rim, who has worked steadily with Ha Jung-woo on <Kundo: Age of Rebellion>, <The Terror Live> <Berlin>, etc. A prop designer joined <Heo Samgwan> and added sophistication to the film with a delicate touch. In addition, director Kim Seong-gwan, who won the Lighting Award at the Daejong Film Festival and the Blue Dragon Film Festival for <Berlin>, has perfected the lighting by maximizing the emotional performances of the actors while keeping the atmosphere of the times. As such, the movie <Heo Samgwan>, completed with passion and affection by the top staff in each field, will fill the screen with a sense of scale and rich spectacle.
Related Videos