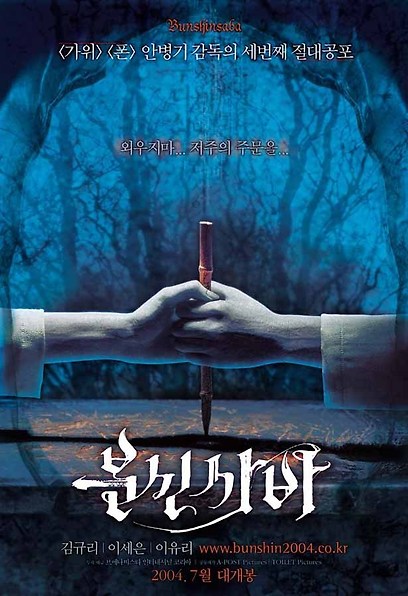 Bunshinsaba, Ouija Board, 2004
release

2004.08.05
genre

fear
country

Korea
ranking

Audience over 15
running time

120 minutes
grade

7.0
cumulative audience

608479 people
Synopsis
If you want to kill me, memorize a spell!
Yoo-jin (Lee Se-eun) was bullied by her children when she transferred from Seoul.
One day, Eugene, who could not stand the bullying, wants to curse her friends.
Memorize the death spell 'Shin-Saba' that summons the soul.
Friends whom I hated 'to the point of wanting to kill' even in my heart.
However, after this day, the self-immolation order became a reality.
My classmates die one by one.
At the same time, Eun-ju (Kim Gyu-ri), an art teacher who was newly appointed to this school,
I am anxious about a series of events at school,
Only Eugene looks at Eun-ju with suspicion.
After the change of self-immolation order, only in the eyes of art teacher Eun-ju
Student No. 29, In-suk (Lee Yu-ri), who does not exist, is seen.
Eun-joo's feelings of fear are gradually engulfed by the appearance of a mysterious student, In-sook.
A hidden truth in a great curse. Eun-ju gradually faces the reality of the curse.
Related Videos