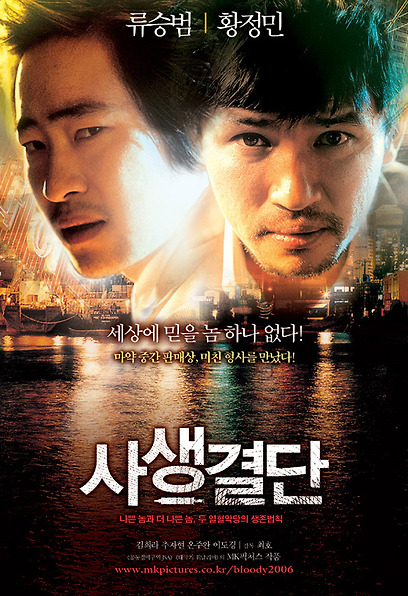 Bloody Tie, 死生決斷, 2006
release

2006.04.26
genre

crime/action
country

Korea
ranking

Youth not allowed
running time

115 minutes
grade

8.5
cumulative audience

1724709 people
Synopsis
With just one soup, it's nationwide! VS If you catch only one guy, take off your clothes!
Drug Dealer Meets Crazy Detective!
Lee Sang-do (Ryu Seung-beom), a drug dealer who manages a golden area crowded with 30,000 customers, lives in a high-end officetel and enjoys life in style. However, Sang-do's life is put to a halt when he gets a weakness by the mad detective Do Kyung-jang (Hwang Jung-min), who is obsessed with catching the drug tycoon Jang-cheol (Lee Do-kyung). In the end, Sang-do, unable to overcome Do-kyung-jang's threats, cooperated with the investigation into the trap. However, when the entrapment investigation fails, Do Kyung-jang puts Sang-do in prison instead.
"In the meantime, no matter how old you are… I'll do my best… I'll look after you!"
As Jang-cheol's whereabouts get closer and closer, Do Kyung-jang searches for Sang-do, who was released from prison. Do Kyung-jang asks to hold hands once again because he will look after you. However, Sang-do, who has already spent 8 months in prison because of Do-kyung-jang, does not come back. Under the protection of Do-Kyung-Jang, Sang-Do regained the lost business area by wrestling with a knife, and also ripped out a large amount of business funds from Do-Kyung-Jang. In the end, he decides to hand over the information in return for allowing Jang-cheol to go into the organization and do business freely.
"I won't die alone anymore!"
In order to get Jang Cheol to receive the maximum sentence, Do Kyung-jang has to attack the manufacturing site, which is the heart of drug distribution. However, his anger reaches its peak when Sangdo, who has been sold in business, does not hand over any information even after three months. Sang-do informs the whereabouts of Professor Manufacturing only after receiving the memorandum of Do Kyung-jang to protect him. Meanwhile, while Do Kyung-jang goes undercover to attack the scene where Jang-cheol and the professor meet, Sang-do steals Jang-cheol's drugs in an astronomical amount.
However, Do Kyung-jang, who attacks the site where Jang Cheol and the professor meet, collides with an unexpected existence, and Sang-do's ambition to take advantage of Jang-cheol's downfall to take over the whole country at once also meets an unexpected obstacle. The 'death and death' of the two men, who ran towards their prey with their teeth exposed, eventually ran towards an unexpected end…
The world is a swamp…
Someone must become a crocodile
Someone must become a crocodile bird.
Eunjenga turns into a crocodile too.
Crossing the swamp and crossing again…
Eunjenga, I become evil.
"Hold on to your share…
You pay taxes and go to business.
Fuck you bastards without a tachi…
Far away… Floating on the jingling sea…" – Ambassador Sangdo
Your merry-go-round Algiers? Spin round and round…
I can't get off the merry-go-round until it's over, kid.
Until the music ends. writing and paying
They are also riding on the same merry-go-round.
Round and round~ Bang~ until the end…
"I want only one gi.
The guy who is watering now… Catching Gulma!" – Ambassador Do Kyungjang
About Movie
The cruel rules of survival of crocodiles and crocodiles
In 1998, in Korea under the IMF management system,
A world we didn't know or didn't want to know.
<Life Decision> is about the 'special drug zone', which has been tightly closed, and the groups of human beings in it.
This is the first movie that really hits the microscope.
A drug dealer who dreams of a hot pot while being a gangster of a corrupt police officer.
A vicious detective who brutally exploits him for his goals.
The best drug dealer who is strict with business rules more than anyone else
Weak addict reaching for drugs to forget reality
And, a drug recipe that unlocks the cap of a hydrochloric acid canister to survive.
Divide their relationship into a common confrontation in the movie, or
It is impossible to judge by the standards of good and evil.
In a place where you have to run with poison to survive
Evil deeds are self-defense for living,
Their symbiotic relationship, which repeats parasitism, exploitation, and betrayal with each other, is
Because they are crocodiles and crocodiles in the jungle.
To become crocodiles, they have no choice but to make a 'death decision'.
A drug dealer and a crazy detective – the survival rules of two hot-blooded villains
<Decision to die>
production issue
Ryoo Seung-beom VS Crazy Detective Hwang Jung-min
Best Showdown of 2006 <Determination of Death>
Ryu Seung-beom, a young charismatic person who has built his own domain with powerful acting skills and personality. In 2005, Hwang Jung-min deeply engraved his name in the hearts of all the people with his dazzling acting. Two actors with the best acting skills met as the most powerful characters in Korean film history. Sang-do, a drug dealer, played by Ryoo Seung-beom, is a strong enough character to call himself a 'bastard'. He looks well-dressed and looks like a 'venture entrepreneur', but he's a venomous 'businessman' who hears 'a guy who will sell his family to do business'. Do Kyung-jang, played by Hwang Jung-min, is a character who is obsessed with living to catch the drug giant 'Jang-cheol'. Unable to stop anyone or anything, his mad runaway accelerates even more by sacrificing Sangdo. From relentless fistfights to dangerous explosions and car action scenes, the confrontation between two 'famous actors' who rushed to 'death and death' by acting 100% directly without a double, without concessions, a confrontation between a villain and a villain, unprecedented in the history of cinema. In addition to that, the tremendous synergy effect that two men who are united with more affection and trust than their brothers will create is the biggest reason that the audience is looking forward to <Decision to Live> in 2006.
The human group created by an aspect of actual Korean society,
The echo of that reality
The story of <Decision to die>, in which a microscope was first put into the world of drugs and the human figures living in it, makes you feel the 'power of truth' that fictional stories cannot reach. This is because, in addition to undergoing thorough on-the-ground investigations for a long period of time, the scenario completed after several interviews with people who have been involved in the real drug world is alive and alive. The special situation of the IMF, human groups that cannot be divided by the dichotomy of good and evil, the law of weak and strong eating that use each other for one's own profit, endings that deviate from the uniform law of good and evil. Although it is the first movie to deal with the drug world in earnest, the story of <Decision to Live> contains the historical and social reality that all Koreans can't help but sympathize with. The story and characters that are firmly rooted in reality tell us that <Decision to Live> is a step forward from a typical commercial film that shows a world that could only exist in movies. Let's look forward to the deep and deep resonance that the living reality of <Decision to die> will deliver the special experience of seeing Busan with your own eyes in 1998 and the rules of survival of humans living there.
The style of <Life Decision>: A modern reinterpretation of a 70's crime movie
The principle of the style of <Life Decision>, revealed by director Ho Choi, is to blend 'documentary vividness' and 'genre' well, and it was a modern reinterpretation of the energy and nostalgia of the 70's style. The biggest feature of shooting is the use of handheld shooting close to 100% and active zooming. In the case of hand-held shooting using two cameras A and B at the same time, it was frequently used because the possibility of editing was expanded while making use of the emotions of the actors from various angles. In addition, the horizontal rotation of the 2.35:1 cinemascope angle, which catches the eye in most action scenes in the movie, is an angle often seen in Yakuza films in the 70s, including Ginji Fukasaku, and shows the dynamics of penetrating vertically through a long screen. makes you feel It borrows the bold and powerful expressions of American and French crime films and Japanese Yakuza films in the 1970s, such as <French Connection> and <War Without Loyalty>, and combines them with the dynamism of Busan, a flamboyant port city. This powerful and dynamic video also met the music of 'Sasaengdan', which added oriental emotion to the brass rock of the 70's, and completed the style of 'Sasaengdan'.
2006's best well-made masterpiece <Decision to die>
<Determination to Live> is another well-made masterpiece that MK Pictures, the producer of <Joint Security Area JSA> and <Taegeukgi Flying>, ambitiously released in 2006. To be confident that it is a film with the highest level of perfection in both content and technical aspects, as well as storytelling and entertainment. Based on thorough on-the-spot coverage, the scenario work spanned over two years, a scenario with elaborate details and solid drama, 8 months of hunting in Busan, and director Choi Ho's directing ability, who was in charge of the screenplay and directing. A stylish video with vivid light and color that was created through such a meticulous pre-production process, and a vivid sense of presence from the 100% Busan location can be seen in all fields such as special makeup, special effects, and special visual effects, as well as directing, filming, and lighting supervision. It is the result of the production team of <Dream Decision>, a 'Chungmuro Dream Team' created by the best staff, poured all their passion into the film with the mindset of 'decision to die' throughout the filming period. Now that the filming has been completed, <Decision to Live> is the best fun and completeness of 2006, through intense music by director Kim Sang-man, who was in charge of art and music at the same time, and sophisticated sound work by Kim Seok-won, the 'master of sound', and digital color correction (DI) work. It will visit the audience with a movie equipped with
production notes
1) A realistic depiction of the drug world through thorough on-the-spot coverage
Busan, which we thought we knew well. Director Choi Ho accidentally discovered a world that existed there, but we did not know, and began to investigate the data while running around Busan for a long time. Director Choi Ho and the production team of <Decision to die>, who had met with people who had been involved in the real world of drugs through thorough data research, contracted them as actual film technical advisor staff, forming a major axis of the story, not only in the relationship between Do Kyung-jang and Sang-do, but also in drug addiction. Fully aided in vivid depictions surrounding manufacturing, distribution and sales. The realistic descriptions and technical terms related to drugs in <Determination of Death>, which were born in this way, will become a new fun element of <Decision to live by death> that the audience will come across for the first time.
2) Busan is the third protagonist of <Decision for Life>!
Director Choi Ho focused on Busan from the moment he conceived the idea of "Determination of Death" to the point that he thought that it would never be possible to shoot without it. However, Busan in <Life Decision> is not an international city where APEC and the Busan International Film Festival are held, or a friendly city that has been the background of many movies such as <Friend>, but a city where all kinds of human figures have gathered after the 1998 IMF and are indulging in drugs and pleasure. . In order to capture the dark and hidden aspects of Busan that we were not aware of, the production team of <Determination of Death> searched all over Busan like this for over a year. Busan Bridge, not the glamorous Gwangan Bridge, the famous Gwangalli and Taejongdae, the famous Gwangalli and Taejongdae, but also the splendid night streets of Busan other than Haeundae, including Yeonsan-dong, Choryang Texas, and Oncheonjang. These places, such as Gamcheon Port, where the production team jumped on their feet and found, were unfamiliar and new Busan itself that had not been seen in previous films. In addition, with the help of the Busan Film Commission, which gave full support and cooperation to the filming, including the overall control of the Busan Bridge, Busan played the role of the third main character who perfectly showed the real appearance and atmosphere in the movie <Decision to Live>.
3) Ryoo Seung-beom's Busan dialect challenge
Due to the nature of the film, in which all cast members must speak the thick Busan dialect, the dialogues in <Decision to die for death>, which were held in Busan for all Jordan station auditions, are of course the perfect Busan dialect. Hwang Jung-min, who has already experienced acting in a dialect, said, "It is different from other films that only used the accent. I'm worried that other local audiences won't understand what it means." Compared to Hwang Jeong-min, who was born in Masan, and On Joo-wan, who was born in Busan, Ryu Seung-beom, who grew up in Seoul almost his entire life, the Busan dialect was another difficult task that he had to challenge with a 'death life decision'. Hwang Jung-min, who rolled up his arms to help Ryoo Seung-beom, recorded all of Ryoo's lines, and Ryu learned the dialect by listening to them repeatedly before filming. Ryu Seung-beom, who changed all his dialects to dialect for a natural dialect, eventually succeeded in speaking a dialect with his own unique accent, thanks to his innate sense of language and unremitting efforts. In a scene without Hwang Jung-min, even if the lines suddenly change, Hwang Jung-min, who has confirmed the sense of Ryu Seung-beom, who naturally digests his lines as soon as he hears what the people around Busan (?) say once, boasted of his dialect disciple (?), saying, "It is also Ryu Seung-beom." even embarrassed
4) 100% custom-made clothes according to the visual concept
The costume is one of the important factors that maximizes the dramaticness of the story while completing the 'style' of <Lifestyle Decision>, which emphasizes intense color and light. The production team designed and produced most of the costumes in the movie for this purpose. The main costume for the 'venture entrepreneur' top is a luxurious and luxurious suit with colorful color points. Although he is a police officer, Do Kyung-jang, who lives a much more miserable life than Sang-do, a criminal, wears a shabby jumper compared to Sang-do. However, after being released from prison, Do Kyung-jang appears in front of Sang-do, who has lost everything and is transformed into a stylish retro suit with a rolled up shirt and flared trousers. The costumes also change repeatedly in line with the ever-changing relationship of the characters biting and biting, which is different from the general criminal-police contrast. While maximizing the story and characters, the costumes of <Determination of Death>, which brought out the visual concept of using rich colors and light, played a role more than just 'clothes' in the movie.
5) The best actors and best singers have united for <Life Decision>!
Ryoo Seung-beom and Hwang Jung-min, the main actors of <Delicious Life>, have teamed up with hip-hop musician Leessang for the music of <Basic Decision>. The two actors sang together the promotional song for <Fight for Life>, written and composed by Leessang. It is very unusual for a famous singer and an actor in a movie to sang a promotional song together, and this was accomplished when Leessang, who was usually close with Ryu Seung-beom, showed great interest in the movie <Decision to Live> and offered to make the theme song for the movie. The promotional song written and composed by Leessang is <Life for Whom>. It is a slow-tempo hip-hop song that depicts the lives of two men living in a drug world without blood or tears in Leessang's unique style. Ryoo Seung-beom performed a rap that made use of the Busan dialect to match the character in the movie, and Hwang Jung-min, who boasted of his singing skills as a musical actor since his days in Daehak-ro, sang the melody part of the chorus. The voices of 'Sangdo' and 'Dogyeongjang' in the movie harmonize with Leessang's signature rap that recites lyrics in a harsh yet sad voice. The three men sang together, <Life For Whom>, was produced as a music video along with the colorful and stylish images in the movie, playing a role in raising expectations for the movie.
6) For the first time in history, the gates of Busan's Gamcheon Port have been opened!
Gamcheon Port is the most frequented port for extra-large foreign ships among piers located in Busan. It is a place that has never been revealed to the outside before, and it is a place that director Choi Ho had in mind from the script writing stage to the ending stage. This is because the exotic feeling emanating from ships of various nationalities and the dozens of super-large Russian ships lined up against the sea were perfect for creating a highlight scene leading to a car action and a large-scale explosion. The humid air peculiar to the port is also an important factor that cannot be created artificially. The production team, who received full support from the Gamcheon Port Pier Management Corporation after several months of contracting, filmed in Gamcheon Port for 10 days in an unusual way. To this end, all the staff went through a strict background check, and they had to carry out a safety operation comparable to that of a spy to maintain the security of Gamcheon Port, such as filling out an entry form every day and wearing epaulets that could prove that they were movie staff.
Director Choi Ho's change of direction
An odyssey about the mean zone
The Republic of Korea in 1998, when the whole nation was in the tribulation of the IMF,
There, the best port city, Busan,
Even there, we approach a very special (?) area.
The moment we set foot there,
You will find yourself standing in the middle of a swamp infested with crocodiles and crocodiles,
In order not to fall into the swamp, you will catch a roller coaster that runs over it,
You'll soon realize that the roller coaster runs on the fuel of betrayal and revenge.
You will feel with the vibrations of your whole body that the final destination is the catastrophe of life-and-death decisions.
This movie is an epic about the hot-blooded villains running through that special area.
Their appearance will reflect our self-portrait at first glance.
That despicable area,
It is a microcosm of the entire Korean society represented by frenzied capitalism.
Because it is like a mirror that clearly reveals the other side of us who are surviving in the weak and strong diet.
Dictionary of Drug Terms
1. Gosabari [ⓝ: noun]
The bottom line sales book in charge of the most rudimentary level of work among drug dealers. They are mainly responsible for the delivery and collection of goods under the direction of the intermediary.
2. cockerel [ⓝ:noun]
1 Residues from burning cigarettes, etc.
2 Slang for the act of serving someone or doing chores
3. Gyobanggi [ⓝ: noun]
A chemical container used to heat ephetrine hydrochloride, the raw material of methamphetamine. The hydrochloric acid mass heated in the stirrer turns black.
4. Professor / Factory [ⓝ:noun]
A professional engineer who manufactures methamphetamine using raw materials such as hydrochloric acid ephetrine. Factory refers to the workshop where the professor manufactures methamphetamine.
5. Telephoto / Opposition [ⓝ:noun]
A slang term for a person who hides his identity and acts as a spy to provide information or covert operations. Opposition also refers to a person who acts as a police spy by stealing information while working in a criminal organization.
6. Water / water price / water sales [ⓝ: noun] to give water [?: verb]
Drugs, methamphetamine. The price of water refers to the money you pay when you receive drugs, and water sales refers to selling drugs. To water means to deliver or sell drugs.
7. mulberry / heroin [ⓝ: noun]
A psychotropic drug manufactured from hydrochloric acid ephetrine. The official name is methamphetamine, also known as heroin or methamphetamine.
8. Merchant ship (= upper line) [ⓝ: noun]
A term used to refer to upper-level vendors supplying drugs to middlemen. An intermediary vendor supplies drugs provided by one's merchant ship to other intermediary vendors (disembarkers), and the drugs are delivered to the sellers who have passed through this multi-layered store organization.
9. Triad [ⓝ: noun]
China's largest gang spread across Asia
11. Epilogue
10. Acetone [ⓝ:noun]
It is an industrial solution used to dissolve colorless volatile liquids, dyes, etc., and is used to wash hydrochloric acid that is agglomerated by heat during the drug manufacturing process.
11. Chabari [ⓝ:noun]
Gyeongsang-do dialect meaning police
12. Pairing [ⓝ:noun]
One dose of methamphetamine injection
13. bearer [ⓝ: noun]
Carriers who smuggle drug raw materials from abroad
14. Kirowagi [ⓝ: noun]
1 kg of drugs. 0.03g of methamphetamine per dose is usually distributed in grams, and the retail price of 1kg of methamphetamine in Busan in 1999, which is the background of the movie, is 450 million won.
Related Videos