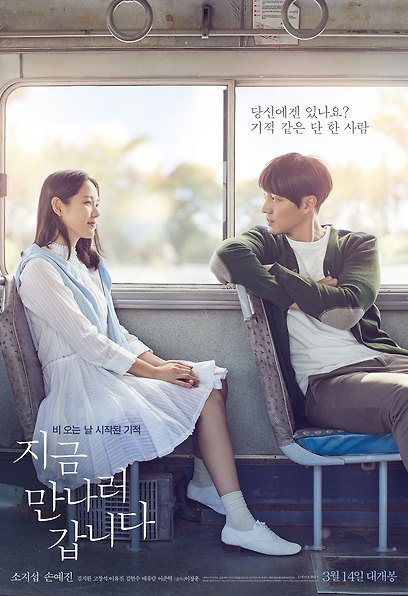 Be With You, 2017
release

2018.03.14
genre

Romance/Melodrama
country

Korea
ranking

Audience over 12 years old
running time

131 minutes
grade

8.0
cumulative audience

2602273 people
Awards
Synopsis
She passed away and came back.
Losing all memories.
Sua, who left the world with an incredible promise to come back on a rainy day.
One year later, one summer day when the rainy season begins,
'Soo-ah' appears, the same as before he passed away.
However, 'Su-A' doesn't even remember who 'Woo-Jin' is.
I'm in love with you again
'Woojin', who is happy just by the fact that she is by his side even though he can't remember himself, and 'Suah' who is curious about the story with him, whom he can't remember.
Sharing the moments of first meeting, first love, first date, and first happiness told by 'Woojin', 'Sua' falls in love with 'Woojin' again…
[ Prologue ]
story about love
I thought a lot about what kind of love to talk about
What Woojin left on a rolling paper for Sua
The message "Thank you. It was warm to be by your side."
Through Sua again, through the story "I was happy enough just to be by your side"
return to woojin
Just being there is enough
maybe that's love
I wanted to tell a love story like that.
– Director Lee Jang-hoon
[ About Movie ]
Have you ever had a miraculous love?
Newly completed by adding realistic sympathy to the original fantasy setting!
The most special story of 2018, I'm going to meet you now
Woo-jin, a man who is still slow and clumsy, but courageously fills his daily life, leaving the empty seat of his wife, who passed away a year ago. On a summer day when the rainy season begins longer than ever, Sua, who left an incredible promise to come back when it rains, appears in front of Woojin. She doesn't remember anything about his existence, love, or memories, but she is definitely 'Suah'. A miraculous moment that cannot be found in the world comes, and their love begins again.
<I'm Going to Meet You Now> is a movie depicting the story that begins when Su-A, who has passed away, reappears in front of Woo-Jin, losing her memories. Starting with a miraculous reunion between two people who can't meet again, <I'm Going to Meet You Now> is a film that adds emotional touch and realistic empathy to the original fantasy setting and story in which the deceased wife returns with lost memories. blow in Woo-jin, who loved only one person and never stopped loving her for a moment after losing her, and Su-a, who appeared with her memory lost. After she returns, the story of a man living in a dreamlike happiness who does not want to wake up every day and a woman who is adjusting to a reality that feels unfamiliar but familiar as if dreaming, tracing each other's precious memories and building new memories is a special story that is more than a simple love story. to impress 'Woo-jin' and 'Su-a' grow more and more fond of each other as 'Woo-jin' tells the story of the past, as they look back on their memories. The love that was as deep as the long time we had together and the image of the two finding their place as if attracted to a magnet moistens the heart with warm and deep emotions. However, the moment Su-A's memories are fully restored, the sight of them having to follow an irreversible fate evokes deep sorrow and regret. <I'm Going to Meet You>, which expresses the story of a precious memory that will remain in the heart for a long time and a miracle-like encounter with a delicate sense, will captivate the audience with a single emotional story that awakens everyone's heart in the spring of 2018.
The heartbreaking meeting everyone has been waiting for!
So Ji-sub & Son Ye-jin's first lovers breathing
The two most attractive actors of 2018, I'm going to meet them now
<I'm Going to Meet You Now> amplifies expectations only with the meeting between So Ji-sub and Son Ye-jin, the representative actors of Korea, and their first romantic relationship. So Ji-sub, who has captivated the audience with his intense charisma on the screen, not only plays the role of 'Jeong-jo' in <Sado>, as well as rough action performances full of masculinity such as <Office Worker> and <Battleship Island>. I'm going to go> through the role of 'Woojin', returning with a deeper emotional acting after a long time. So Ji-sub, who plays 'Woo-jin', who has a bright but courageous life with his young son, and a deep longing for his wife who left him and a love of pure love, brings warmth to the play with his delicate acting that shows the humanity in his daily life without strength. blow in So Ji-seop, who has been digested with deep eyes and passionate acting, from the fresh appearance of falling in love for the first time, to the heart-fluttering appearance of the meeting that has started again, and the desperate appearance of not wanting to miss the happiness with 'Soo-ah', is the heart of a man who sees one woman as his whole life and his pure charm. captivate the heart
<Princess Deokhye> and <Pirate: Bandit to the Sea> proved their ticket power with successive box office hits, while <No Secret> and <Princess Deokhye> received the Baeksang Arts Awards, Daejong Film Festival, Korea Film Critics Association Award, Son Ye-jin, who swept the Best Actress awards at major film festivals including the Buil Film Awards, solidified her status as the best actress. In particular, Son Ye-jin, who made the audience flutter through works such as <Classic> and <Eraser in My Head>, shows the aspect of Korea's representative emotional queen through <I'm Going to Meet You Now>. Son Ye-jin started with the pure eyes of 'Soo-ah', who returned without memory, and the mysterious charm that kept the secret, and perfectly digested the subtle emotional changes of a woman who falls in love with him again through 'Woo-jin' with detailed acting. Son Ye-jin's acting, which depicts the sincerity of 'Soo-ah' with deep and mature eyes that suppresses emotions but shakes slightly after learning of a fate that cannot remain by 'Woo-jin', will give an unforgettable impression and lingering impression. So Ji-sub and Son Ye-jin, who have been together as lovers leading to the most special fate in the world, the perfect breathing that the two actors will show will fill dry emotions with deep, delicate emotions and affectionate emotions that they meet after a long time.
From new child actors Kim Ji-hwan, scene stealers Ko Chang-seok, Lee Jun-hyeok, Son Yeo-eun
Lee Yoo-jin, Kim Hyeon-soo, Bae Yu-ram of pure charm
Laughter-personality-moving ensemble, I'm going to meet you now
<I'm Going to Meet You>, featuring actors with pure and youthful charms, including the new stealers Ko Chang-seok, Lee Jun-hyuk, and Son Yeo-eun, as well as newcomers Ji-hwan Kim, Lee Yu-jin, Kim Hyun-soo, and Bae Yu-ram, who represent Chungmuro, catches the eye with a solid cast that fills the screen. . Ji-ho, the only son of Woo-jin and Su-a, was played by Kim Ji-hwan, a rookie child who was selected through a fierce audition competition. Kim Ji-hwan perfectly digests everything from the innocent appearance of a young child who is just happy to be with her mother, who kept her promise to come back when it rains, to the tender heart of wanting to hold on to such a mother for a long time. add In addition, the role of Hong-goo, a longtime love coach and a friend who cares about Woo-jin, is an irreplaceable actor from <Gone with the Wind> and <Hello Ghost> to the recent <1987> and <Taxi Driver>. Go Chang-seok takes on the role, bringing life to the play with his unique and pleasant charm. In particular, Go Chang-seok shows off his best friend chemistry with So Ji-sub following <A Movie is a Movie>, and at the same time evokes a pleasant laugh at the right time and shows an activity that cannot be missed.
Actor Lee Yoo-jin, who was recognized for his acting skills by digesting characters with autism in the drama [Age of Youth 2], played the role of 'Woo-jin' in So Ji-sub's high school days, and actor Kim Hyun-soo, who has been active in various works such as <The Crucible> and <Goodbye Single>. Son Ye-jin's high school days as 'Soo-ah', Bae Yu-ram, who received attention for <Youth Police>, takes on the role of 'Hong-goo' during Ko Chang-seok's high school days, and fills the screen with fresh charm and personality. Here, after showing various characters on the screen and on the CRT, actor Lee Jun-hyeok, who recently surprised the audience with his intense performance in the movie <Jang San-beom>, is jealous of 'Woo-jin' and plays the role of 'The Strongest', a sports center colleague who scolds every case. Actress Son Yeo-eun, who made a mark in <The Sheriff>, dramas [Defendant], and [Sister Is Alive], adds strength to the rich casting line by disassembling the role of 'Hyeon-jeong', a sports center employee who watches 'Woo-jin'. In this way, following So Ji-sub and Son Ye-jin, Kim Ji-hwan, Ko Chang-seok, Lee Yu-jin, Kim Hyeon-su, Bae Yu-ram, Lee Jun-hyuk, and Son Yeo-eun are filled with attractive actors from a wide range of generations. It will give you special fun.
<Introduction to Architecture> filming, <Eraser in My Head> art,
<You are my destiny> music
The touch of emotional craftsmen representing Chungmuro, I'm going to meet you now
For Woo-jin, who is waiting for Su-a, who left with a promise to return when it rains, the sound of raindrops soaking the floor is pleasant, the damp humidity relieves tension in the mind, and a smile is put in the cloud-covered sky. As such, it was the most important task for the production team to capture the rainy season unique to <I'm Going to Meet You>. The best emotional craftsmen in Korea are required to perfectly express the setting of the play, which is opposite to the emotion of normal sunny and cloudy days, and to be happy only when it rains, and at the same time to breathe a breath of realism and delicacy into the fantasy setting of the movie. Joined <I'm Going to Meet You Now>.
Cho Sang-yoon, who was well-received for his clear and sensuous filming in which the finer emotions of a person are reflected through <Introduction to Architecture>, strives to capture the moisture of a rainy day, the texture of the air, and even the weight of the atmosphere of <I'm Going to Meet You>. was caught on camera. Cinematographer Jo Sang-yoon, who wanted to create a refreshing and clean feeling rather than being depressed even though it rained, and to express the feeling that the inside of the screen was wet even when it was not raining, continued to follow the character and capture the emotions of close-up shooting and open-minded nature. Even the long shot that captures the scenery, the season, the person, and the scenery are not neglected. In addition, Art Director Choi Ki-ho, who left a deep impression with the beautiful mise-en-scène of <The Eraser in My Head>, tried to capture the story of Woo-jin and Su-a meeting, starting love and nurturing happiness in each space. In particular, Woojin's house, which is the main space, is built on an open set on the hillside, where there are few people in Yeongdong, North Chungcheong Province, and focuses on harmonizing with the natural scenery. Through changes in spatial art, the emotions of the characters were made to stand out more. In addition, 'Soo-A''s studio was drawn as a warm and comforting secret hideout by utilizing the concept of a gift given to 'Soo-A' by 'Woo-Jin'. Lastly, music director Bang Jun-seok, who has participated in works such as <You Are My Destiny>, <The Apostle>, <Veteran>, and <Along with the Gods-Crime and Punishment>, focused on capturing precious emotions that are suddenly awakened in daily life through music. For this, music director Bang Jun-seok, who has perfected the sound through 60-member orchestra performance and recording in the Czech Republic, will moisten the ears and hearts of the audience with a theme song that maximizes the amplitude of the story and the emotional lines of the characters.
Related Videos