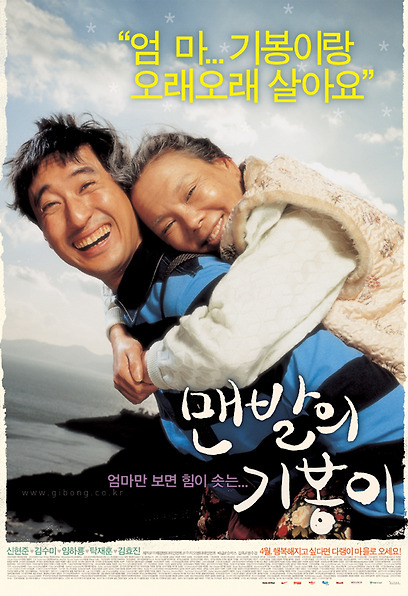 Barefoot Gi Bong, 2006
release

2006.04.26
genre

drama
country

Korea
ranking

all spectators
running time

100 minutes
grade

8.0
cumulative audience

2005180 people
Synopsis
'Barefoot Ki-bong' runs for his mother
In the quiet rural village of 'Daraengi' overlooking the beautiful sea of the South Sea, Ki-bong, an unspoiled old bachelor who suffered from a fever as a child, is 40 years old, but is intelligent at the age of 8. The thing that Ki-bong loves the most in the world is his mother, and the thing he does best is running. The locals call him 'Barefoot Ki-bong' when he sees him running home without shoes on and preparing a warm table in the hopes of quickly bringing the food he gets while doing local chores to his mother.
The ugly tree protects the mountain
Ki Bong-i is a filial piety who takes care of his eighty-year-old mother, and is well-known throughout the town. Ki-bong's morning starts by bringing warm wash water every morning for his mother. She also does wood to cut fires for her mother, and takes care of the laundry. Ki-bong is always with her mother, who has difficulty in moving due to her old age and is deaf. Even if you go to the market to buy something or even go to the bathroom, Ki-bong is always by your side. He also becomes a child and complains only in front of his mother, but when his mother is angry, he sings songs with a microphone he made himself out of wood and plays pranks to soothe his mother. Ki-bong is the most precious and dependable son in the world for a mother. Although life is difficult, there is not a single shadow on their faces. They live each day with gratitude and always smile brightly.
Running for mom's dentures!
Running for his mother is a daily routine, so Ki-bong, who has been confident in running since childhood, accidentally participates in a running competition held in that area and proudly wins a prize. Ki-bong, who was able to give unexpected joy to his mother, who had suffered only through his whole life, decides to give joy to his mother through running. On the other hand, Lee-jang Baek, who admired Ki-bong's talent, decided to send Ki-bong to the 'National Amateur Half Marathon', and started training in earnest as Ki-bong's trainer. Ki-bong decides to get dentures for her mother who can't eat freely because she doesn't have teeth if she wins first place, so she runs around town every day to practice… …
director's story
My first meeting with Ki-bong was in the fall of two years ago, near Chuseok.
It started with a phone call from my parents in the countryside, my brothers and sisters and my nephews, my family who are always apologetic and I didn't have the money or time to look for people around me, so I was wallowing in the corner of the room with a rug.
The phone call was from Hyun-Jun Shin, a friend who had been in a relationship for five years since he was in the directing department of the movie <Bicheonmu>. "Would you like to see Sukyung-ah?" Hyun-jun, who met him like that, brought out a VHS tape containing the five-part documentary Human Theatre, <Barefoot Mr. Ki-bong>. When I got home, I put the tape in and went into Mr. Ki-bong's story, and before he finished his story, I was fascinated by Mr. Ki-bong, and immediately started writing the screenplay. At that moment, my head was filled with only thoughts of wanting to tell the story of Ki-Bong to my mother in the countryside and to the world.
However, Kibong had an innocence that could not be expressed in any sentences in the world, so I had to constantly question myself until the moment I finished the screenplay and moved it to the screen.
Then, before Kibong's story became an actor, he met great actors and staff, such as his friends Hyeonjun Shin, Mr. Kim Su-mi, Ha-ryong Lim, and Mr. Tak Jae-hoon, and was able to come to life. I sincerely hope that this film, which I sincerely hope to make, resembles Ki-bong in some way. Also, I pray that this movie will not become a nuisance to Mr. Ki-bong, his mother, and other people around him when this movie comes out.
HOT ISSUE _ true story
film adaptation of a true story
A movie is made with the motif of the documentary human theater <Mr. Kibong Barefoot>!
The film adaptation of a true story that started with <Memories of Murder> and <Silmido> is now forming a major trend in Korean film production. This is because most of the true stories that are made into movies have dramatic elements that are as good as movies in themselves. And, as in movies based on true stories, when the authenticity of the true story is properly melted in the film, communication with the audience is also successful.
The movie <Barefoot Ki-Bong> is the most anticipated film in 2006 to follow the genealogy of such successful films based on true stories. <Barefoot Ki-bong> took the subject of the movie from 'Barefoot Ki-bong', which aired on the KBS Human Theater in 2003. Ki-bong's beautiful story, which showed the deep resonance of the raw truth without filtration, captured the hearts of many viewers and became a hot topic that year. The pure and moving story of Mr. Ki-bong, who captured the hearts of many people with his vivid life itself, will be overlaid with a more solid fictional drama with the birth of the movie <Barefoot Ki-bong>.
HOT ISSUE _ Hyo
A son's utmost love for his mother, filial piety
Analog sensibility hits people's hearts.
The power that moved people's hearts as a documentary of 'Barefoot Mr. Ki-bong' was the pure and warm heart of the character Ki-bong and deep filial piety for his mother. In fact, filial piety is a natural and proper duty as a human being, even if it is not necessary to cite the Three Rivers and Five Ryuns. However, what captivated people with Ki-bong's story is that, despite his uncomfortable body, Ki-bong gave his eighty-year-old mother the filial piety that came from a heart that healthy people could not do.
What sets this film apart from other films based on true stories is also an advantage.
If movies with similar subjects focused on the love of parents, who showed how a disabled child overcomes his difficult situation and pioneers his own life with the protection and care of his parents, <Barefoot Kibongi> is that It is more moving because it shows the opposite situation.
The main character, Um Ki-bong, is a forty-year-old bachelor who has acquired eight-year-old intelligence as a result of a fever he suffered from as a child. However, the thought of mothers is so deep and sincere that healthy people cannot even imagine.
In the digital age, the extremely analog emotion of 'filial piety' still moves people's hearts.
Ki-bong is proving that it is effective as a universal emotion with his whole body. In Kibong's actions, there was the power of a sincere heart that springs up from deep inside without any pretense or exaggeration.
Ki-bong's pure story, who came back out into the world through film adaptation, conveys the message that 'the world is still a livable place' to modern people living in a world where there are more people who are physically healthy but not mentally, and once a big fence of the world. It will make you think again about the existence of the 'mother', which was but is now forgotten.
HOT ISSUE _ Actor
Amazing ensemble created by talented actors
– Shin Hyeon-jun, Kim Su-mi, Im Ha-ryong, Tak Jae-hoon, Kim Hyo-jin's acting challenge –
<Barefoot Ki-bong> was based on a real story, so casting was important.
Because he had to play real people, he had to be an actor with the power to melt the sincerity of the true story in his acting.
Shin Hyeon-jun, who had a deep interest in the film from the beginning to the extent that he directly recommended the film to the director, tried a definite transformation from his appearance, such as wearing dentures to handle Ki-bong's slurred tone and dialogue, and worked hard to capture Ki-bong's pure heart. exerted effort. From the appearance of Shin Hyun-jun smiling brightly like Ki-bong in real life, it is difficult to find traces of the appearance of Shin Hyun-jun that he knew in his previous works. Through his 180-degree change of acting, the true value of actor Shin Hyun-jun will be fully demonstrated.
And, actress Kim Soo-mi, who is currently ranked as the 0th ranked mid-ranking actress in Chungmuro, shows that she is the perfect casting for the role of Gi-bong's mother, our old mother who has endured the weight of the world. Kim Su-mi, who has completely transformed from her appearance into an old man in his eighties with a crooked waist, is an ordinary grandmother and mother who trusts and relies on her son who is the object of sympathy for the world more than anyone, and considers her son the best. Ki-bong's mother, played by Kim Soo-mi, is not the stubborn mother who constantly dedicates and sacrifices for her son, which is often seen in movies and dramas. Gi-bong's mother is an ordinary mother who makes herbal medicines because she is worried about her son's health despite the difficult circumstances of having to rely on her son for her old and weak body, and living on government subsidies and the little money that her son earns.
In addition, outstanding actors who are no less than Shin Hyun-jun and Kim Su-mi are making the drama of the movie rich.
In the movie, Lim Ha-ryong, who plays Ki-bong's strong support and running trainer, the neighborhood chief, and Tak Jae-hoon as Yeo-chang, a childhood friend of Ki-bong, who is jealous and jealous of Ki-bong, who is loved by people for her innocence that he does not have. Kim Hyo-jin, who plays Ki-bong's writing teacher as the owner of a local photo studio, is a representative figure.
Ha-ryong Lim, who emerged as a star actor with <Welcome to Dongmakgol>, led the film stably by playing the role of 'older brother' in the movie and on set with his unique simple and affectionate tone and stable acting skills. In particular, in the movie, Baek Yi-jang plays the same role as the father whom the main character 'Um Ki-bong' relies on and trusts. Sometimes I feel sorry for Ki-bong, and while whipping Ki-bong to live the world bravely, he becomes Ki-bong's strength, making him cry at some point in the movie. And, <Family Crisis; Tak Jae-hoon, who showed his amazing acting skills in 'Family Glory 2', clearly shows that he is a talented actor who can digest various genres through 'Barefoot Ki-bong'. Tak Jae-hoon, who is a thug in the countryside, is transforming himself into a perfect female prostitute from his tone of voice to every gesture he makes, adding to the fun of the film by acting as a conflicting element of the good-natured Gi-bong.
As an actor, even though he is a rookie, he will be able to confirm again in <Barefoot Ki-bong> that he has a formidable acting skill.
On the other hand, Kim Hyo-jin plays the role of Jeong-won, the owner of a photo studio who seeks to print pictures every time he takes a picture with a disposable camera, which is Ki-bong's only hobby, and performs calmly and intelligently. Kim Hyo-jin, who was one of the youngest actors on the set of <Barefoot Ki-bong>, which was rumored for the exceptionally good teamwork of the actors, was loved even more. The actors, who created a friendly atmosphere throughout filming, publicly expressed their wish to continue appearing together as a team in the next movie. Their quickness, stable acting skills, and the teamwork they showed are foreshadowing the birth of a well-made movie by itself.
PRODUCTION NOTE
NOTE 1
Namhae Darengi Village, which looks like drawing and releasing paints &
Kibong's house was built by cutting a mountain and building a fortress wall.
One of the must-see attractions in the movie is the green blue sky and the emerald-colored sea in Namhae Darangi Village, and the cute little Kibong's house. If the natural scenery of Darengi Village, which looks like it was drawn with CG, is heavenly beauty, the Kibongi House, made in the same size as the Gibongi house in Seosan, was created by the hands of the set team over 50 days and is a work of hard work by Ingo. The production cost of Ki-bong's house alone reached 70 million won. Built by building a pedestal on a cliff and extending the land to about 20 pyeong, Kibong's house is located where the sea can be seen, holding the beauty of nature intact.
NOTE 2
Shin Hyun-joon's special mother's love that moved Kim Soo-mi
In the process of casting Kim Soo-mi, Shin Hyun-joon's love for Kim Su-mi is so special that it would be impossible to tell without the story of Shin Hyeon-jun. After expressing why Kim Su-mi in Barefoot Ki-bong was in a long letter, he went to the broadcasting station where Kim Soo-mi was appearing and waited for about 4 hours. Not only that, he has a special love for his mother, Kim Soo-mi, even during filming. In addition to always calling her mother, Shin Hyun-jun, who is known as a pharmacist on set, always calls her mother, Kim Soo-mi, when he goes to Japan for the filming of 'Yunmugok Rondo'. I used to buy a lot of gifts (?) such as medicines and nutritional supplements that are good for headaches. Impressed by this, Kim Su-mi also showed off that Shin Hyun-joon's manners are extraordinary and that they are closer than a single mother-in-law.
NOTE 3
Shin Hyun-jun, who is weak in the cold, wearing a thin marathon suit in winter weather and running along the Han River…
Shin Hyun-jun is famous for being cold a lot. For this reason, at the filming site of <Barefoot Ki-bong>, which was filmed in winter, it was necessary to put on a hot pack on the back, chest, legs, arms, and even the soles of the feet. However, in February, when the winter weather was not yet gone, the marathon scene had to be filmed for a week at the high site of the Han River, so the producers were not the only ones with more worries than Shin Hyun-jun himself. It was because all the staff had to be heavily armed with fur hats and ran along the Han River wearing only thin marathon clothes in the winter river wind, so if you catch a cold in the middle, there will be problems with the shooting schedule.
NOTE 4
The theme song 'Mother' created by Shin Hyun-jun and Tak Jae-hoon's close relationship
Tak Jae-hoon, who appeared as Ki-bong's friend and a female prostitute tormenting Ki-bong in Barefoot Ki-bong, not only appeared but also sang the theme song. He has a habit of saying that he has more opportunities to think about his parents while filming the movie, but he re-arranged 'Mother' from 'Country Kokko's 5th album' and inserted it into the movie.
The special relationship between Shin Hyeon-jun and Tak Jae-hoon, who are close friends, also played a part. The two of them, who have been friends for 10 years, have already appeared together in <Family Glory 2: Family Crisis> and showed off their outstanding chemistry, and their friendship is special. Even the theme song was born, making the film richer.
The coldest day on February 16th at Jamsil Hangang Gosu… Finally, we started shooting the marathon scene, which can be called the highlight scene. Lim Ha-ryong, who tells Baek Yi-jang to stop running, and Shin Hyun-joon, who fell to the floor and did not stop running, showed tearful performances. All the staff applauded Shin Hyun-joon's passionate performance in tears despite the harsh winter winds of the Han River that penetrated his collar, and it is considered one of the unforgettable scenes in the movie.
Interview
Eom Gi-bong / Shin Hyun-joon
Q Cast introduction and impressions
A: Hyunjoon Shin: The role I wanted to try the most since my 22-year-old debut was 'the disabled'. Whenever I was asked what kind of role I wanted to play, I always said that when I grew older and matured, I wanted to try the role of the disabled. So I am very happy now. Actually, I wanted to be with my mother (named as Kim Soo-mi), so I wrote a long letter and went to the broadcasting station where my mother was appearing. It must have been difficult for you to make a decision due to your busy schedule, but thank you so much for allowing us to work together again.
Q How did you prepare to play Ki-bong?
A Hyunjun Shin: Well… Actually, I don't really prepare anything. However, I usually watch movies such as 'Forrest Gump', 'Rain Man' and 'I Am Sam'. And, actually, I will turn forty the day after tomorrow. I am grateful to Ki-bong for being able to laugh while making this movie. The documentary that appeared in the human theater was first watched with the staff when the movie started. I haven't seen it since then. It was because of the idea of making Gi Bong in the movie. I haven't met Ki-bong yet, but I plan to visit him after the movie is over.
It seems to be true that I've been immersed in Gibongi lately. One time, while I was in Japan for a drama filming (Mugok Yoon – Rondo), the director, who was eating rice, looked at me worriedly and asked why. These days, without realizing it, my usual tone and behavior seem to be becoming more and more virtuous.
The crisis team of the Q family reunited… …
A Shin Hyun-joon: I wish these members would just change their characters and continue.
Q Episode during filming
A Shin Hyun-joon: When we were filming the scene of seeing the market with my mother, I actually went to the town to hide the camera and filmed it. Actually, before filming, I was worried about what would happen if people recognized me and came, but when filming started, I was able to finish it naturally until the filming of the market scene was finished. Actually, these days, my mother (Sumi Kim) gets along well with the villagers. We eat together and bring side dishes.
Mother / Kim Soo-mi
Q cast introduction
A Kim Su-mi: Actually, it was difficult to get a personality because of my experience with daily tusks in the beginning. I'm very comfortable shooting right now. My son Hyunjun always smiles. I am happy and grateful for even trivial things, and because I am such a person, I feel like I have lost my lust for water. I think this movie will make a lot of people mellow. I thought a lot about my parents while filming.
Q About the crisis team of the family…
A Kim Su-mi: I think it is necessary to play the role of a static mother at my age. The family crisis was good for Timwick. If the process is good, the results are good. The teamwork during a family crisis is now connected, so it's a lot of fun to shoot. Besides, as you can see, the scenery is very nice. I feel like my heart is being dry cleaned.
Q About Shin Hyun-joon…
A Kim Su-mi: Actually, seeing Shin Hyun-joon on set, it is like seeing an 8-year-old child. Smile while walking Shin Hyun-jun's smile makes me reflect.
It's a role that Hyunjun wanted to play, but looking at it from the side, it seems like he's been preparing for 10 years. I was so surprised when I saw Hyunjun during the first filming. Actually, at first, I was worried about whether Hyun-jun could do well. In fact, in <Crisis of the Family>, the role of Hyun Jun is something anyone can do… But Ki-bong is different. In my opinion, Hyun-jun played the role of Ki-bong-i really perfectly. When I'm acting, I never look like Hyun-jun. There was no Shin Hyun-jun, but Ki-bong.
Q About Jaehoon Tak…
A Kim Su-mi: Seeing the filming, it is simple. play a villainous role. And the female prostitute will understand. Without a female prostitute in this movie, the liver would not have been right. Since there is a female spear, the liver is just right.
Q memorable scene
A Kim Soo-mi: Baek Yi-jang bought Ki-bong a stretching book and told him to stretch, but his mother
There is a scene where she stretches while looking at the book alone. Older roles in many TV shows and dramas
But it's the first time I've ever seen my heart be reverent. You have to be grateful for the little things.
Baek Yi-jang / Im Ha-ryong
Q cast introduction
A Lim Ha-ryong: I said I would do it right after I received the script, but I actually wanted to play the role of Ki-bong or a female prostitute. Gi-bong, who makes him run a marathon to make the town proud, is like his father.
Q Darengi Village has a beautiful scenery, but do people from this village appear in movies?
A Ha-ryong Lim: Mr. Lee and a few people from the village appear as extras. Because I am the director in the movie, people follow me well.
Q Episode during filming
A Ha-ryong Lim: I used to go to Darengi Village. A man approached me and asked who he was, saying he had seen him a lot and couldn't remember. So, when I said that I was the head of the village of Darengi, the person said, "I know the head of the village, but you are not. What village do you live in?" He continued to chase after him and had a hard time.
Baek Yeo-chang / Tak Jae-hoon
Q cast introduction
A Tak Jae-hoon: It's a disrespectful and naughty role. But the movie is very warm. So, in the end, it is a station that assimilates to Ki-bong. There are many important things in the world, and the most important among them is family and family love. I wish I could feel the love through <Barefoot Kibongi>.
Q About Shin Hyun-jun…
A Tak Jae-hoon: In my opinion, Shin Hyun-joon's acting is very different from the previous films. You seem to be going to school these days. I don't think it's like going to a general class either.
Q Episode during filming
A Tak Jae-hoon: This movie will be a turning point for Shin Hyun-joon. It's a shoot that vomits everything about yourself. One day, a passing traveler approached me. Of course, I knew I was asking for autographs, so I was preparing to sign them, but when they came to me, they said, "What movie is this?" "Who is coming?" asked and he went. I just went to churining and thought I was a villager. My heart was as happy as if I had given you 1,000 autographs. I thought that this was like making a movie.
Q Jae-hoon Tak seems to like Jeong-won (played by Hyo-jin Kim).
A Tak Jae-hoon: The garden of the photo studio is the most stylish and pretty woman in town. That's why only people with the right qualifications can like it, and that's me. So, of course, I think that the garden should also like me, but the garden treats Ki-bong better than me. So, the female chant hates and harasses Ki-bong.
Director / Kwon Soo-kyung
Q About the movie <Barefoot Kibong>…
A Director Kwon Soo-kyung: It is a human drama with laughter and emotion. A general story about filial piety
There may be many, but <Barefoot Ki-bong> will be a clear and clean story about Ki-bong and Ki-bong-mo.
Q This movie is based on a true story. What was your intention
A Director Kwon Soo-kyung: It is a human drama with laughter and emotion. Created by actors with distinct personalities
all. I believe that the most important thing in life is the love of a mother and child. thinking of my mother
made it It will also be a story of 'filial piety', which is often seen, but the clear and clean feeling of these people is as it is.
I wish I could pass it on.
Related Videos