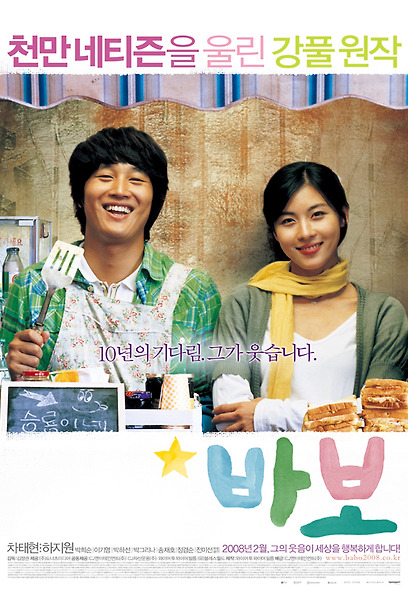 Ba:Bo, 2008
release

2008.02.28
genre

drama
country

Korea
ranking

Audience over 12 years old
running time

97 minutes
grade

8.4
cumulative audience

967654
Synopsis
"There are idiots in our neighborhood."
After his parents died, Seungryong runs a toast shop by himself and takes care of his younger brother Ji-in with utmost sincerity. Seungryong, who makes and sells the world's most delicious toast in a small toast shop in front of his brother's school, enjoys watching his acquaintance go to school. Seungryong, who is always happy and smiling, climbs up to Saturn where he can see the neighborhood every evening and sings 'Little Star' and waits for Jiho, his unrequited love, who went to study abroad 10 years ago.
"A fool laughs today."
Then one day, the day Ji-ho returns to Korea after 10 years, even though many years have passed, Seung-ryong recognizes Ji-ho at first sight and is happy to see him. Ji-ho, who couldn't remember at first, comes closer and closer to Seung-ryong's warmth around him with the memories that come alive. Seeing his younger brother, Ji-ho, who is always nice to look at, and his first love, Ji-ho, who has been waiting for 10 years, every day, Seung-ryong feels the happiest of his life and lives more happily. However, after a short period of great happiness, he finds out that his one and only younger brother, acquaintance, is sick…
February 2008,
The beautiful story of the fool Seungryong, who shines like a star, begins.
[ Prologue ]
The movie <Fool> is directed by Kim Jung-kwon.
After reading the original manga 'Fool'…
These days, there are a lot of people who have a hard time living a difficult household life and harsh day-to-day…
When I missed the warmth that comforted my cold heart, I met Kang Full's cartoon 'Fool'.
'Fools'.. We call people who are always teased, deceived, and lose a lot of money, but smile brightly as 'idiots'. The word 'fool', which somehow feels nostalgic, came to me over and over again without realizing it. After reading the manga 'Fool' like that, I suddenly remembered an old friend with a faint memory. As I remembered the foolish days when I could put everything I had on love and friendship, I missed a glass of soju with an old friend who I was with at that time.
'Stupid'.. Pure and kind 'Fool'.. I miss such a 'Fool'. I want to meet such a 'idiot'.
No, I have to be that 'idiot' now.
I would like to express my sincere gratitude to writer Kang Full for reminding me of the innocence that has been hidden in me for a long time, and to Seungryong 'stupid'.
[Hot Issue]
– Kangful cartoon 'Fool' that made 30 million netizens cry
It unfolds on the screen as a story like a fairy tale shining brightly!!
Kang Full, a cartoonist who created an internet comic syndrome by forming a readership of various ages with comics about the small lives, love, and emotions of neighbors that can be commonly seen around. His cartoon [Fool], which became a hot topic in each of his works such as [Apartment], [Pure Manga], [Timing], and [26 Years], was serialized through media Daum from November 2004 to April 2005, one day per episode. It boasts an average click-through rate of over 1 million times, and is an explosive love from 30 million netizens. [Fool], a cartoon that wittily depicts the pure and beautiful love of Seungryongi, a fool who seems to exist in any neighborhood, has not ceased to be touched by netizens' comments and has formed a fanatic base. The movie <Idiot> brought Kang Full's characteristic crude but sentimental sensibility to the screen. The image of Seungryong, an idiot with a messy appearance but with a warm smile than anyone else, combined with a beautiful image like a fairy tale, will captivate the audience with a deeper emotion than a cartoon in 2008.
– Top stars Cha Tae-hyun and Ha Ji-won.
And, the meeting of director Kim Jung-kwon of <Similar> who showed beautiful visuals!!
Cha Tae-hyun, an all-round entertainer who is loved for his friendly image like the brother next door. In films such as <My Sassy Girl>, <Love Novel>, and <Masked Moon>, he became a fool Seungryong in the movie <Fool>, who showed a pure smile like a boy with comedy, absurdity and seriousness. Cha Tae-hyun, who is always full of shortcomings, such as always losing a pair of shoes, who became an idiot who gave infinite love to his first love, Ji-ho, his younger brother, and his friend, Sang-soo, showed a performance that seemed to fit his body by making meticulous efforts in every tone and gesture. .
Ha Ji-won, an actor who deserves attention along with him. Ha Ji-won, an actress who has constantly played various roles from a horror movie heroine to a strong and captivating lead female in dramas and movies, tries another acting transformation through the movie <Fool>. Ha Ji-won, who plays Ji-ho, who presents precious memories to Seung-ryong's heart and embraces him without prejudice, shines brighter than ever in the movie <Fool>.
The beautiful video of <Fool>, which made the two actors stand out even more, was made even more brilliant by the megaphone of director Kim Jung-kwon of <Similarity>, which drew attention in 2000 for its unique material and sensuous visual beauty. The movie <Fool> will leave a happy smile in the hearts of the audience in 2008, with the screen that breathes life into the famous scenes of the cartoon [Fool], the beautiful colors added to the shabby fool's space, and the perfect performances of Cha Tae-hyun and Ha Ji-won.
– The powerful supporting corps that captured Chungmuro,
Completing the shining movie <Fool>!!
The best supporting actors in Chungmuro have united for the movie <Fool>. The first is actor Park Hee-soon, who caught the attention of Chungmuro in <Seven Days>, a movie that announced the possibility of a thriller movie by gaining full support from 'mid' enthusiasts with its sophisticated video and well-structured composition. Park Hee-soon will play the role of Seung-ryong's only friend Sang-soo in <Fool>, and will approach the audience with a more comfortable image. In addition, in the movie <Marathon>, actor Lee Ki-young, who is well known as the coach of Cho Won-i, an autistic child, is the vicious president of the cafe where Sang-soo works, and shows off a charismatic performance that overwhelms the atmosphere with just one glance. In addition to that, Ji-ho's father, actor Song Jae-ho, who always takes care of his siblings warmly as he always has a warm and comfortable image, and Jeon Mi-sun, who plays Seungryong's mother, who tells Seungryong of his responsibility as an older brother. The movie <Idiot>, completed with the affection of the best actors, will make the screens of 2008 shine brightly.
[ Production Note ]
Beautiful and sensual location shooting site!!
The movie <Fool> made with the best video!!
The movie <Fool> was mainly filmed in Jeonju, North Jeolla Province. Jeonju is the background for Seungryong's hometown, a small and pretty toast shop, as well as the elementary school where Seungryong and Jiho went together and Jiho's school. The simple and friendly appearance of Jeonju, which is different from downtown Seoul, stands out even more in the movie <Fool>. In addition to Jeonju, Seungryong's neighborhood, which looks like something straight out of a fairy tale, is located in Giza Village in Eunpyeong-gu, Seoul. The elongated electric poles and small alleys, Seungryongi's house and Jiho's house, as well as the cozy houses gathered together will remind the audience of old memories and approach them in a friendly way.
Also, in the movie, Saturn, which Seungryong visits whenever he has time, was filmed on a hill located in Pungnap-dong. Saturn, where you can see the village at a glance, is the place where Seungryong waits for his first love, Jiho, who went to study abroad 10 years ago every day, and where he shares his sympathy with his one and only friend, Sangsu. And, it is the place where Seung-ryong comes to meet his star parents, which plays an important role in the movie.
In addition, the beautiful appearance of the Czech Republic where Seung-ryong's first love Ji-ho (Ha Ji-won) went to study piano will give the audience another pleasure to see. In this way, the movie <Fool>, filmed in simple and friendly places across the country, creates a fairy tale atmosphere with the best images.
The actors' constant challenge!!
Become an expert for <idiot>!
– Cha Tae-hyun, who became a toast expert!!
Cha Tae-hyun, who took on the role of Seung-ryong in <Fool>, started learning how to make toast first to play Seung-ryong-i, who runs a small toast shop from an early age and lives with his younger brother. Cha Tae-hyun, nervous that toast making, which seemed simple, is more labor intensive and not as easy as expected, concentrates on toast-making practice and says, "The only thing Seung-ryong can do for his younger brother is to make toast, so he made toast in <Fool>. seems to have many meanings." He showed his special affection for the toast shop in the movie. After practice and practice, Cha Tae-hyun, who reached the level of a toasting expert, hand handed out homemade toast to the struggling staff, and the staff applauded Cha Tae-hyun's efforts, saying that it would be okay to actually run a toast shop.
– Learn the passionate piano of Ha Ji-won transformed into a pianist!!
Ha Ji-won, who plays the pianist Ji-ho and Seung-ryong's first love in the movie <Fool>, started learning the piano from the preparatory stage for filming. Ha Ji-won started practicing while reviving the piano skills she learned as a child. Ha Ji-won, who practiced with an active attitude of learning and learning unconditionally, took the position of a professional as well as a basic performer shortly after starting practice. Also, it is said that the nursery rhyme 'Little Star', which appears frequently in <Fool>, has become a favorite song. Ha Ji-won, who likes to learn and discover new things, said that she fell in love with the piano even more through <Idiot>. In addition, composer Noh Young-shim, who became Ha Ji-won's piano teacher, praised Ha Ji-won, saying, "Ha Ji-won's hard work and hard work has made her skills really improve in a short period of time."
A record of cute fairy tale-like props!
Small props and eye-catching costume episodes!!
In <Fool>, there are many small and large props, from pretty and cute props to simple toast shop sets. Seungryongi's toast shop, specially made for the movie <Fool>, is full of cute items. From a small refrigerator for toasting ingredients to toilet paper and paper cups hanging from the ceiling, you can feel the careful touch of the staff. In particular, the 'toast recipe' written on old paper that my mother gave for the fool Seungryong is particularly eye-catching. Also, when Seungryong wakes up, he writes down the first thing he needs to do and puts it on the ceiling of his room, and the crumpled pots he puts on to prevent the toast he prepared for his acquaintance from getting cold. It is the result of hidden effort.
What stands out along with the props is Seungryong's unchanging costume. In order to express Seungryong, a fool who has to take care of his younger brother acquaintance alone in the absence of his parents, the staff paid special attention not only to his appearance but also to his clothes. On the other hand, Ji-ho, a traditional student and Seungryong's first love, chose clean and sophisticated outfits to express Seungryong's gaze as well as the audience as the prettiest Jiho in the world. Also, for Cha Tae-hyun, who plays Seung-ryong, who often runs barefoot because he often loses his shoes, he made a special foot protector based on his sole. Impressed by the consideration of the staff, Cha Tae-hyun said that he was able to immerse himself in acting.
Music director 'The Classic' who made <Fool> even more lovable!!
And Ha Ji-won's piano teacher, Noh Young-shim, who made me feel the beautiful melody!!
'The Classic', which has a lot of fans with music such as "Magic Castle," "Fox," and "Graduation," participates as the music director of the movie "Fool" and presents a beautiful melody. The unique fairytale-like sensibility and solid musicality of 'The Classic' harmonizes well with the beautiful and lyrical video of 'The Fool', and it is expected to deliver the pleasure of listening to the audience as well as the pleasure of watching. In particular, in 'The Classic', Kim Gwang-seok's song 'My Love' was arranged for the movie 'Fool' and used as the final ending song of the movie. With a lyrical melody and heart-warming lyrics, 'External Love' well expresses Seungryong's pure and deep love for his first love, Jiho, and his younger brother, Jini. The music of 'The Classic', which makes the movie even brighter, raises expectations for the warm and pure movie 'Fool'.
In addition to 'The Classic', which served as the music director for <Fool>, composer Noh Young-shim, who taught Ha Ji-won to play the piano, made the movie <Fool> shine even more. Noh Young-shim participated in <Fool> as Ha Ji-won's piano teacher, who played the pianist in the movie, and actively guided Ha Ji-won to play the pianist as naturally as possible. With Noh Young-shim's meticulous guidance, Ha Ji-won was able to learn in a short time not only the nursery rhyme 'Little Star', which is an important subject in the film, but also her piano skills and the figure of a professional pianist.
'The Classic', which is loved for its sweet voice and keyboard melody, and the movie 'Idiot', in which Noh Young-shim, who composes heartbreaking music, participated as music director and piano teacher, respectively, will captivate the audience with music as beautiful as the video.
Related Videos