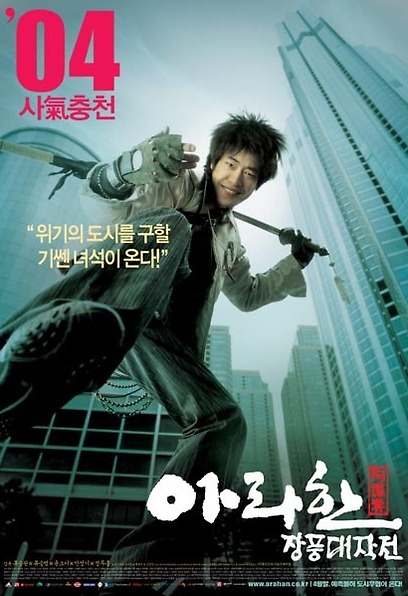 Arahan Jangpung Daejakjeon, 2004
release

2004.04.30
genre

Comedy/Action
country

Korea
ranking

Audience over 12 years old
running time

114 minutes
grade

6.9
cumulative audience

810430
cookie video

One
Synopsis
The time was 2003.
High-performance camera phone, MP3, digital camera, Pentium 4, X-game, video chatting and premarital cohabitation captivated young people in the heart of downtown Seoul.
People living in 'absolute airspace' living in skyscrapers
A janitor wiping the glass, barely hanging from a skyscraper,
An old woman carrying a heavy bag freely,
There are Taoists who maintain peace in the huge city without anyone knowing.
Life-doers who have been honing their qi for a long time in one field,
The activities of those who are not seen
He is leading the world in peace…
'Fire-Blooded Police Officer' Hyo-Jin and 'Arachi' Eui-Jin
Reimbursement who became a police officer because he wanted to punish those who use his powers for bad things.
But you have to kneel at the feet of gangsters.
A humble cop was his reality
One day, people suddenly approached him, frustrated.
"You are the lumber that will become Maruchi! Can you teach me how to use a long wind?"
Their name was Chilseon.
And that's how our first meeting with 'Arachi' Euijin started!!!
Do you want to become an ordinary cop, 'Maruchi'?!?
I can't believe what strange people say,
At the words of Euijin, a pretty girl named 'Arachi', Hwanhwa decides to become 'Maruchi'.
However, leaving behind the long winds and levitation that I had promised to teach,
I'm in a bad mood, and I spend every day cleaning…
Around that time, the absolute evil 'Black Fortune' sealed by the Seven Suns was released from the seal…
The world is waiting for the birth of 'Maruchi' more than ever…
Indeed, an ordinary young man, Hwa-won, joins forces with 'Arachi'
Will you be able to protect the spirit of peace with the world?
Related Videos