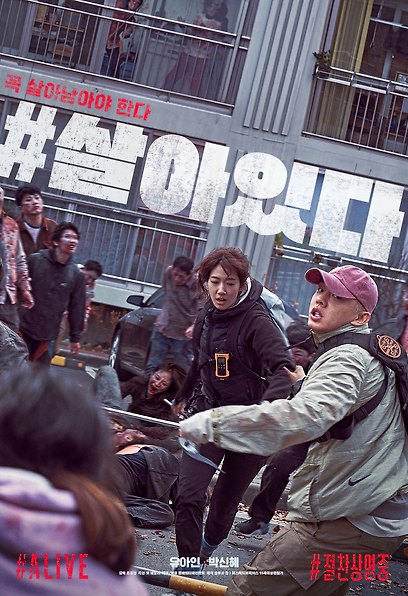 #ALIVE, 2020
release

2020.06.24
genre

drama
nation

Korea
ranking

Audience over 15
running time

98 minutes
grade

4.6
cumulative audience

1903992 people
Synopsis
A city that has fallen out of control under attacks by people with unknown causes.
Jun-woo (Yoo Ah-in) wakes up without knowing English and finds out that he is alone in a house where there is no one else.
Data, Wi-Fi, texting, and phone calls were all cut off and isolated.
After the loss of contact with his family, 'Jun-woo' has become difficult to endure as he runs out of even the minimum amount of food.
But at that moment, someone sends a signal from the apartment across the street.
Jun-woo learns that another survivor, Yu-bin (Park Shin-hye) is still alive.
They set out to find a way to survive together…!
must survive
[ About Movie ]
#Seoul, Korea #internet cut off
#I was left alone in a world where they ran rampant
The freshest survival thriller of 2020
<#Alive> is a survival thriller that tells the story of people who are isolated in an apartment alone with data, Wi-Fi, text messages, and phone calls cut off while people with unknown symptoms start to attack and fall out of control. 'Jun-woo' wakes up like any other day and finds out that he is isolated in the apartment with lost contact with his family. Jun-woo's situation, with the anxiety and fear that he could be attacked even if he steps out of the door, but insufficient water and food to stay in the house for a long time, and the loneliness that is difficult to bear above all else, the situation of 'Jun-woo' is a very ordinary person's most everyday situation. With the setting of having to survive alone in space, it stimulates cinematic tension and realistic sympathy at the same time. In 2020, when data and Wi-Fi have become essential necessities as important as food, clothing and shelter, the novel setting of not only physical isolation but also complete digital disconnection is added to create a youthful and differentiated fun.
At the moment when Jun-woo's despair that he was left alone in the world reaches its climax, another survivor, 'Yu-bin' appears and faces a new transition. It provides thrilling thrills and pleasure as people face crises in different ways. In particular, analog objects from digital devices such as drones and mobile phones to hatchets, ice picks, walkie-talkies, and mountain camping equipment are used as powerful survival items to enhance realistic fun and immersion. Set as the main stage in the apartment, the most familiar space in Korea, the structure and characteristics of the apartment itself play a role as a dramatic device that goes back and forth between isolation, crisis, and survival. <#Alive> breathes real life into the film. It will captivate audiences in the summer of 2020 with a new survival thriller with the novelty of overcoming the extreme tension and thrill that stimulates a realistic consensus.
#The only survivor in a dead end #Another survivor with full ability
#must survive
Contrasting survival methods, novel fun is alive
<#Alive> realistically depicts the way ordinary people around us survive in isolation in the space they live in, with all means of communication with the outside being cut off. When he opens his eyes, he sees Jun-woo, who is in the middle of a city that has become out of control, bewildered by the unbelievable reality he sees, while restlessly worrying about his family who cannot be reached and falling into a panic. evoke As time goes by, 'Jun-woo' gets tired of not being able to do this or that, but soon comes to face reality little by little. Jun-woo, who divides the leftover food by date and stores it, eventually succumbs to his appetite and tries to find a radio frequency in an analog way, but gets blocked by critical equipment, etc. .
On the other hand, another survivor, 'Yubin', who appeared in front of 'Jun-woo', shows a completely different charm from 'Jun-woo' with a bold and calm appearance that devises a survival strategy under a thorough plan from one to ten. The character of 'Yubin', who is equipped with the meticulousness of making his own fortress with mountain camping equipment in case unidentified beings break into the house, and keeping a hatchet and ice pick close to the movement line to defend against any attack, gives vitality to the play. infuse 'Jun-woo' and 'Yu-bin', who realize the existence of each other who survived across the apartment and are no longer independent but join forces to survive. Struggle provides breath-taking tension and fun with an unpredictable development. 'Jun-woo', who is desperate in reality, who is alone overnight, and 'Yu-bin', who calmly and boldly plans his survival strategy. The survival method shown by the two opposing characters will become a fresh viewing point with the novel fun and sympathy of <#Alive>.
#Acting power #Charm #Character digestion power
#Yoo Ah-in X Park Shin-hye #First Meeting
The attractive synergy of fresh combinations is alive.
The movie <#Alive> is the first meeting between Yoo Ah-in and Park Shin-hye, creating the most youthful and attractive synergy in 2020. Regardless of era and genre, such as the third generation of a chaebol who is unhappy in <Veteran>, the crown prince who met the tragic death of <Apostle>, the anxious youth of <Burning>, and a financial man betting on the crisis of <Day of National Bankruptcy> Yoo Ah-in, who has been performing acting, disassembles as the only survivor 'Jun-woo' in <#Alive>, takes off the intensity of the past, and shows a humane and friendly side. Yoo Ah-in, who said, "'Jun-woo' is a character with a natural character like the young man next door and his own personality." Yoo Ah-in, who has portrayed the desperate and desperate feelings of 'Jun-woo', who was left alone, cut off from the world, with sympathetic acting, is expected to show a presence that captures the screen once again.
Park Shin-hye, who has been widely loved by screens and CRTs such as movies <Brother>, <Silence>, dramas [Pinocchio], [Doctors], and [Memories of the Alhambra], is another character isolated in the middle of the city through <#Alive>. He challenges a new acting transformation as the survivor 'Yubin'. Park Shin-hye, who said, "'Yubin' is a person who is meticulous and contemplating how to survive calmly." Park Shin-hye, who took on a high-level action for the role of 'Yubin' who survives against unknown beings, is impressive with her passionate acting. Park Shin-hye, who has been well-received for her impressive collaboration with her partner in each work, shows a very special survival chemistry with Yoo Ah-in, who is working together for the first time through <#Alive>. In this way, Yoo Ah-in and Park Shin-hye's new acting transformation and synergy, who perfectly melted into the character as if wearing my own clothes, will double the audience's immersion and empathy.
#shooting #art #music #special makeup
#Vivid sense of presence #Dramatic tension
A lively new attraction is alive
From filming to art, music, and special make-up, the producers in each field added special efforts to create a dramatic and convincing picture of the characters left alone with the friendly space of an apartment transformed into a stage for survival and the ordinary daily life collapsed in an instant. . Cinematographer Son Won-ho, who participated in <The Most Ordinary Romance>, put a lot of effort into capturing the appearance and space of isolated characters in various ways. For this purpose, cinematographer Won-ho Son, who wanted to utilize the change of light, set the outer space of the apartment in which unidentified beings appear in cold and dark tones and the inner space of 'Junwoo' and 'Yubin' in warm and human tones to create a familiar space. It created an unfamiliar atmosphere. In addition, in order to capture the movements of the actors in a limited space, the movement lines were thoroughly calculated, and extreme close-up shots were used to vividly capture even the detailed expressions of the actors, increasing immersion. Here, the unidentified beings captured more threatening and fast-paced images using a variety of camera work, from follow shots that seemed to move with them by wearing cameras on their bodies, to viewpoint shots where the camera moved together according to their gaze.
Art director Seo Seong-kyung, who completed the original sights of <Sabaha>, realistically portrays the process of transforming an apartment, a familiar and comfortable haven into a space where survival is threatened over time, and completed a new visual unique to <#Alive>. The main space of the movie, from the exterior of the apartment building to the inner hallway, playground, parking lot, and landscaping, was produced as a large-scale set over about three months, as well as the CG work of digital ideas participated in <Exit> and <Train to Busan>. It was born as a space with a completely new feeling while having a similar exterior. In addition, detailed efforts were made to maximize reality, such as booby traps combined with various everyday items and survival items derived from everyday props. In addition to this, the sophisticated manual work of special makeup director Hwang Hyo-gyun, who participated in the <Along with the Gods> series, <Train to Busan>, and the drama [Kingdom], and CG technology of digital ideas were added to complete the visuals of the unknown beings more intensely, <Sabaha>, < Music director Kim Tae-seong, who participated in "The Black Priests", joined, and completed the music that delicately captures the emotional lines of the characters who survive alone by adjusting the dramatic tension. In particular, <#Alive> implements a more realistic sound by introducing Dolby atmos, which was used in <Mount Baekdu>, <Parasite>, and <Along with the Gods – Causality and Kite>, to create a more realistic sound, as if you were in a movie. further doubles In this way, the film #Alive, completed with the efforts of the best production crew in each field, from photography, art, special makeup, to music, will provide a vivid cinematic experience with realistic sights that captivate the eyes and ears.
[ Production Note ]
#The most everyday space #Apartment
1,000 pyeong large-scale set_open corridor structure_maximum reality
In order to realistically and newly portray the apartment, which is the main space of the film, the production team produced an apartment complex set on a site of 1,000 pyeong over three months. While focusing on realizing the reality of visiting numerous apartments, he put special efforts into designing a set that can show the apartment structure and shape unique to <#Alive> as the space itself becomes another main character of the movie. The apartments of 'Junwoo' and 'Yubin', completed through this process, were completed in the form of balconies facing each other so that the two survivors could communicate with each other, rather than a flat-panel apartment arranged in a row facing south. It was produced in the shape of an 'ㄱ' or 'Y' shape, which is not sure how a threat might come, increasing the fun and tension of the movie. In particular, focusing on the characteristics of an open-plan corridor apartment, the narrow corridor, both indoor and outdoor, maximizes the feeling of frustration and fear when unknown beings approach, while 'Junwoo' and 'Yubin' function as a connecting passageway to the exit. and creates a dramatic sense of pleasure. The apartment space without color, the contrast of the shadows created by the straight building, and the red light pouring from the brake lights and emergency power lights of automobiles are added to express an unfamiliar feeling of isolation that is broken in daily life. It will be an unforgettable sight.
#digital and analog #survival
Junwoo and Yubin _ Contrasting styles _ Differentiation of space and props
The space where 'Junwoo' and 'Yubin' live and the props they use reveal the characteristics and personalities of the two characters as they are. Many 'Junwoo' rooms clearly reveal the taste of characters familiar with games and digital devices. On the other hand, 'Yubin' is stable with warm colors while the energy and strength to enjoy outdoor activities such as climbing and camping are shown throughout the house. However, it depicts characters who have strategically dealt with crisis situations well. This difference is also applied to the survival props of each character, providing a different kind of fun. In the case of 'Jun-woo', he tries to survive by grasping the situation through SNS or using a drone to connect a mobile phone, and by expanding the radius of activity outside, while 'Yubin' includes outdoor accessories such as hatchets, ice picks, ropes, scissors, By adopting a crude analog method such as a booby trap that combines kitchen utensils such as forks and kitchen knives, it faces the crisis more aggressively. The differentiated space and props that reveal the character's personality by going back and forth between digital and analog will not miss the daily life in touch with reality, and will evoke a fresh consensus.
#the beginning of the event #unidentified existence
Choreographer participation _ Vibrant body movements _ Doubling the immersion
Unidentified beings, who show aggressive tendencies for unknown reasons, are similar to the zombies seen in previous movies, but they are different in that they have the same job and personality characteristics as they were when they were human. , police, firefighters, etc. threaten with the habits and specialties embodied in each of them during their lifetime, and double the dramatic tension with the setting that sight, smell, and hearing are alive without being weakened. Their unique movements and body movements become the center of intense spectacle. The body movements of unidentified beings, created by the choreographer Hyo-seung Yeh, a contemporary dancer, emphasize the feeling of resistance and rejection of normal muscle movement, creating a more unique and lively form. For this purpose, actors with experience in real modern dance, ballet, and other sports were cast, and systematic training from how to use muscles based on dance to how to breathe was completed. The activities of unidentified beings will provide a more intense sense of cinematic immersion.
Related Videos