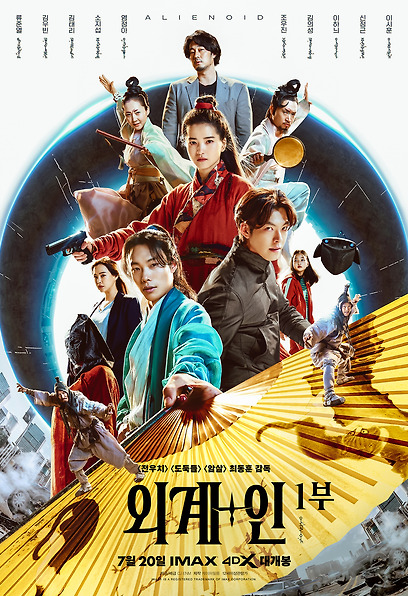 Alienoid, 2022
release

2022.07.20
genre

Action/Fantasy/Sci-Fi
country

korea
Rating

Audience over 12 years old
running time

142 minutes
grade

7.1
cumulative audience

1067865 people
box office

5th place
cookie video

One
Synopsis
"From a very long time ago, aliens have taken away their prisoners.
I have been imprisoned in a human body."
As of 2022, 'Guard' (Kim Woo-bin) and 'Thunder' live on Earth, managing alien prisoners trapped in human bodies.
One day, a spaceship appears over Seoul.
Detective Moon Do-seok (So Ji-sub) witnesses a strange scene…
Meanwhile, 630 years ago, in Goryeo, 'Mureuk' (Ryu Jun-yeol), a master craftsman, and 'Ian' (Kim Tae-ri), a widow of thunder
While deceived and deceived each other in order to claim the divine sword with a huge bounty
Two gods searching for the secret of the divine sword, 'Heukseol' (Yum Jeong-ah) and 'Cheong-woon' (Jo Woo-jin),
Jajang (Kim Eui-seong) in the mask also fights for the new sword.
And the spaceship rises from the deep valley with light…
Chasing after alien prisoners imprisoned in humans in 2022
In 1391, at the end of Goryeo, the swordsmen who tried to seize the new sword

the door of time opens
Everything started to change!
[ About Movie ]
Director Choi Dong-hoon's new work in 7 years, this time it's an alien!
Greatest scale + unique world view + thrilling sights
In the summer of 2022, a new world of theaters opens!
Following the opening of the Korean-style caper movie with his debut film <Reconstruction of Crime>, <Tazza> (2006), which showed a new era of genre films, <Woochi Jeon>(2009), the first Korean-style hero movie, <The Thief> which recorded 10 million box office successively Fields>(2012) and <Assassination>(2015), director Choi Dong-hoon, who has established himself as a representative director in Korea, has been recognized for both the box office and the workmanship. Director Choi Dong-hoon, who took a step forward in Korean genre films with unique characters and excellent storytelling in each work, returns with the first part of the new <Alien + Human> after 7 years.
The first part of <Alien + Human> is a movie about the story of the opening of the door of time between the master swordsmen who are rumored to take possession of the divine sword of the end of the Goryeo Dynasty and those who chase after an alien prisoner imprisoned in a human body in 2022. "I wanted to tell the story of an alien that I loved the most since I was a child. Director Choi Dong-hoon said, "I thought there would be a sense of the heterogeneous combination of the world of sci-fi and the world of Korean swordsmanship that I like." It depicts the heterogeneous subject of the meeting of an alien and an alien with an extraordinary imagination and an excellent story. In particular, director Choi Dong-hoon challenges the directing of his first series through <Alien + Human> and presents a new world in which the first and second parts are organically connected. Goryeo dynasty, where swordsmen are active, and modern times, where alien prisoners are imprisoned in human bodies. The process of people who exist in two different time zones trying to achieve their own goals meets director Choi Dong-hoon's unique rhythmic direction, creating a lighthearted laugh and fun. In addition, the spectacular action that transcends eras and genres, from extraordinary magic action to sci-fi action with spaceships, aliens, and robots flying over downtown Seoul, will provide a new cinematic experience never seen before. Part 1 of <Alien + Human>, where the secrets of seemingly unconnected characters are revealed and gathered as a single vanishing point, will open a new horizon for Korean cinema by providing thrilling thrills and fun that makes everyone's hearts beat.
Humans, magicians, and even aliens
Transcending time and space + colorful personality + extraordinary activity
Meet the most attractive characters in the summer of 2022!
The activities of the characters who live and breathe vividly in different time and space, from the sages who want to occupy the divine sword in the rumors, the guards who manage the alien prisoners imprisoned in the human body, and the characters who are intertwined with them, are <Alien + Human> 1 Wealth provides a fun not to be missed.
In 2022, 'Guard' and 'Thunder', who have stayed on Earth for a long time and managed an alien prisoner trapped in a human body, face a crisis due to the sudden escape of the alien prisoner and face a new phase. The spectacular action of the guard's robots, spaceships, and aliens mixes together to provide an exhilarating cinematic experience like never before. At the same time, homicide detective 'Do-Seok Moon', who witnessed a strange spaceship, is a character who is chased by aliens without knowing the English language, increasing the tension of the film.
Meanwhile, at the end of the Goryeo period, 'Mureuk', a so-called ulchi swordsman who was known to play like a cat with a mysterious fan, is a figure struggling to win a new sword with a bounty. A young swordsman, 'Mureuk', who brings out a light laugh with his clumsy talent and swordsmanship compared to his witty talk, encounters a crisis as he gets entangled with new characters on a journey to find a new sword. In the Goryeo era, 'Ian', who is called a woman who shoots a pistol and shoots a thunderbolt, meets 'Mureuk' while wandering for a long time in search of a divine sword. do. Then, the two new gods 'Black Snow' and 'Cheongwoon' from Samgaksan, which sell their own weapons, and 'Jangjang', which hides their face with a mask, are intertwined to occupy the new sword, completing a richer fun. 'Heukseol' and 'Cheongwoon', who claim to be the best gods of Goryeo and sell powerful weapons, are so eloquent that they don't know whether they are a sorcerer or a trader, and their chemistry brings laughter to the soul. It doubles the mystery of the play with the intense charisma that breaks through. In this way, the colorful characters living in the modern and Goryeo background will suck the audience into the screen in an instant and shake up the theater with a new level of fun this summer.
A fresh meeting of Korea's leading actors
Ryu Jun-yeol, Kim Woo-bin, Kim Tae-ri, So Ji-sub, Yeom Jeong-ah, Jo Woo-jin, Kim Eui-seong
In the summer of 2022, the youngest and freshest synergy unfolds!
Ryu Jun-yeol, Kim Woo-bin, Kim Tae-ri, So Ji-sub, Yeom Jeong-ah, Jo Woo-jin, Kim Ui-seong, Lee Ha-nui, Shin Jeong-geun, and Lee Si-hoon, all of Korea's leading actors with both topicality and reliability, gathered in the first part of <Alien + Human>.
Starting with [Reply 1988], Ryu Jun-yeol, who has established himself as a representative actor in Chungmuro with his solid filmography regardless of era and genre, from <The King>, <Taxi Driver>, <Seokjeon>, and <Battle of Bongo-dong> to <Alien> +In> Part 1, the first collaboration with director Choi Dong-hoon. Ryu Jun-yeol, who plays the role of 'Mureuk', a master swordsman who wants to acquire a new sword, perfectly digested the character struggling to win the new sword with his clumsy talents and swordsmanship with his unique acting and human humor. In addition, Kim Woo-bin, who returned to the screen after 6 years after <Master>, takes on the role of a 'guard' who manages the escort of alien prisoners, showing his unique charisma. Kim Woo-bin, who played 'The Guard', who is faced with a crisis due to an alien prisoner trying to escape, with solid acting and eyes, doubles the immersion of the play with his mature acting skills. In addition, Kim Tae-ri, who captivated all generations by crossing movies and dramas such as the movies <The Handmaiden>, <1987>, the dramas [Mr. Sunshine], and [Twenty-five Twenty One], is making a new transformation once again with the role of 'Ian', a wife and child who shoots thunder. show Kim Tae-ri, who has solidly developed basic physical strength such as gymnastics and running for the character 'Ian', who is skilled in martial arts and has a strong charm, will be surprised by excellently digesting high-level actions from wire to gun action.
The role of Detective Moon Do-seok, who is chased by aliens, is played by So Ji-sub, who works on screens and CRTs. So Ji-sub, who perfectly digested 'Moon Do-seok', who is being chased by aliens and changing with his solid acting skills, creates tension in his hands. Samgaksan's two new gods, 'Black Snow' and 'Cheongwoon', who sell hand-made weapons, are played by Yeom Jeong-ah and Jo Woo-jin, who have reliable acting skills, and create a pleasant laugh with their tiki-taka chemistry that cannot be missed even for a moment. The character Jajang, who is trying to take over the new sword, takes on the role of actor Kim Eui-seong, who has a strong presence, and doubles the mystery of the movie with a heavy charm that reflects his age. Here, Lee Ha-nui takes on the role of 'Min Gae-ae', who is curious about the identity of 'Guard', adding new vitality, while Shin Jeong-geun and Lee Si-hoon take on the role of Jung-geun Shin and Si-hoon Lee, a cat duo who lives in a fan of 'Muruk'. synergy was achieved. Part 1 of <Alien + Human>, featuring Korean representative actors who breathe life into characters with such solid acting skills and personality, will fill the screen with a synergy of post-universe level that has not been seen anywhere else.
Birth of an all-time sci-fi action fantasy
Top production crew + 387 days of shooting + detailed production
In the summer of 2022, a new world unfolds on the screen!
The top producers in Korea gathered together for the <Alien + Human> project, which required a challenge at every moment to complete the huge storyline leading to the first and second parts and the overwhelming scale encompassing various genres. <Alien + Human>, which is a collaboration of top experts in each part including photography, art, costumes, and martial arts, completed a unique world that had not been seen anywhere else through the longest production period in Korean history of 387 days.
Cinematographer Kim Tae-kyung, who has produced intense and stylish camera productions such as <The Apostle> and <Songjeon>, mobilized all motion-related filming equipment such as Ronin, Techno Crane, and Russian Arm to bring out the unique fast rhythm in <Alien + Human>. It maximized the fun of the movie by capturing the lively movement of every moment. Director Ryu Seong-hee, who won the Vulcan Award at the 69th Cannes Film Festival for <The Handmaiden>, and art director Lee Ha-joon of <Parasite> collaborated for <Alien + Human>. In order to complete the vast world, for the first time in the history of Korean cinema, two art directors joined together in <Alien + Human>, which expresses the tone and material of each space and time differently, designs every detail from the language of the alien to the movement, and builds a world like never before. did it After a long location period, the overwhelming spaces that leave strong afterimages, such as the exterior of the Guard's house and Milbon's stronghold, have been completed. This completed space will give a strong impact to the audience. For a variety of action that goes back and forth between swordsmanship and science fiction, martial arts directors Yoo Sang-seop and Ryu Seong-cheol captured the details of every single movement of the sword and added color to each character's mood and personality, and applied the steps of break dance to their gait in a creative way. In addition, each character's unique personality was created. Costume director Jo Sang-kyung, who participated in <Assassination>, <The Handmaiden>, and <Along with the Gods>, designed costumes that are optimized for various actions while each actor looks the most attractive, and doubled the charm of an unforgettable and impressive character.
Related Videos