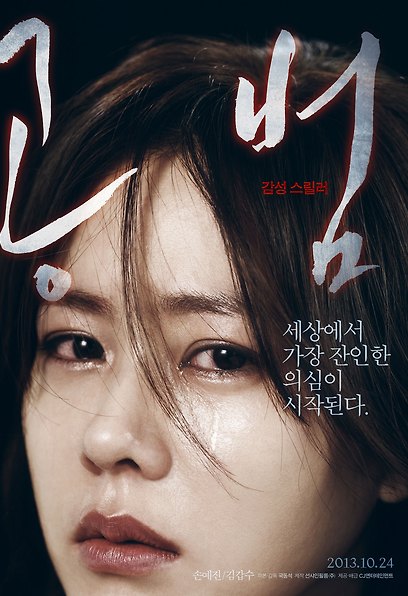 Accomplices, 2013
release

2013.10.24
genre

thriller
country

Korea
ranking

Audience over 15
running time

96 minutes
grade

6.9
cumulative audience

1766285 people
Synopsis
"Dad… didn't he?" VS "You have to believe what I say…"
The world's cruelest suspicion begins
The kidnapping and murder case of Han Chae-jin that shocked Korea 15 years ago!
Ahead of the statute of limitations, 'Da-eun' feels the presence of his father, who is so familiar with the voice of the real criminal, and begins to trace his past. The more he digs, the more 'Da-eun' gets confused, and the cruel suspicion of his father, who has dedicated everything for him all his life, grows…
[ Prologue ]
In this land, the Hwaseong serial murder case, the missing frog boy case
And there are many unknown and unsolved violent crime cases.
Uncaught criminals are still somewhere in Korea,
It lives and breathes with us.
Before the statute of limitations expires,
If my beloved family
If you find out that you have committed a shocking crime
What choices will you make?
The film began with this question.
all criminals in the world
someone's family
Screenplay/Director Kuk Dong-seok
[ Hot Issue ]
Son Ye-jin VS 'Acting Basic Seat' Kim Gap-soo, who returned as 'Queen of Thrillers'
This fall, an acting showdown with a different depth of emotion unfolds!
Korea's representative actress Son Ye-jin, who has been loved by audiences across a wide range of genres such as <Tower> <Chilling Romance> <My Wife Got Married> and <Eraser in My Head>, returned as the queen of thrillers this fall. 15 days before the statute of limitations on the kidnapping murder case that shocked the Republic of Korea, through the movie <Accomplice>, which depicts the cruel suspicion of a daughter, which began when she heard the voice of the criminal and reminded her of her beloved father, throwing off the existing bright and lovely image, As Da-eun falls into a dilemma as she suspects the culprit, she plans to show a more mature inner acting. "I read the script entirely and chose <Accomplices>. I was very shocked, and the intensity remained for a long time even after I covered it," she said. For Da-eun's psychological expression, he undertook a difficult emotional challenge as well as a thorough scenario analysis. "Among the works I've done so far, the character 'Daeun' was the most difficult. It was a burden because it was a character that had to dig deep into emotions, but it was a role worth taking on," he said.
In addition, Kim Gap-soo, who has reached his second heyday by receiving movies, dramas, and entertainment shows, took on the role of his father, 'Soon-man', and took the center of the play. A character who has lived at all costs for her daughter, but faces tragedy as she engages in a truth battle with her daughter who suspects herself to be the culprit. He said, "I read the scenario and realized that maybe this could happen in reality. What is interesting is that it is not the first time that Son Ye-jin and Kim Gap-soo have met as father and daughter. Seven years ago, the two met as a warm-hearted father and daughter through the drama <The Age of Love>, and in this work <Accomplices>, the father and daughter face a tragedy that started with a cruel suspicion. Director Guk Dong-seok, who is making his first commercial film debut with <Accomplice>, said that casting Son Ye-jin and Kim Gap-soo was a 'gift from heaven'. In this way, the combination of two actors Son Ye-jin and Kim Gap-soo, who were reunited through the emotional thriller <Accomplices>, is expected to captivate theaters by demonstrating explosive synergy.
Not only genre tension, but also sharp social issues raised!
"What if you find out that your family has committed a shocking crime?"
In the fall of 2013, the only 'emotional thriller' that digs into the heart was born!
<Montage>, <The Crucible> and <Broken Arrow>, which sharply capture social issues and succeed the baton of works that have been recognized for both box office and work quality, <Accomplices> is also a new topic for the audience this fall, with genre fun and heavy messages. throws Director Kuk Dong-seok said in an interview, "There are many shocking incidents in our society every moment. If our family is the criminal of that incident, and if we start to doubt the fact, what would I do?" said. In particular, in order to maximize immersion in the character 'Da-eun' in the play that starts a cruel suspicion of his father, the entire staff put a lot of effort into giving psychological empathy to the screen composition, filming, and art. By doing so, we considered the audience to be in Da-eun's position and empathize with them. "I wanted the audience to experience the dilemma given to 'Daeun' in the movie together," said Kuk Dong-seok. According to the director, Son Ye-jin and Kim Gap-soo's passionate performances as well as unpredictable story development and heavy lingering aftertaste, the movie "Accomplices" will show the true nature of a single emotional thriller this fall.
Director Park Jin-pyo of "My Love By My Side", "That Guy's Voice" and "You Are My Destiny"
Producer transformation of star directors continues!
From Je-gyun Yoon, Ki-duk Kim, Chan-wook Park, Jun-ho Bong, and even director Jin-pyo Park, the active activities of directors who have recently become producers in Chungmuro are more striking than ever. First, director Park Chan-wook, who became the producer of the movie <Snowpiercer>, led the overall production including the screenplay, casting, and marketing, while director Yoon Je-gyun started producing <Spy>, the commercial film debut of director Lee Seung-jun, who worked as an assistant director for <Haeundae>. took part Director Bong Joon-ho is also planning to raise his name as a producer through the movie <Sea Fog> soon. Here, director Park Jin-pyo, who has been loved by critics and audiences for his appealing directing through the human trilogy <My Love By My Side> <That Guy's Voice> <You Are My Destiny>, continues the transformation of the producer with the emotional thriller <Accomplice>. .
Director Park Jin-pyo said, "When I first saw the script, there was a creepy side. Maybe it's a world where things happen more like a movie than a movie, so I decided that the audience would be able to empathize with it." He, who defined <Accomplice> as a 'story about doubts and dilemmas', explained, "All criminals in the world will live within the framework of a family. If the family is suspected of being a criminal, it will be a bigger dilemma than you can imagine." It raised expectations for this film, which will not only depict genre fun due to its unique setting, but also the intrinsic human emotions that anyone can sympathize with and the subtle conflicts that exist in it.
Related Videos