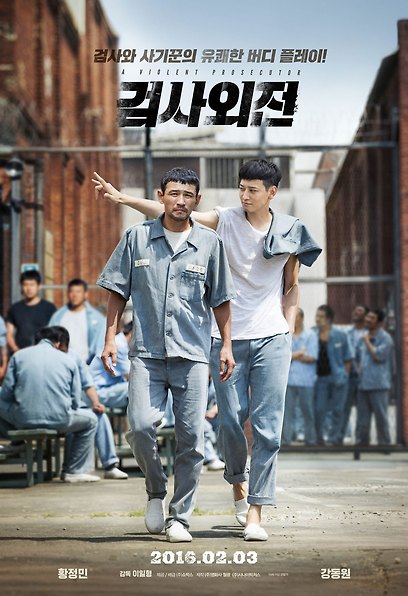 A Violent Prosecutor, 2015
release

2016.02.03
genre

crime/comedy
country

Korea
ranking

Audience over 15
running time

126 minutes
grade

6.5
cumulative audience

9707581
Synopsis
A stage show in front of the truth! blood test,
Framed for Murder and Imprisoned!
'Byun Jae-wook' (Hwang Jung-min), a hot-blooded prosecutor famous for his harsh investigation method. A suspect is found dead during interrogation and is arrested for murder. 'Byun Jae-wook', who is framed for murder, is eventually sentenced to 15 years in prison.
I don't know the truth! bluffing handsome cheater,
Used as a player in a counterattack operation!
Jae-wook sharpens his revenge sword in prison. Five years later, he accidentally meets Chi-Won (Kang Dong-Won), a handsome con artist with bluffs who knows about the case in which he was framed. Jae-wook prepares a counterattack by mobilizing all the prosecutor's know-how, leaving Chi-won acquitted. But Chi-won, who has gained freedom, only seeks a chance to escape from Jae-wook…
A prosecutor in prison and a scammer out of the world!
Can their unpredictable, counterattack scramble to succeed?
Related Videos