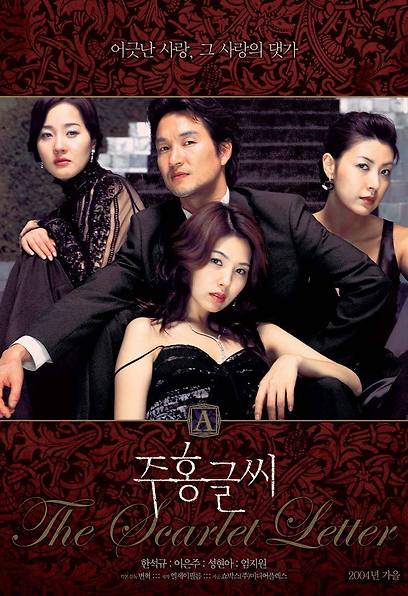 A… Scarlet Letter, 2004
release

2004.10.29
genre

Romance/Melo/Thriller
country

Korea
ranking

Youth not allowed
running time

119 minutes
grade

5.8
cumulative audience

1030668 people
Synopsis
Two murders, three loves, and four endings
Mismatched love… that love's stigma…
Ki-hoon, a man who is not harsh on the world.
As a homicide detective, he and his elegant and obedient wife Soo-hyeon (Um Ji-won) and
There is a provocative and captivating mistress Ga-hee (Lee Eun-joo), and a solid success story is also guaranteed.
Murder: A murder case involving political affairs occurs.
A murder case is entrusted to him.
Kyung-hee (Sung Hyun-ah), a pale widow, faces the murder of her husband.
She's a mysterious woman who doesn't know what's inside.
Ki-hoon suspects the murder and approaches Kyung-hee as a suspect.
"Have you had any problems in your marriage? Do you have a lover? Do you love him?"
Ki-hoon's aggressive investigation proceeds, but the case gradually falls into a labyrinth.
Love: Love cannot be a sin.
Meanwhile, when Ki-hoon learns that his wife is pregnant, he tries to organize his relationship with Ka-hee.
He only sees how deeply he is addicted to Kahi.
Kahi, who has a lonely inner side in an urban and glamorous exterior,
When his love with Ki-hoon, the only reason for his life, begins to shake, he feels despair and pain.
Ki-hoon's wife, Soo-hyeon, has her own secret whether she knows all the facts or not.
A time like silence in the storm continues.
And, the ending…: All love has a price.
Amidst the passage of time of tension and anxiety,
The shocking secrets of each of the three women are revealed one by one…
Along with the murder case that is engulfed in a whirlwind of reversal, the romance of the police is headed for catastrophe…
Related Videos