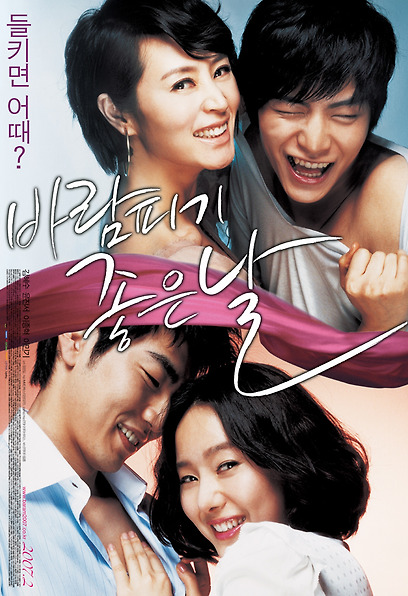 a day for an affair, 2007
release

2007.02.08
genre

Comedy/Drama
country

Korea
ranking

Youth not allowed
running time

103 minutes
grade

6.9
cumulative audience

1708979 people
Synopsis
A thrilling outing of two extreme couples
The real fun of the wind comes after being caught??
February 8, 2007, catch me!
"What if I get caught!"
Everyday daring, cheerful married woman 'Iseul' (Kim Hye-soo) is always not embarrassed no matter what happens. Even though the sky is on two sides, 'Little Bird' (Yoon Jin-seo), a married 100-dan married woman who never reveals her body line and true feelings, misses a secret conversation (?) and starts having an affair without her husband's knowledge.
They are meeting as 'secret lovers', a masculine and aggressive stockman, 'Doo Marie Fox (Lee Jong-hyuk)' and a handsome college student (Lee Min-ki), a handsome male without a concept. It's a love affair that needs to be hidden day or night, but it's hotter as it's forbidden, and the unpredictable (?) push and pull is just so much fun as the players know everything.
"Shh! If it blows, it becomes dangerous…"
They find vitality that is bouncing around in their daily life. However, one day, the husband of a 'little bird', a police officer, raids the inn where two illegal couples are secretly dating.
Their 'properly flirted love' brings commotion that cannot be endured even by all the typhoons and hurricanes in the world…
[intro]
Girl 1.
A lecture hall at a university where it is said that you have to study well to enter.
The professor is doing a great job.
Jacques Lacan, Gilles Deleuze, Claude Levistro…
Ah, the philosophy department.
Jacques Derrida, Adorno, Hubbard Marcuse…
Among the sleepy students
I see a girl with brightly shining eyes.
Immerse yourself in the lecture without any disturbance
A perfect girl with a promising future with both outstanding beauty.
There is also a boy who is holding her breath in the corner.
The boy, who looks simple and timid, is a little fat. He also has very little hair.
But he's been bashing this girl for years now.
Oh my, the girl caught the boy's gaze…
Girl 2
A high school graduation ceremony.
A high school girl in a modest school uniform is standing there with tears in her eyes.
Some of my friends go to college, and some choose a job.
It is very rare that she chooses to marry.
A silent police officer who promises to take care of her will become her husband.
She used to love novels, but now she only looks at cookbooks.
On Sundays, I enjoyed looking at paintings at the art museum, but on holidays, I would only appreciate the hwatujang of my relatives.
Love is the moment you kiss, the bell rings, and when you think of that person, stars fill your heart
This slender girl who thinks it is such an unknown ecstasy
Now I'm an auntie. I'll even soon become a mother for speeding…
An intelligent college girl who burns with ambition
A slender high school girl moistened with a dream of love.
What kind of future awaits them?
10 years later, from their close outing
The movie <Fairy Day> begins…
[ABOUT MOVIE]
<Singles> contains the techniques of unknown players,
Collecting fresh humor that was not in <Cheating Family>,
We invite you to a world of breathtaking pleasure
2007, Pleasant Sexual Romance <A Good Day to Have An Affair>
HOT MOVIES!
How does love give up in 2007?
despite marriage
For those of you who want to shout, "I only know love…!"
The average age of marriage is 28 for women and 30 for men. (Survey by Seoul city in 2004) The average duration of love after marriage is 1 year. (2006 BBC article) So, after the age of twenty-nine and thirty-one, does both men and women have to live their whole lives without love?
The movie <A Good Day to Have An Affair> is with the girls who will show you the answer to that question. Five-year-old married women who are accustomed to marrying after ending their voluntary and unwilling love story of stormy fury. But they are still so young and beautiful. Besides, maybe the thirst for love is good… .Never give up. The film starts from their last minute outings.
In an age when love has become too common and boring, a world where the techniques of love have become obvious, a thrilling wind occupies the screen with the honor of love and romance. They begin to tell all about the wind that is the most brazen but perhaps purer than love, and the work and flirtatiousness that may be higher than any other romance.
HOT PEOPLE!
A foolish young age for a skillful woman
An experienced master for her sassy
They met opposite partners, and their candid desires vs. exploration.
Kim Hye-soo. She, who has been praised for having reached the peak of acting with <Tazza>, soared higher. A daring married woman who does not know any embarrassment at any time or under any circumstances. However, her partner is, interestingly, Lee Min-ki, a stupid college student who is clumsy and makes mistakes at any time and in any situation.
Jinseo Yoon. A woman of secret charm that made the audience flutter with just a brief moment of <Old Boy> boldly attempts to expose her body and mind. But it's not easy. The film prepares the best partner for her, who doesn't give and wears like she's taking off. This is Lee Jong-hyuk, a work expert with 100 wins out of 100.
Two women with polar opposites, and polar partners who welcome them. Kim Hye-soo, Yoon Jin-seo, Lee Jong-hyuk, and Lee Min-ki, four actors with formidable charms charge the film throughout the running time. And the gaze of director Jang Mun-il, who looks at all of them, is a heartwarming comedy that is not like a rookie director called <Happy Undertaker> in 1999. It's been 8 years. It's hotter than Marilyn Monroe's <Seven Years Out>.
HOT LOVE!
Love, more than romance
never naughty.
However, half of the running time is a bed scene, and viewers over the age of 18!
push and pull? Hanging out and looking for evidence? Put aside all the plots you can imagine. No matter what you imagine, <A Good Day to Have An Affair> will show a story that runs away for about an hour in terms of running time…
Two men, two women, and their husbands travel through the film. The excitement and hesitation of the two women makes your heart race, and the tenacious courtship and work of the two men make your navel tremble. And the pursuit of husbands makes my hands sweat. What is clear is that all these stimuli will unfold warmly.
The Korean film industry's constant worry about new love has come to fruition. With a pleasant wind! The movie <A Good Day to cheat on you> is a movie in which bold and diverse characters that have never been seen before go straight to love, romance, and work without returning. Although half of the running time is a bed scene, the movie strangely shows warmth and humor rather than the boldness of the bed. Check the answer in theaters on February 8, 2007!
Related Videos