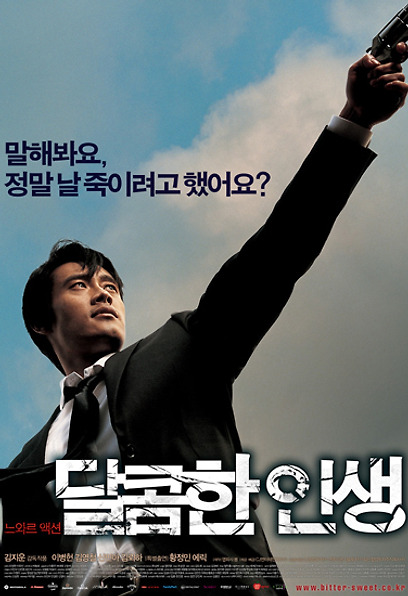 A Bittersweet Life, 2005
release

2005.04.01
genre

Action/Drama
country

Korea
ranking

Youth not allowed
running time

120 minutes
grade

8.7
cumulative audience

1112950 people
Synopsis
I thought it was the best option.
However, in that moment, the whole world became an enemy.
A hotel's sky lounge that floats like an island in a corner of the sky in Seoul. It is the small castle of the cool and bright perfectionist Seon-woo. He devoted seven years to earning the boss's absolute trust with his reticent loyalty not to ask 'why' and thorough work, and taking charge of the management of the Sky Lounge.
A relentless boss instructor who punishes anyone who breaks the rules for any reason. He has a secret that he cannot tell others. That is the existence of his young lover Hee-soo. The instructor suspects that she has another man, and orders Seon-woo to monitor her and, if true, to deal with her.
On the third day after following Hee-soo, Seon-woo raids the scene where Hee-soo and her boyfriend are together. However, at the last moment, he releases them after an unknown hesitation. I believe that it is the best option for everyone. However, due to this choice that was only for a moment, Seon-woo starts an irreversible war against the entire organization that has suddenly become an enemy…
Related Videos