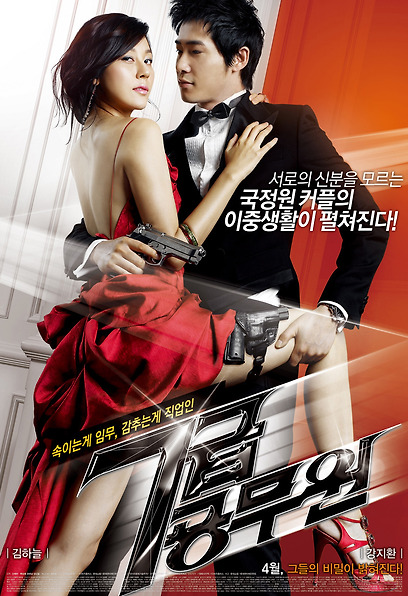 7th Grade Civil Servant, 2009
release

2009.04.22
genre

Comedy/Romance/Melodrama/Action
country

Korea
ranking

Audience over 12 years old
running time

112 minutes
grade

8.4
cumulative audience

4039891
cookie video

One
Synopsis
Ganghwado in the morning, Ulleungdo in the afternoon?! Doubt her!
'Suzy', an agent of the National Intelligence Service with 6 years of experience disguised as a travel agent.
Due to the nature of the job, where the past cannot be revealed but the identity of the person is revealed, even to his boyfriend 'Jae-jun', he is told a unilateral breakup after lying to him. She struggled with sadness and embarrassment for Jae-jun, who left without a word. Three years later, while chasing an industrial spy under the guise of a janitor, he stumbles upon Jae-jun again! Jae-Jun appears as an international accountant. Seeing him makes Suzy's heart shake again…
I'm not an ordinary accountant!? Doubt him!
'Jae-jun' is tired of the repeated suspicious lies of his longtime lover, Suzy.
He announces farewell with one phone call saying he is leaving Korea and leaves to study in Russia. Three years later, Jae-jun disguises himself as an international accountant and returns as an agent in the overseas division of the National Intelligence Service. Jae-Jun, a rookie who is prone to breakage and mistakes, but is full of enthusiasm, runs into Suzy by chance while following a Russian organization on her first mission to the field! The appearance of her as a hotel janitor is shocking, but her affectionate feelings are still there…
A thrilling showdown between secret couples begins!
The targets they pursued are people from the same case trying to steal domestic technology abroad! Suzy and Jae-joon, unaware of this fact, start to doubt each other's identities, which they encounter in every mission. !
[ Top Secret ]
camouflage and go to work,
out of work,
They withdrew and left work!
Their job is to deceive, and their job is to hide, they are
7th grade civil servant!
A couple of NIS agents broke up without knowing each other's identities!
secret many of them
A thrilling battle begins!
[ Secret Issue ]
Exciting fun, exhilarating secrets, and a variety of things to see!
The ultimate entertainment movie that will satisfy the five senses of the audience in 2009!
<Level 7 Public Official>, which depicts a thrilling confrontation between a couple of NIS agents who meet again on the same mission after breaking up without knowing each other's identities, is the story of a special couple in which everything is a lie except that they love each other. The double life of NIS agents who have to completely hide their identity, love, and even their private life for their mission before their job. <Level 7 Civil Servant> is an interesting story that unfolds when a couple who is in a relationship of being deceived and deceived without knowing each other's identities because they have different departments within the same NIS, are put into the same operation. It provides a pleasant laugh. In addition, dynamic actions unfolding in a real space with Korean characteristics, such as the thrilling Han River jet ski chase, and the location in Suwon Hwaseong, the first attempt in Korea, create a cool spectacle and add to the enjoyment of watching an entertainment movie. In addition to this, <Level 7 Civil Servant> also features two actors, Kim Ha-neul and Kang Ji-hwan, who swept the CRT and screen last year and caused a hot issue. Armed with a new approach to the subject, fresh action and sights, and the best casting of Kim Ha-neul and Kang Ji-hwan, <7th Grade Civil Servant> is 2009's strongest entertainment film that will give the audience a pleasant laugh and fresh fun these days, when there is not much to laugh about. will come to
your neighbor? colleague? lover? They may defend the country!
<Level 7 civil servant> whose job is to hide, and to deceive
What if my family, neighbors, or lover are NIS agents?! <Level 7 Civil Servant>, the first Korean film to feature an NIS agent as the subject, is a movie that starts with a new imagination that they may be around us. And behind the scenes of their activities, they capture the woes of a double life (?) in which they have to hide their identity from their lover as well as their family with a light touch. NIS agents who live with their daily lives and worries as someone's lover and family. The professional characteristic of an NIS agent who must never reveal his identity is that he has to disguise himself as a travel agency guide, hotel janitor, or international accountant even to his lover, and he has to tell the obvious lie that it is Ulleungdo even on the last phone call of his ex-boyfriend. Unbelievable situations create natural laughter by adding realistic settings and exquisite timing. They struggle and struggle between mission and private life, professional mission and truth. The unexpected appearance that overturns the stereotypes of NIS agents viewed from a new perspective, away from the images on TV and screen, which focused only on flashy and cool performances, will captivate the audience with differentiated fun and laughter points.
First action acting challenge Kim Ha-neul & Kang Ji-hwan radiating a new charm!
2009's most special fantastic couple was born!
The top stars Kim Ha-neul and Kang Ji-hwan, who had high expectations and interest for their next work by lavishly decorating 2008 as their year, met in a work in 2009. After solidifying her position as the queen of romantic comedies through works such as the movies <Teaching People of the Same Age> and <Don't Trust Her>, Kim Ha-neul, who succeeded in transforming her acting into an arrogant and harsh actress through the drama [On Air], is a <7th grade civil servant. >, takes on the role of 'Ahn Soo-ji', a veteran agent of the National Intelligence Service, and challenges his first action acting. Kim Ha-neul, who not only received training three months before filming for a perfect transformation into an NIS agent, but also threw her whole body without a second in dangerous scenes, catches the eye with a more professional and intense appearance. And Kang Ji-hwan, who swept the Rookie of the Year award at four film festivals with <A Movie is a Movie>, emerged as the best prospect on the screen. 'Jaejun' was completed with a more three-dimensional and lovely character. The perfect ensemble of the two actors, sometimes in the form of perfect agents and sometimes in a romantic relationship, is heralding the birth of the most special fantasy couple in 2009.
Best supporting actors Jang Young-nam, Ryu Seung-ryong, Kang Shin-il!
Solid acting skills and charisma full of personality!
<Level 7 Civil Servant> provides richer and more diverse entertainment with the addition of Jang Young-nam, Ryu Seung-ryong, and Kang Shin-il, three of the best supporting actors in Korea. Jang Young-nam, who was born as a theater actor and played strong characters in movies and dramas such as <The Holy Genealogy> <Leave When You Clap> [The Woman of the Sun], and <The Eleventh Mother> <Jin-i Hwang>, etc. Ryu Seung-yong, who has established himself, takes on the roles of 'Team Hong' of the National Intelligence Service's domestic industrial security team and 'Won-seok' who leads the overseas team, respectively, and energizes the play with charm and fun comparable to the Suzy-Jaejun couple. Young-nam Jang, who completed the 'team leader Hong', who is like an older sister who does not hesitate to give advice and advice to his junior Suzy's personal problems with his unique realistic acting, and the eldest brother, 'Won-seok', who has to endure all kinds of stress and shame to tame Jae-joon, a rookie agent full of mistakes. Ryu Seung-yong made more comical by adding his unique charisma. And Shin-il Kang, an actor who transforms into an industrial spy 'Doctor Noh', where Suzy and Jae-joon chase after each other without knowing each other's existence, while maintaining the tension of the play, and creating unexpected laughter points with a comical appearance that has never been seen before. The characters and performances full of personality created by the best luxury actors in different colors will fill the film with a humorous but not light presence.
[ Production Note ]
First attempt in Korean film history!
The unstoppable action that cuts through the water of the Han River unfolds!
Agents of <Level 7 Civil Service> perform cool actions while performing their duties in familiar places in our lives. The most representative place is the Han River, where Suzy disguises herself as a bride who is filming a wedding and has a cool jet ski chase! The Yanghwa area of the Han River, where the filming took place, is a dangerous section where seawater flows in and the water flows rough like waves in winter, and the depth of the water changes depending on the time the seawater enters. You had to purchase a separate water insurance policy. During the rehearsal process of a professional jet ski player, the center of gravity of the camera attached to the left and right was disturbed and the jet ski overturned in a dizzying accident. Officials>, the first Korean film to complete the jet ski scene on the Han River as a cool spectacle. Three general cameras, two HD cameras fixed on both sides of the jet ski, and a total of six cameras including aerial photography were mobilized to complete this scene, capturing the panoramic view of the Han River and the urgency of the chase through the rough waters. Another top contributor is the main character, Kim Ha-neul. Kim Ha-neul, who could not use a separate safety device due to the setting of wearing a mini wedding dress, took the risk and climbed on a jet ski, making the Han River chase scene one of the best scenes in <7th Grade Civil Servant>.
7 days of shooting with 1,000 extras and 6 cameras!
Suwon Hwaseong location full of Korean atmosphere!
The production team, who wanted to shoot the movie's climax scene in the same space, where Suzy and Jae-joon, who were chasing their respective targets, meet in the same space, in a space that can capture Korean colors, chose Suwon Hwaseong, a representative fortress that maintains its original shape. Thanks to the active support and cooperation of the Gyeonggi Film Commission, the Suwon Hwaseong scene, which went smoothly, captured the spectacle of the large-scale Suwon Hwaseong Cultural Festival, which is held once a year with a total of 1,000 extras and 6 cameras. The comical yet urgent action scenes of Kim Ha-neul and Kang Ji-hwan, who ride horses and fight swords across a real space with a deep Korean flavor, are expected to add fun with unique sights. In addition, despite the risk of horse slipping due to the shooting on a regular concrete floor rather than a floor with separate equipment for horseback riding, for this day's scene, Kim Ha-neul and Kang Ji-hwan, who focused on horseback riding practice for three months before filming, showed their wonderful riding skills. It created a realistic scene.
Top star Kim Ha-neul and Kang Ji-hwan!
To become the best NIS agent, a worthwhile struggle with injuries!
In order to perform the realistic action of a perfectly trained NIS agent, for three months before filming, Kim Ha-neul and Kang Ji-hwan received direct instruction from the martial arts director, from basic martial arts to horseback riding, fencing, and shooting, and made an effort to equip themselves with skills comparable to that of a professional agent. . In particular, Kim Ha-neul suffered a ligament injury due to a fall during horseback riding practice before filming. From the wire action that rotates 360 degrees on the river to the action scene in which he jumps to the second floor while holding a rope with one hand, the male actors showed enthusiasm for directly digesting the intense action scenes that even the male actors felt difficult without a band. In addition, Kang Ji-hwan, who plays Jae-joon, a stupid rookie agent, did not hesitate to practice various martial arts to become a basic NIS agent despite not many action scenes in the movie, unlike Kim Ha-neul. He showed a detailed performance that saved the character of the movie, and he was praised by the staff with his passionate passion for resuming filming despite an ankle injury during filming. The movie <7th Grade Civil Servant>, which adds the precious passion and fighting spirit of the two actors to become the best NIS agents, will reach the audience not only with delightful fun, but also with youthful energy and lively film.
Related Videos