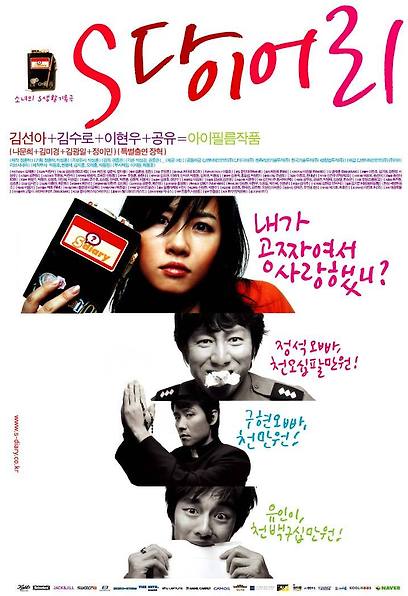 2004
release

2004.10.22
genre

Comedy/Romance/Melodrama
country

Korea
ranking

Audience over 15
running time

104 minutes
grade

6.2
cumulative audience

1098583 people
Synopsis
****Year Month Day
I, Nagini, have my fourth broken heart today!
I'm completely done with Chan. Also on the 1st anniversary… I'm proud of myself, but as a woman, I even prepared a coupling. But, why is this a lightning bolt in the dry sky? Am I making myself cramped? What the hell? why? I was too insensitive, so I took a peek, and even my ex-boys pointed out to me to go and ask if they ever loved me. yes i will go and ask Men 1, 2, and 3 breathing in my diary, wait a minute! 'My beautiful memories of love, I must prove it! '
****Year Month Day
Dramatic reunion with old men of memories! I dreamed of…
Are the men in my diary really the same as the men I met today? The perfect first love, Hyungwon oppa, tough and reliable Jungseok oppa, cute and cool Yooin, where the hell did those cool guys go? Looking at it today, it's cowardly, petty, and not even cheap. Humans without even the least courtesy. Stick out your flippers saying you never loved me? Then why did you meet me during all these years, and why did you sleep? let it go I'm going to have to give you back as much as you did. 'There is no proof as perfect as my diary! You guys are all dead!'
Special A special project that catches the eye
It was different from the start!
S Diary started from 'Doyeon Jeon's Sex Diary', which won the grand prize in the 'Sidus HQ Synopsis Contest' in 2002. This synopsis, which was unusual from the title, quickly emerged as a topical project in Chungmuro, receiving high marks for its brilliant ideas and wit. S Diary, which was reborn with unique colors while keeping the original fresh setting intact, is an exciting and delightful comedy in which the female protagonist, 'Genie', who meticulously records her secret love story, visits the men of the past. It will be a special film in which discourses about love, reason, and sex are melted in a witty and honest way in laughter.
Sensitive A new style, an absolute sensible comedy
The laughter that S Diary promises is different!
It's not a 10 won comedy, a comedy that breaks down and makes you laugh out of sympathy. S Diary refuses to be an ordinary comedy, and the charms of various genres will be transformed into comics and variety centered on the character 'Genie'. I can feel the thrill of the heart-pounding romanticism of love, the sexy sexiness that stimulates the imagination, the fantasy of the wrong female protagonist, and the revenge scene towards men after the middle. From a sympathetic smile to a lively laughter, S Diary, which will provide the audience with laughter of various colors, aims for a new style, a uniquely colored sensual comedy that breathes life and fun.
Secret & Sexy
Peeking through the diary reveals my taste, her sexy secret!
Her diary is dangerous! The start and excitement of a relationship, the progress of the skinship, the satisfaction with sex, the words of the person who moved me? Her diary is a living record of everything sweet and sexy about love. At the same time, the first, second, third…and so far, it is also a sober report card that allows you to compare and analyze men. The exciting and sexy romance record will give the audience the thrill of secretly spying on other people's love affair and the psychology of a woman they don't even know. Wouldn't the S Diary, which will give women deep sympathy and surrogate satisfaction, and men a sense of dread that they are being evaluated and recorded, become a candid documentary for women and a Pandora's box that foretells disaster to men.
Sweet & Strong
Wacky, lovely, strong! A new female character is born
She is special! S Diary's 'Genie' is an innocent woman who still develops a fantasy about love at the age of twenty-nine. He is the owner of an old-fashioned view of affection who believes that everything is forgiven if he loves. However, it was said that the transformation of a woman was innocent. She is reborn as a starting point in the nightmare moment when the memories of love that she has kept beautiful come to an end. Instead of clinging to the memories smashed by the shameless old men and crying, she transforms into a strong woman who bravely takes revenge on men, with an eye for an eye, a tooth for a tooth, and shows a hot taste to men. S Diary, a female character who cares for herself and knows how to defend herself proudly, is a lively comedy led by a lovely and energetic 'Genie' and a drama about the growth of a woman who matures in the process of love.
Star Awesome men knelt in front of Kim Seon-ah!
'Accept my love'
In front of Queen Seon-ah Kim in Chungmuro, the male actors who I'm talking about lined up. Kim Seon-ah, who is full of youthful, sexy, and dignified character, was the first cast of the production team from the beginning as the heroine of S Diary. Kim Su-ro, who has been making a name for herself as a comical actress for a long time to receive her love, Lee Hyun-woo, who is known as the best dream guy among single women in their 20s, and Gong Yoo, a newcomer standing in the middle of the ulzzang body syndrome, came running. S Diary will create a tremendous synergy effect with the addition of the best comic actress Kim Seon-ah in Chungmuro, as well as great male actors who will satisfy the tastes of female audiences.
Related Videos