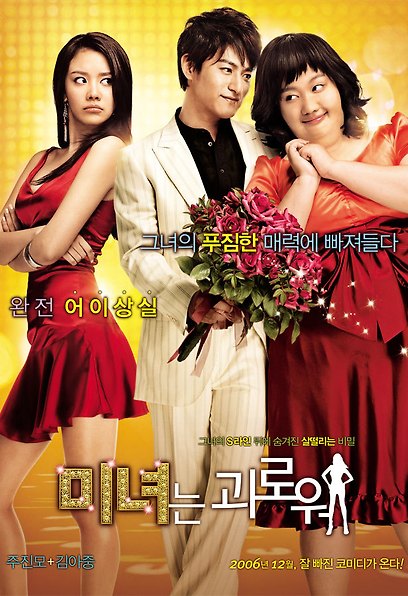 200 Pounds Beauty, 2006
release

2006.12.14
genre

comedy
country

Korea
ranking

Audience over 12 years old
running time

120 minutes
grade

8.9
cumulative audience

6081480 people
cookie video

One
Synopsis
There is no slaughter! Do you have any secrets?
A woman you can only get close to when you close your eyes
'Hannah', a sad woman with a big ass
… are you strangely attracted to me?
169 cm, 95 kg. Hanna (played by Kim Ah-joong) has a physique that will fit even if she goes out on a K-1 or wrestling board, but has a soft heart who wants to be loved by a man. She dreams of becoming a singer with a heavenly voice, the only gift God has given her, but she is a 'faceless singer' who sings songs instead of lip syncing with the beautiful singer 'Army'. To make a living, he has to run to 'ponting part-timer' at night.
A neck that is constantly being overworked. But the most painful thing is her heart. He secretly fell in love with Han Sang-jun (Joo Jin-mo), the record producer of 'Army' and the only person who recognized his musicality. She, who had been obsessed with unrequited love, is finally invited to his dream birthday party and appears with excitement…
But after that night, the gigantic woman disappeared without a trace?!
A woman who doesn't want to close her eyes even for a moment
'Jenny', a flawless queen car that combines fantastic beauty and good humanity
… are you strangely attractive?
169 cm, 48 kg. The owner of the perfect S-line body, which is difficult to draw with photoshop, 'Jenny'.
He is a real savior to Sang-jun, who will fill the void of 'Army', who has ceased recording activities as 'Hannah' disappears without a trace. She is as enchanting as Hannah, who has lost her singing ability, thankfully, so that a person in a car accident can forget to go to the hospital while staring at her.
However, he is enamored with the fish sold on the trellis, kindly picks up the empty bowl of the jajangmyeon deliveryman who has fallen down, and he engages in strange bizarre acts, such as picking up food that has fallen to the ground and eating leftovers from others without hesitation.
Jenny, a beautiful girl who is strangely kind! The rival 'Army' looks at all these situations with eyes of suspicion and jealousy. Feeling a sense of crisis at the presence of Jenny, which is gradually threatening her position, she undertakes an investigation into the unique beauty of Jenny.
What is the trembling secret behind her S-line?
【 About movie 】
S-line comedy that makes you laugh without being fat
>> Original cartoon at peak popularity + Director Kim Yong-hwa's directing power
The best-selling cartoon 'Beauty is Suffering', which was translated and sold over 300,000 copies in Korea in 1999, had so much fun with the original story, it was prepared to be a hit enough that Korea's leading film companies competed in the competition for the rights to make the original movie. Here, the debut film <Oh! Brothers> Director Kim Yong-hwa's human humor and directing power and the trendy sensibility of Noh Hye-young of <Singles> and <English Conquest> are both wings, leading to the rise of the movie <Beauty is Suffering>.
Unusual actors who united for 'Beauty'
>> Joo Jin-mo and Kim Ah-joong's two-color charm and supporting dream team supporting them
The female lead in <Beauty is Painful> debuted as a cool attractive woman in the movie <Gwang-shik's younger brother, Gwang-tae>, and Kim Ah-joong, a super rookie who received attention for brilliantly expressing the friendly and realistic characters of the KBS drama <Weird Man, Weird Woman>. The top domestic actresses were on the lookout for a female lead character with a unique personality that 'transforms from a fat woman to a beautiful woman', but it was a choice that emphasized the degree of conformity with the character in the movie rather than her career. Kim Ah-joong, who has a perfect body and explosive singing power just like a real female lead, is the female lead 'Hannah' itself, as if the movie itself was a script written for her.
Her counterpart is Joo Jin-mo. As a character who unintentionally gave a chance to transform a fat woman into a beautiful woman, 'Sang-jun', who has a soft yet strong charisma, was told that Joo Jin-mo, who showed off her gentle charm, was the enemy. Loved for his gentle appearance and emotional acting, he is active this year with <Beauty is Suffering> as well as the movie <Brain Play Project, Puzzle>, which is waiting for release, and the SBS drama <Queen of the Game> scheduled to air in November. It is planned to show the bold charm of a manly line to a celebrity who is popular with handsome boys.
The supporting cast is also plentiful. Won-jong Lee, who will make a surprise appearance as a flower swordsman who predicts fate like tweezers, who will perform his first 'acting during the winter', Hyun-sook Kim, 'Chulsandra' who will give a rich blessing to the screen, Han-wi Lee, a famous 'laugh bomb', who has dementia Lim Hyun-sik, who will show the climax of paternal love as the father, and Kim Yong-gun, Sung Dong-il, and Park No-sik, who will make every corner of the movie laugh from the big hand of the entertainer to the stalker, the 'Comedy Dream Team' was formed. .
'Beauty' unique style and scale
>> Mammoth performance at Olympic Gymnastics Stadium, the best staff
Another piece of news that the <Beauty is Painful> team is proud of is the music and concert scenes in the movie. The film music, which makes the dramatic effect of the video more effective, was performed by Lee Jae-hak, a bassist and producer of the modern rock band <Love Holic>. As Kim Ah-joong plays the role of 'Hannah', the owner of a great singing ability in the movie, she shows off her singing skills by directly singing songs of various genres to be included in the OST, such as pop, ballad, and modern rock. Kim Hyun-suk of 'Chulsandra' also participated in the OST like a musical actor, adding weight.
In addition, the scene of a large-scale concert worth 300 million won, which was unprecedented in film shooting history, was reminiscent of the scale of a real concert venue that was held under the plans of professional concerts and directors at the Olympic Gymnastics Stadium, a concert venue for the best stars in Korea such as Seo Taiji, Shinhwa, and TVXQ. In addition, the special choreography of Kwak Yong-geun, the choreographer who created Jeon Ji-hyun's techno dance and Park Ki-woong's millstone dance, was added to create the best performance in film history. It is said that you can enjoy concerts worth tens of thousands of won with an admission fee of 7,000 won.
'Beauty' unique technology
>> Hollywood Special Makeup Team, 'Rapid Return' to transform Kim Ah-joong
<The Three Musketeers 2> <Collectral> <Omen> <Dare Devil> <CSI>…
Special effects pros Kris Kobzina & Christopher Burgoyne, who dominated the Hollywood box office and broadcasters, powered <Beauty is Suffering>. Their mission is to transform a slim 48kg woman that everyone loves into a 95kg fat woman that everyone avoids. The special makeup team, specializing in blockbuster blockbusters and delicate investigations, declared that they would create a masterpiece that would overwhelm all existing weight gain special makeup films such as <Naughty Processor> and <She is too light for me> in their honor.
[Character introduction]
Fat woman Hanna on stage / Ah-joong Kim
Height:169cm / Weight:95kg
Occupation: A faceless singer who sings instead of lip syncing for sexy female singer ARMY
Part-timer: Ponting part-timer with a sticky voice that melts the longings of many men
Hobbies: Sammeigyeong knitting for Sang-jun, who has a crush on him
Habit: bowing out loudly to those you are grateful for
An overly blessed body that puts a burden on the viewer.
The head of a fat woman (?) who lost her mother early and had to pay for her father's hospital bills in a nursing home due to dementia. My only pleasure is eating pork belly with my best friend Jeong-min ('Chulsandra' Kim Hyun-sook). Her wish is to help those who are grateful to her so that she won't fall by bending her waist or legs lightly.
Try one big bow.
And there is only one person in the world, to be loved by him.
Flawless beauty Jenny / Kim Ah-joong
Height:169cm / Weight:48kg
Occupation: A new singer who appeared like a comet
Alba: The unchanging romance of female stars! cosmetic advertising model
Hobbies: Stealing children's hot dogs. eat leftover food
Habit: Studying the angle of the best looking in the mirror.
A super-climax beauty singer who appeared like a comet
Unbeautiful, the person next to me is also kneeling and applying tanning oil to every nook and cranny,
Even children's hot dogs have a tendency to steal and steal, and every act they do, such as buying the fish left over from sale at a low price, is a melting pot of absurd and absurd mysteries and secrets.
Perfect man with full of charm Sang-jun / Joo Jin-mo
In a word, a king car with a unique eye and irresistible charm.
Midas Son of the record industry with an animalistic sense of box office and cool charisma
But no one knows his true heart.
The only person who didn't go crazy when Hannah disappeared and Jenny showed up?
No frills, beautiful ARMY/Seoyun
A singer who was born with beauty, but unfortunately lacked the talent.
Like a natural beauty, she doesn't give a shit, and her hobby is ignoring and harassing people around her.
Han Sang-joon cherishes 'Hannah' because it hurts her stomach, but she stops singing because 'Hannah' disappears. When a formidable rival, 'Jenny', appears as if he's on the verge of a disaster, he is monitoring the new singer 'Jenny' who surpasses him all night long to catch the weakness of him.
Loyalty best friend Jungmin / Kim Hyunsook
A best friend with a blessed body like Hannah.
He is the choruser at a concert with Hannah.
He had a warm heart that truly shared his friend's worries and secrets.
Innocent and unconscious Hanna's father/ Im Hyunsik
She suffers from dementia and no one recognizes her except her daughter Hannah.
But one day, he suddenly starts to fall in love with the female singer 'Jenny' he saw on TV…
Hand of God in the medical world Science Engineering / Hanwi Lee
A person who has a strange (?) relationship with Hanna and is also secretly entangled with the birth of the perfect beauty Jenny. My wife has a habit of calling somewhere on her shower day. I like fishnet stockings.
Flower Doryung / Wonjong Lee, a master of contemplative viewing
An unstoppable swordsman, no, a doryung, whose fortune-telling changes frequently according to the beauty of female customers who come to see the fortune-telling.
However, when he encounters a customer who does not appear fortune-telling, he is embarrassed.
Hanna's heartbreaking first love Cheol-su / Park Hwi-soon
The only man who told Hannah never to lose weight.
But he disappeared because he loved her so much.
【 Issue 】
1. No more transformation.
A fat woman Kim Ah-joong
In the movie <Beauty is Painful>, Kim Ah-joong's efforts are so permeated throughout the film that it can be called the age of suffering. Appearing in more than 90% of the movie, she had to go through 4 hours of special makeup every day and an hour of makeup removal after filming to become 95 kg of fat Hanna.
Her pain must have been more than we could have guessed because the special makeup was filmed this summer, which was exceptionally hot and long. However, she waited for the opportunity to see actresses such as Charlize Theron in <Monster> and Renee Zellweger in <Bridget Jones's Diary> transform for the characters in the movie, so the patience and pain towards the work was a happy and enjoyable process.
Rather than this, Kim Ah-joong confesses that it was more difficult to build a character that many women can relate to and feel as "my story". However, through this work, she not only learned the attitude of a professional actress, but also gained fluent English due to the (semi-compulsory) English tutoring opportunity with a special makeup team for more than 5 hours every day, a truly rewarding (!) work process. He said that he was proud of his debut on the screen as a lead role.
Actress Kim Ah-joong who became a singer
Kim Ah-joong has been recognized for her natural talent since she debuted through a TV entertainment program. This is because the dancing and singing skills she showed went beyond the level that new actors basically practiced.
Kim Ah-joong, who met a proper stage through the movie <Beauty is Suffering>, is proud of her amazing ability to sing the 4 songs inserted into the movie while acting as a singer in the movie. His goal as an actor of wanting to sing the OST of the movie he starred in was fulfilled in his first lead role in his life. At the time of the contract, the production team, who did not know Kim Ah-joong's singing skills, was going to find another vocal that suited Kim Ah-joong's appearance in the play and entrust him to sing the song inserted in the movie. She unanimously agreed to leave it to her and fully supported her debut as a singer.
2. No more supporting roles.
The director who laughed and missed the ok autograph because of the comic supporting dream team
The movie <Beauty is Painful> features many actors who always give us fresh laughter. Because of that, the scene is always friendly! Even the staff, exhausted from the tight filming schedule, said that when the supporting actors' comic performances continued, they laughed and spontaneously produced endorphins.
As a representative example, in the scene of Lee Won-jong and Hanna's Yeoksulwon in 'Flower Doryung' filmed not long after cranking, even director Kim Yong-hwa was directing while looking at the monitor and forgot to shout an ok sign and was immersed in his comic acting. Also, in the movie <Beauty is Painful>, Kim Hyun-sook, Hanna's close friend, who is famous for her maternity drama, will appear on the screen. She, who has already shown off her outstanding singing skills through gag stages and musicals, has now had a chance to show off her skills as she takes on the role of chorus Jeongmin.
3. No more shows.
300 million won concert stage, participation in music performance agencies, professionalism enhancement
In the movie <Beauty is Painful>, there are three concert scenes in total.
In the beginning, when Hannah showed her faceless singer appearance, the concert of the sexy female singer ARMY, the concert of the rookie singer Jenny who transformed into a beauty, and the concert of Hannah, who came back to the original Hanna again, are those stages. In order to reproduce the high-quality concert stage, Kim Ah-joong received special dance training from director Kwak Yong-geun of 'The Dance', famous as a CF choreographer, and vocal training from singer Yumi. . In addition, filming was conducted at the Olympic Gymnastics Stadium in order to bring out the sense of scale like a realistic concert scene, and nearly 1,000 auxiliary performers were mobilized to reproduce the atmosphere of the actual concert hall, showing a variety of visuals that have never been seen in Korean cinema history. .
Related Videos